Home-style Tofu
Chinese name: 家常豆腐 (jiā cháng dòu fǔ)

Style: Sichuan (Szechuan) Cuisine

Characteristics: Home-style Tofu is soft in texture and the flavor is quite fresh. As the tofu is fried in advance, the dish looks golden red in color. Cooking with this recipe, it shall taste salty and a little hot.

The Home-style Tofu is a popular dish throughout China among all ages. It has abundant nutrition especially protein and its main ingredient – tofu is reasonably priced all year round. A common accompaniment to this dish is rice, so it has been welcomed among housewives to treat their guests.

Recipe of Cooking Home-style Tofu
firm tofu, 300g; 3-4 dry black fungus;
half of red pepper; half of green pepper

cooking oil; garlic; ginger; salt; light soy sauce
Note: The amounts of the ingredients and seasonings listed above can be adjusted according to one's personal taste.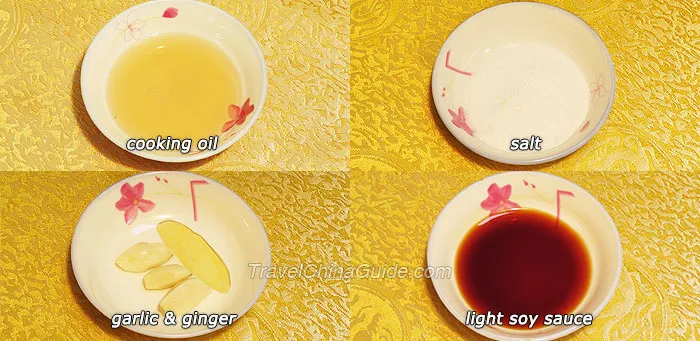 1. Clean tofu and cut into triangular or diamond-shaped chunks.
2. Discard the seeds of the red and green peppers. Clean them and cut into triangular or diamond-shaped chunks.
3. Soak the black fungus in cold or warm water. After 10-15 minutes, pick out and cut into slices.
4. Remove the husk of garlic and peel the ginger. Clean them and cut into small pieces.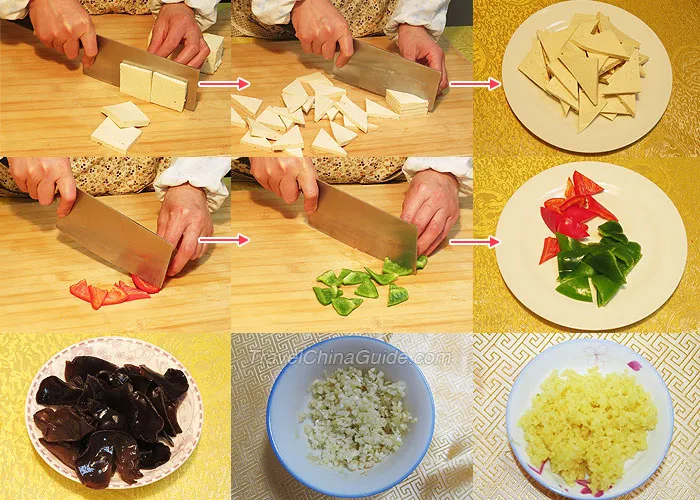 Methods:
STEP
1
Fry the tofu: Pour enough cooking oil in wok. Heat it until hot. Put in the tofu one by one and fry over low fire. Turn over now and then. When they turn golden, pick out and drain off the oil.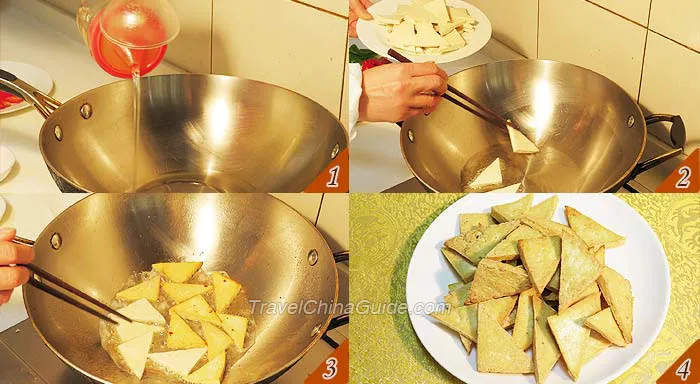 STEP
2
Leave some cooking oil in wok. Heat it over medium fire. Add the garlic and ginger. Fry for 10 seconds until fragrant. Then add in the red and green peppers. Stir-fry for 20-30 seconds.

STEP
3
Add the soaked black fungus. Fry for 30 seconds. Then pour the fried tofu in the wok.

STEP
4
Add in light soy sauce and salt. Stir to make the seasoning coat all ingredients and combine them well. Turn off the heat.

The Home-style Tofu is ready. Serve the dish on a fine porcelain plate. It has beautiful color and alluring fragrance.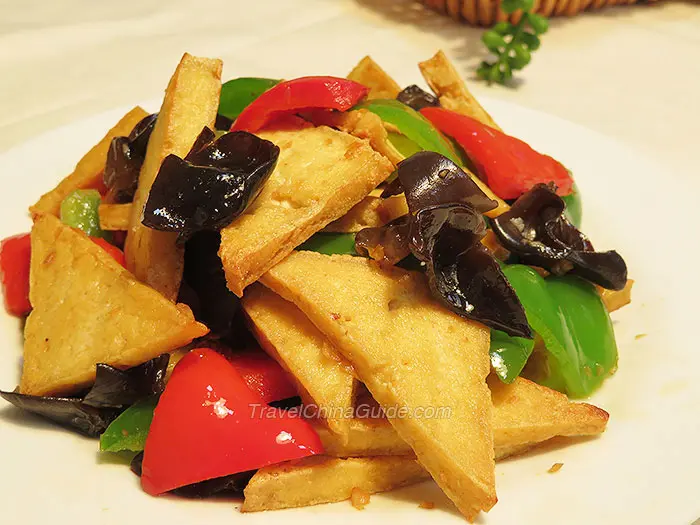 Tips:
1. Winter bamboo shoots, carrots and garlic sprouts can also be used in the dish.
2. After serving the dish on a plate, you can place some small scallion on the mixture. It more or less would improve the taste and the appearance can be more pleasant.
3. The Celery and Dry Bean Curd and Mapo Tofu are also suggested if you are a tofu lover.
Nutrition Value of Home-style Tofu
1. Tofu: Rich protein contained is of high nutrition value and it has amino acid that benefits body. Tofu also contains much lecithin, which could protect vascular cells and prevent from cardiovascular diseases. In addition, the lecithin is good for the growth and development of brain so that tofu is the choice of many moms for their children.
2. Black fungus: It contains abundant iron element, which helps to prevent from iron-deficiency anemia. The vitamin K inside can diminish blood coagulum, so the black fungus helps to avoid suffering from thrombosis and coronary heart disease. What's more, having black fungus for a long time can prevent cancer.
Our Guests Attending Cooking Class
Our Guests Learn to Cook Chinese Food

Mr. Alan & Ms. Mary from Canada were excited to be taken into a local family in Xian. Mr. Alan recorded the whole process that Mary learned to cook

Kung Pao Chicken

& Home-style Tofu from the hostess. They praised it the most outstanding part of our service, and the meal prepared by the host was of high standard.

Ms. Gabriela and Her Daughter with a Chinese Hostess



Ms. Gabriela from Mexico & Ms. Isabela from South Africa stepped in a local family in Xian during their China tour through our company. They had a good communication with the family and learned to cook Home-style Tofu & Steamed Chinese dumplings step by step from the hostess.

Mr. & Mrs. Klein Dining in a Chinese Family

Mr. Jerry & Ms. Judith from USA had a cooking class during their family tour in Xian under the arrangement by TravelChinaGuide. As what in their booking, the hospitable hostess had prepared all the materials for cooking

dumplings

and Home-style Tofu Jerry & Judith would learn to cook on their arrival. The hostess said: 'To be a good cook in China, one should practise cutting skills first.' So the cutting work was almost done by Jerry & Judith under the instructions of the hostess that day.
More popular vegetable dishes in China: