Pan-Seared Green Chili Pepper
Chinese name: 虎皮尖椒 (hǔ pí jiān jiāo)
Style:
Sichuan Cuisine
Characteristics: Pan-Seared Green Chili Pepper is completely made out of chili peppers. As the chili peppers are seared withered, they taste not spicy. Instead, they are quite tender and delicious.
Pan-Seared Green Chili Pepper is actually the "monologue" of green chili peppers. The green peppers are deeply fried and the appearance is like the tiger skin. Therefore, the dish is named Hu Pi Jian Jiao in Chinese, meaning seared chili peppers with tiger skin liked appearance.
Recipe of Cooking Pan-Seared Green Chili Pepper
Ingredients and Seasonings:
6-8 green chili peppers; 3-5 cloves of garlic
cooking oil; salt; light soy sauce
cooking wine; white sugar; vinegar
Note: The amounts of the ingredients and seasonings listed above can be adjusted according to one's personal taste.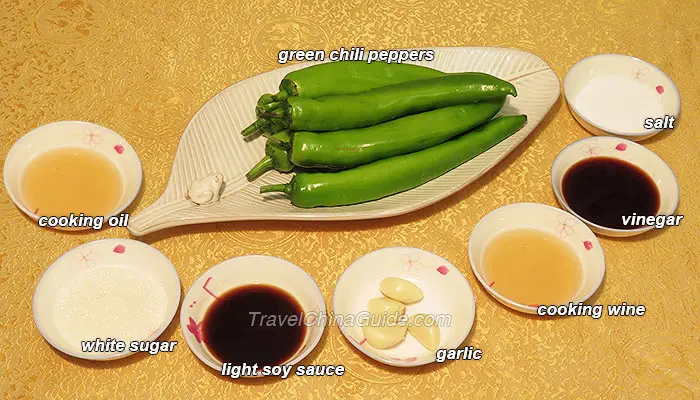 1. Trim the green peppers and clean them. Drain off the water.
2. Remove the husk of the garlic. Clean and cut into small pieces.
3. Make a sauce: Combine white sugar, a little salt, light soy sauce and vinegar in a bowl.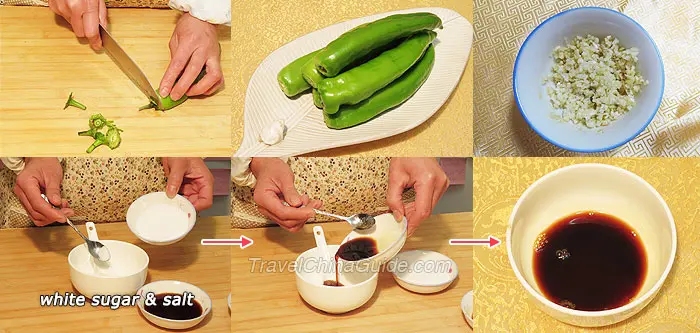 Methods:
STEP
1
Sear green peppers: Pour a little cooking oil into a wok. Heat it over medium fire to 120

C (250

F). Put the green peppers into wok one by one. Turn over them every 30 seconds and gently press with kitchen shovel. When the green peppers turn soft and each side becomes withered and wrinkled after around 3 minutes, pick them out.

STEP
2
Clean the wok. Pour in cooking oil and heat over medium fire. When the temperature climbs to 150

C (300

F), add the garlic. Fry for 10-20 seconds. Pour in the prepared sauce. Heat over high heat until the sauce boils.

STEP
3
Add in the seared green chili peppers. Fry until the sauce almost boils dry. Turn off the heat. Pick out the green peppers.

Lay the green peppers on a fine plate in order. The Pan-Seared Green Chili Pepper is ready now. It smells so good!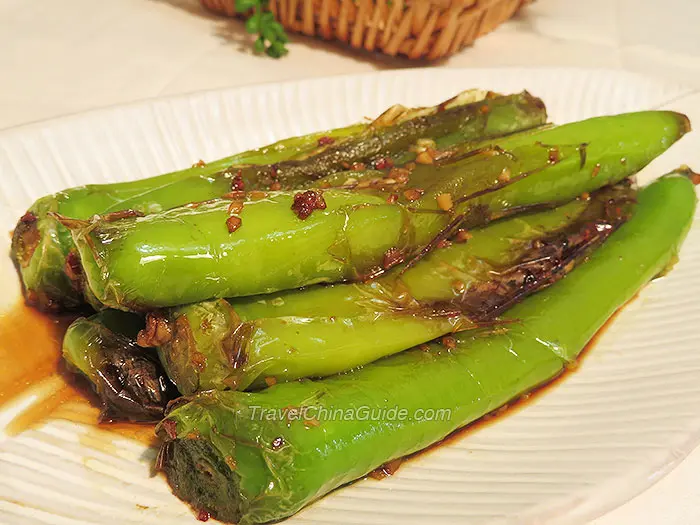 How to Choose the Best Green Chili Peppers?
1. Find the big green chili peppers. Long and fat ones are more suitable for cooking this dish. It should be noted that the light green ones are not spicy, while the thinner ones usually taste hot.
2. Fresh green peppers are the best. They usually have smooth surface and look bright. The fresh ones also feel not soft and have no clefts.
Benefits of Pan-seared Green Chili Peppers
1. Green chili pepper: easing pain, preventing cancer, boosting appetite, lowering cholesterol, helping digesting, reducing lipid, and losing weight.
2. Garlic: adjusting insulin, preventing cancer, anti-aging, preventing arthritis, diminishing inflammation, and sterilization.
Kind Reminder:
The consumption of green chili peppers should be controlled, or haemorrhoids may fall upon. People suffering from oesophagitis, enterogastritis, and gastrohelcoma also should not have the dish or just have a little. Those with high blood pressure and phthisis are suggested to avoid having much green chili peppers.
Our Guests Attending Cooking Class
Our Guests Having Dinner in a Local Family



Followed by our tour guide, Ms. Ming, Mr. Robert, Mr. David, and Ms. Jennifer from Canada joined our private family visit in Xi'an with cooking class offered by the hostess. Pan-Seared Green Chili Pepper was the dish they proposed to learn, and they were indeed impressed by Chinese cuisine and the particular regional way of cooking.

Our Guests Dining in a Local Family

Mr. Peter from UK, and Ms. Goldie, Ms. Carol, Mr. Mark and Ms. Rosa from USA made a family tour arranged by TravelChinaGuide in Xi'an, during which they learned to cook Hot and Sour Soup. Unlike most westerners who can't eat dishes which are hot or sour, they, as Chinese food lovers, can eat some hot and sour dishes, so they especially ordered Pan-Seared Green Chili Pepper to learn and enjoy. At the meal, they said that they would have a true hotpot in Chongqing before they started the Yangtze River Cruise.

Our Guest Learning to Make Dumplings

Mr. Joseph from USA had a family tour and Chinese food cooking class in a local family in Xi'an during his China trip arranged by TravelChinaGuide. Being courious about Chinese dumpling cooking, he chose to learn to cook

Pan Fried Dumplings

& Pan-Seared Green Chili Pepper.
- Last updated on Oct. 25, 2019 -
Questions & Answers on Pan-Seared Green Chili Pepper
Asked by Thomas from USA | Dec. 07, 2014 19:57

Reply
Nice recipe!
Hi, I really like this seared green chili pepper. It is one of my favorites from China. So simple and so delicious.

One thing - I know it is normal in a Chinese recipe, to exclude amounts, but for poor laowai like me, we don't have a good idea how much of each ingredient to put. So if you could say, for example, 500 g chili pepper, 10 mL soy sauce, etc, it would be super helpful in the future.

Thanks again!
Answers (1)
Answered by Lee from CHINA | Dec. 09, 2014 00:00

0

0

Reply
Thomas, Chinese people add seasonings according to their taste. If they prefer strong flavor, they will add more seasonings. For example, if they prefer salty food, they add more salt. If they prefer light flavor, they will add less seasonings. There is no exact requirement that how much salt, vinegar and other seasonings you should add. If all cooks add 500g chili pepper, 10 ml soy sauce..., all dishes taste the same. Of course, the cooks won't make the dishes too sour, salty or spicy. They usually add the seasonings according to the weight and quantity of the materials and then adjust the amount of the seasonings accoriding to the customers' needs.