Celery and Dry Bean Curd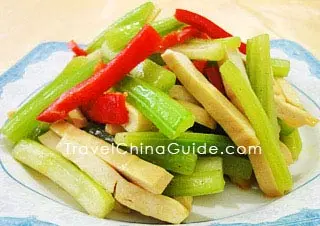 Chinese name: 芹菜炒豆干 (qín cài chǎo dòu gān)
Characteristics: Celery and Dry Bean Curd tastes mild, tender and crispy.
One of the home-style dishes in China, Celery and Dry Bean Curd is a delicious vegetable dish because of the fragrant celery. It might look unattractive, but it is indeed very nutritious.
Celery contains rich carotene, protein and multiple vitamins, while the dry bean curd in it is also rich in protein, carbohydrate and multiple minerals. The dish has quite simple cooking method as the recipe below presents. Would you like to have a try?
2 pieces dry bean curd, 200-250g
celery stem, 200g
2 fresh red chili
salt
sesame oil
pepper powder
Note: the amount of the ingredients especially the seasonings listed above can be appropriately used according to one's personal taste.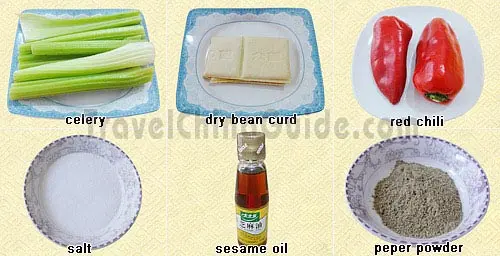 1. Split the celery stems into sections. Wash the celery and then cut into strips. Place on a plate.
2. Wash the dry bean curd and then cut into strips. Put into a separate plate.
3. Cut the red chili in the middle into halves, remove the seeds. Wash them well, cut into shreds again and put on a plate.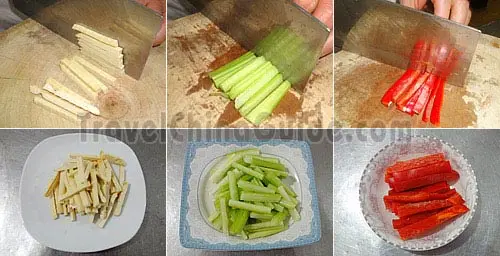 Methods:
STEP
1
Place a wok over high heat until hot. Add some cooking oil, swirling to coat all sides. Add in red chili shreds, and stir-fry for about 10 seconds. Then add celery and dry bean curd strips. Stir-fry for 3-4 minutes when it is 90% cooked.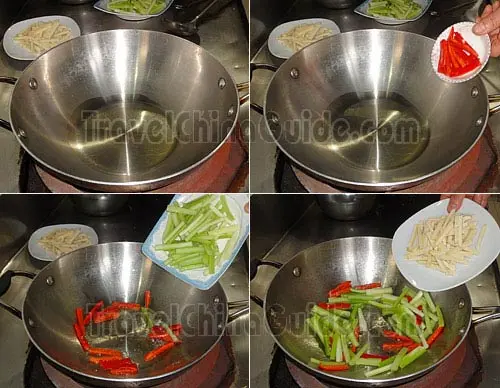 STEP
2
Add the salt, pepper powder and sesame oil. Stir-fry for another 10 seconds. Turn off the heat.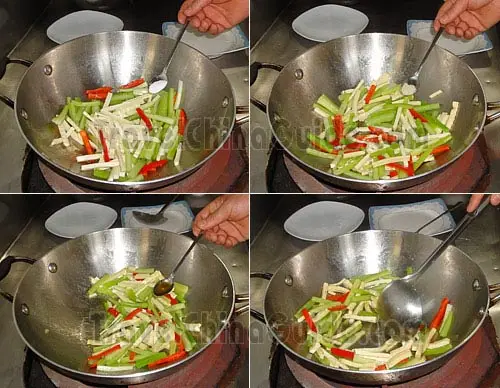 STEP
3
Remove the celery and dry bean curd from the wok, and arrange on a porcelain plate.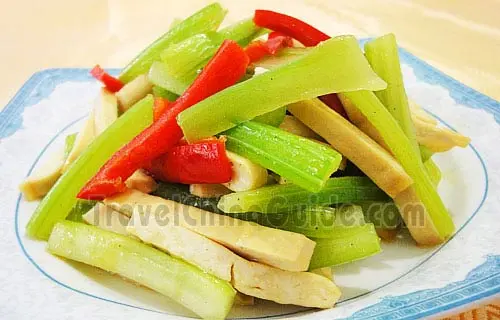 Tips: If you are a tofu lover, you can also try Home-style Tofu or Mapo Tofu
Our Guests Attending Cooking Class
Our Guests Learn to Make Dumplings


On Sep.2, 2012, Ms. Lifun, Mr. Benjamin, Mr. Jonathan, Ms. Lauren, and Mr. Nicholas from the United States joined our private visit to a local family in Xi'an and enjoyed a home made lunch there. They noticed that there were so many condiments in the kitchen that they hardly know their names, so they asked the hostess about them and some basic recipes. The dish Celery and Dry Bean Curd cooked by Ms. Lauren was successful, while the dumplings made by others tasted good as well.

Our Guests Dining in a Local Family

On Apr. 6, 2012, Mr. Rodrigo & Ms. Linette from Panama were brought into a local family in Xi'an by our guide. With great curiosity and excitement, they not only got to know what a Chinese family looks like, but also had an opportunity to have close contacts and communication with the local Chinese and even learn to cook several Chinese dishes, such as Celery and Dry Bean Curd, Braised Beef Filet with Scallion and Chinese Dumplings from the hostess.

Mr. Himat Learning to Cook Black Pepper Beef

On Oct. 14, 2010, Mr. Himat & Ms. Mamata from USA joined Travechinaguide's family tour and on-spot cooking class in a typical Xi'an family. They had a close approach to the family and their daily life, and learned to cook Black Pepper Beef, Kung Pao Chicken & Celery and Dry Bean Curd from the housewife in the kitchen of the family. They were so curious about the Chinese seasonings that they asked the guide to introduce them one by one.
More popular vegetable dishes in China:
- Last updated on Dec. 09, 2022 -