Sliced Potato with Chili Peppers
Style: Northeast China Cuisine
Characteristics: This dish fully presents the flavor of the potato. It tastes delicious and spicy. The color collocation is a feast for the eyes of all diners, with golden potato slices as well as red and green peppers.
Sliced Potato with Chili Peppers belongs to Northeast China Cuisine. Due to its easy cooking method, it attracts the attention of many housewives and has been a very common home-style dish throughout China. This dish is suitable for all ages. The potato can nourish spleen and stomach, thus is a fine choice to relieve constipation. This dish more or less helps people lose weight, because potato, its main ingredient, contains just a little fat and is satisfyingly filling.
two potatoes, 300g
1 red pepper, 50g
1 green pepper, 50g
green onion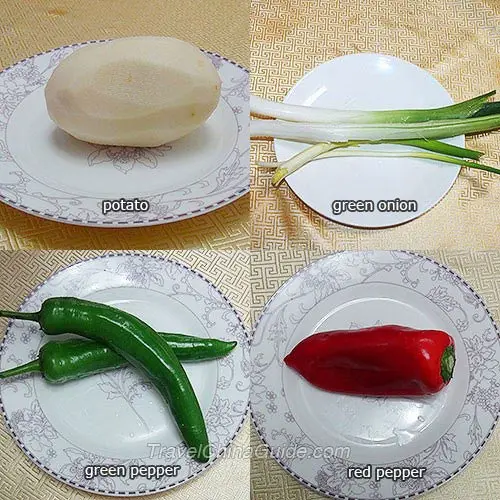 cooking oil, salt
Note: The amounts of the ingredients and seasonings can be appropriately used according to personal taste.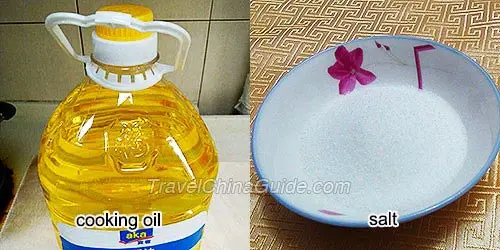 1. Peel the potatoes. Clean and cut them into slices. Put the potato slices into water. Soak them for 5-10 minutes. Drain the water off and place the slices onto a plate.
2. Clean the red and green peppers and remove their seeds. Cut them into small pieces.
3. Clean the green onion and cut into 2-3cm sections.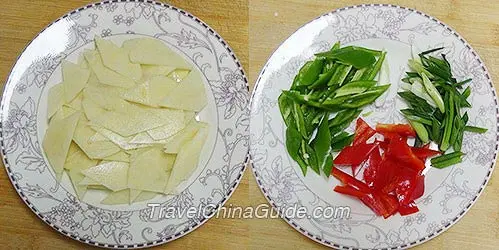 Methods:
STEP
1
Place a wok over high heat and add cooking oil. Stir the hot oil to coat the side of the wok.
STEP
2
Add in green onion and stir for 5 seconds until its fragrance comes out. Then pour into potato slices. Stir-fry for 2-3 minutes until the potato slices are well cooked. Add in red and green peppers. Stir and mix all ingredients well.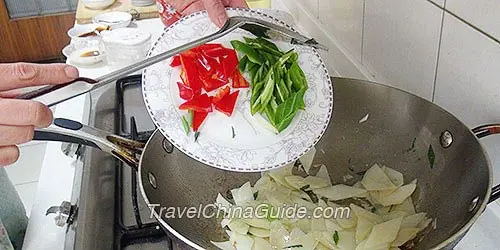 STEP
3
Add appropriate amount of salt when the potato slices turn golden. Stir for 10-20 seconds to mix them well. Turn off the heat.
STEP
4
Pour the dish onto a delicate porcelain plate. Finishing all the steps in this recipe, the Sliced Potato with Chili Peppers is ready to serve.
Note:
1. It is suggested to clean the potato slices for 2-3 times and drain off all water after the potato is soaked, or it may stick onto the wok during cooking.
2. After they are well mixed with red and green peppers, potato slices should be fried with middle heat to fully release the fragrance.
Learn to make more Chinese dishes:
- Last updated on Apr. 03, 2019 -