Stir-fried Chinese Yam
Characteristics: Stir-fried Chinese Yam looks bright with the colors of white, green and red. It tastes fresh and crisp. With the Chinese yam as the main ingredient, this dish is nutritious.
Chinese yam (Dioscorea Opposita) is also named Huai Shan, because its original habitat is near Huaihe River. Chinese people like to eat the yam in winter for its nourishing function. Stir-fried Chinese Yam has become a popular home-style dish throughout China, due to its easy cooking method, abundant nutrition and light flavor. This dish more or less helps with digestion as well as relieves diarrhea, cough and diabetes. Now follow the recipe below to try to cook the Chinese yam.
Chinese yam, 650g
green peppers, 60g
a small carrot
green onion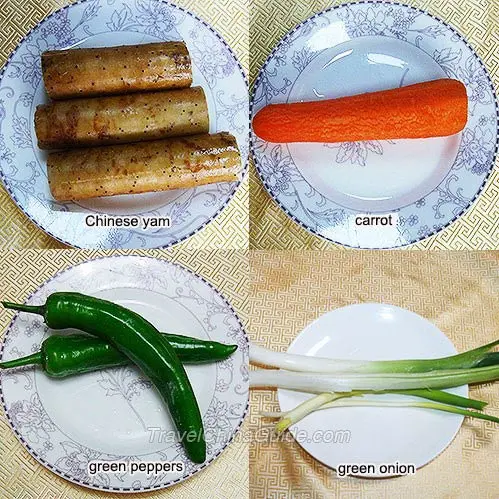 Seasonings:

cooking oil; salt
Note: The amounts of the ingredients and seasonings listed above can be appropriately used according to one's personal taste.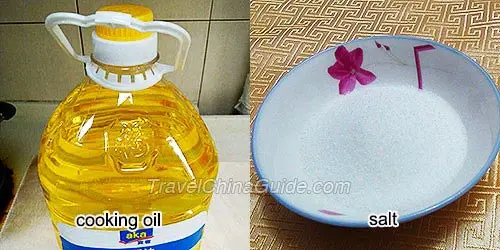 1. Peel the Chinese yam. Clean it and cut into small round slices.
2. Clean green onion and cut it into 2cm small sections. Place them onto a plate.
3. Clean the carrot and green peppers. Cut them into rhombus slices (the carrot can also be cut into other novel shapes).

Tips:
1. It is suggested to have the sliced Chinese yam soaked in water to avoid being oxidized.
2. The fresh Chinese yam is sticky. You can add a little vinegar into the water when washing the peeled yam.
3. The peel and mucilage of Chinese yam easily cause skin allergy. Wear gloves when peeling it, or wash your hands right after touching it.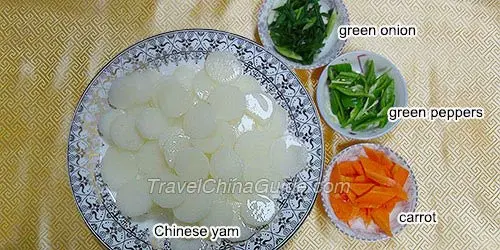 Methods:
STEP
1
Place a wok with some water over high heat. Heat the water to boil and pour into the prepared Chinese yam slices. When the water boils again, pick out the yam slices with a colander. Put them into a plate for further use.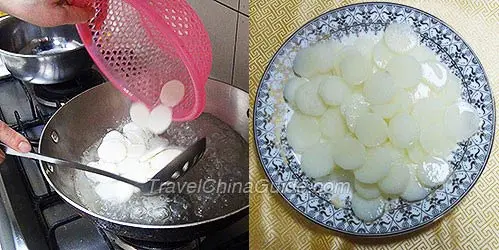 STEP
2
Pour out the water and dry the wok. Preheat it and add some cooking oil until hot. Add in green onion and fry for 5-10 seconds until its fragrance comes out.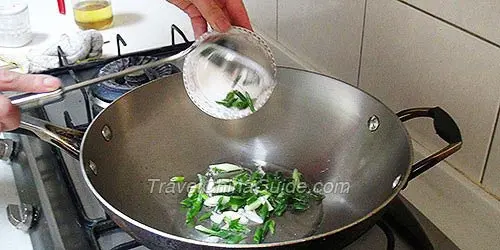 STEP
3
Add in carrot and green peppers in sequence. Stir to mix them well and fry for one minute.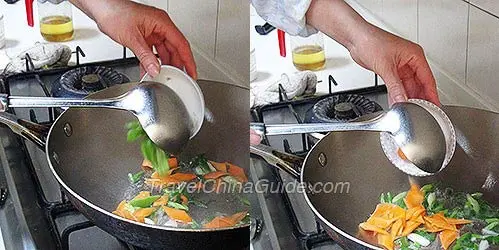 STEP
4
Pour the processed Chinese yam slices into the wok. Stir and mix all ingredients well. Fry for 1-2 minutes and then add in appropriate amount of salt. Stir-fry for another 5 seconds.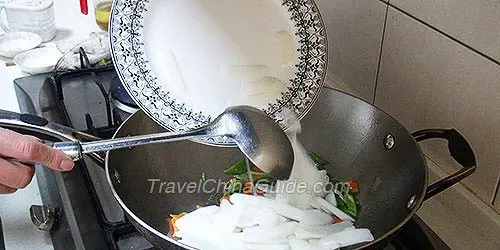 STEP
5
Turn off the heat. Serve the mixture onto a delicate plate. The Stir-fried Chinese Yam is finished.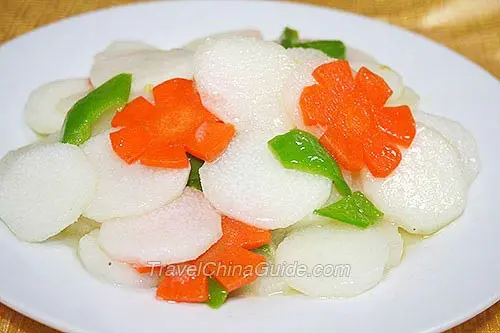 Nutrition Value:
Chinese yam contains abundant nutrient-rich substances, so it has great nutrition value. It improves digestion and helps to strengthen the body. The mucus contained inside endows it with the function of lubrication and moistening, so it is good for lungs and sometimes relieve even heal a cough. The Chinese yam also helps to reduce the blood glucose, so this shall be a strong recommendation for diabetics (but it is suggested not to eat too much). In addition, it helps to improve the immunity and is loved by many seniors. Its low calories attract many girls as well. Regular intake of the Chinese yam is a good way to lose weight and keep a good figure.
Learn to make more Chinese dishes:
- Last updated on Dec. 09, 2022 -