Potato in Caramel
Style:
Shandong Cuisine
Characteristics: The processed potato tastes soft, savory and sweet. The fine threads of caramel bring much fun to dining.
Being a famous Han Chinese dish and belonging to Shandong Cuisine, Potato in Caramel is very popular because of its high nutritional value. Potatoes can not only prevent strokes, but also are good for the stomach and spleen. People who want to loose weight can try to have potatoes with each meal, because they contain only 0.1% fat.
vegetable oil, 40ml; white granulated sugar, 100g
Note: The amount of the ingredient and seasonings can be appropriately used according to one's personal taste.

Methods:
STEP
1
Peel the potatoes. Clean and cut into 2-3cm³ dices. Place them into a bowl or on a large plate.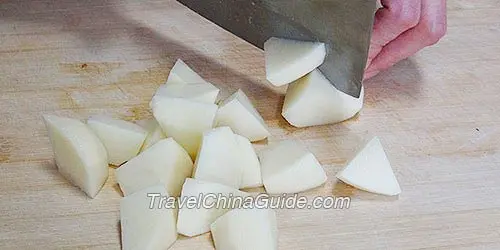 STEP
2
Place a wok over high heat. Add vegetable oil and heat to 125

C (257

F). Put the potato dices into the wok and fry until golden. Drain off the oil with a colander.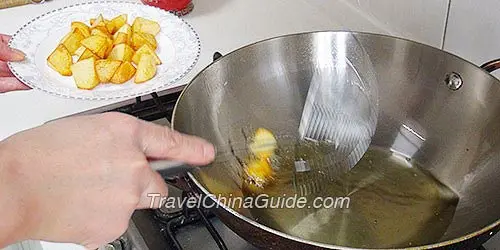 STEP
3
Turn down the heat to medium. Add some oil and pour the white granulated sugar into the wok until all sugar is totally dissolved.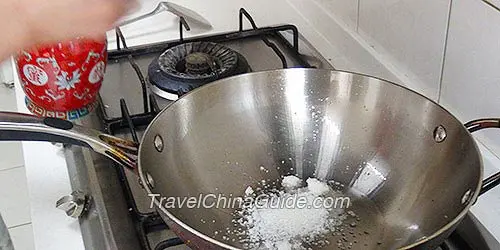 STEP
4
Add the fried potato dices when the sugar turns light brown. Stir well for 2-3 minutes until the potatoes are well coated by the caramel. Turn off the heat. Place the potato coated with caramel icing onto a plate.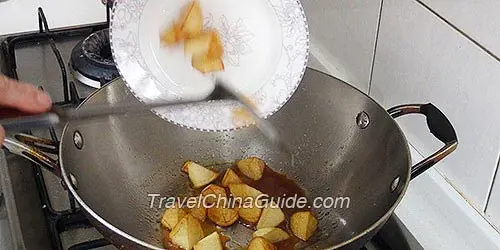 The Potato in Caramel is ready. The golden potato is a feast for the eyes.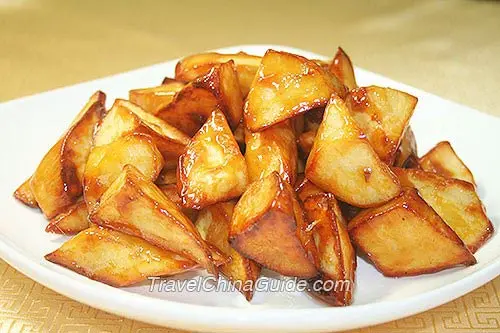 Tips:
1. Cooking the white granulated sugar into syrup is the key technique of making this dish. If you prefer long, sweet and crystal sugar threads, add more sugar to the oil based on this recipe. Then the potatoes can be coated with thick syrup.
2. When pouring the dish out of the wok, wipe the plate with oil so that the syrup won't stick to the plate.
Nutrition Value:
Traditional Chinese Medicine (TCM) records that potatoes benefit the spleen and stomach. It helps to relax the bowels so that people with the symptoms of dyspepsia, gastrointestinal disharmony and constipation can freely eat potatoes. According to research, the potato is a cheap and superb health care product. The potassium contained in it might protect people from stoke. In addition, the hairloss can be gradually cured if rubbing fresh potato chips onto the bald scalp.
Tips on Food Interactions
If eating potato together with persimmon, tomato or cherry, it may cause poor appetite and dyspepsia;
If banana is eaten together with potato, freckles might appear;
The collocation between potato and pomegranate may lead to poisoning.
Learn to make Chinese dishes:
- Last updated on Dec. 09, 2022 -
Questions & Answers on Potato in Caramel
Asked by Yanni from AUSTRALIA | May. 20, 2016 01:59

Reply
can i bake the sweet potatoes instead of frying them??
Answers (1)
Answered by Jennie | May. 20, 2016 04:49

0

0

Reply
For step two, you can bake it, but the flavor will be different.