Spicy and Sour Shredded Potato
Style: Sichuan (Szechuan) Cuisine
Although the Spicy and Sour Shredded Potato belongs to
Sichuan Cuisine
, it now is a favorite for many diners all over China. The dish has been one of the most well-known home-style dishes.
Except that people can easily accept the pleasant spicy and sour flavor, the dish has very simple cooking method, and its main ingredient potato is reasonably priced in all seasons. When cooked well, it looks bright and the potato shreds are clear and crisp.
Recipe of Cooking Spicy and Sour Shredded Potato
potato, 300g
green pepper, 15g

cooking oil; dried chili peppers; salt; white vinegar; green onion; garlic
Note: Ingredient quantities and seasonings above can be appropriately used according to one's personal taste.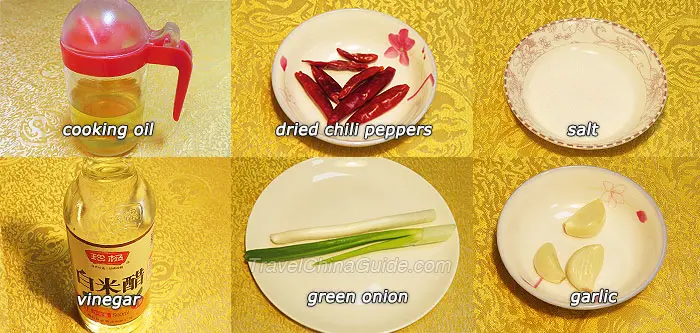 1. Peel the potato and clean it. Cut into thin and homogeneous shreds. Soak in salt water for 10 minutes in order to remove the starch. Drain well.
2. Clean the green onion and dried chili peppers. Cut into thin shreds.
3. Discard the pedicels and seeds of green peppers and shred them.
4. Remove the husk of garlic. Clean it and cut into small slices.
Note: To save time, it is also fine to prepare the potato using a vegetable shredder.

Methods:
STEP
1
Preheat a wok. Pour in cooking oil and heat it until hot. Add in garlic, green onion and dried chili peppers. Fry for 5-10 seconds until fragrant.

STEP
2
Add the shredded potato. Stir-fry for 30 seconds.

STEP
3
Pour in 2-3 teaspoons of white vinegar along the brim of the wok. Combine well with the potato shreds. Add in the green peppers, and mix with the potato shreds. Stir-fry for 20-30 seconds until the potato is well cooked.

STEP
4
Add some salt and combine well. Turn off the heat and dish up.

The Spicy and Sour Shredded Potato is prepared. The transparent shredded potato is appealing.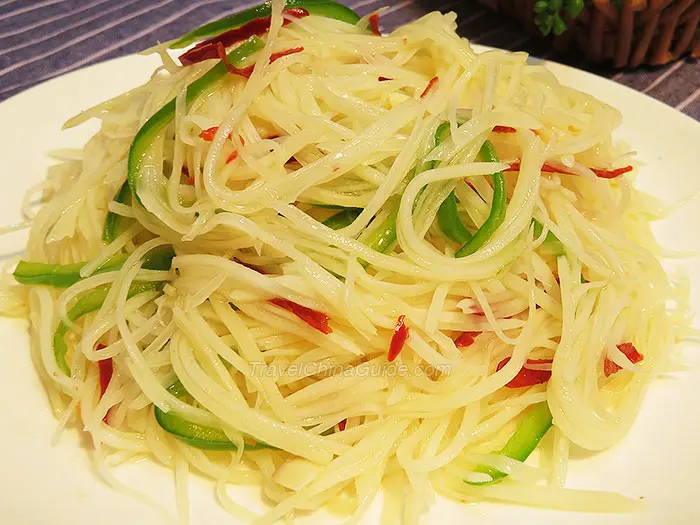 Tips for Making the Best Spicy and Sour Shredded Potato:
1. After shredding the potato, it is suggested to soak it immediately; otherwise, it will be oxidized and turn black.
2. Rinse the potato shreds with tap water once again after soaking. In this way, the starch on the surface will leave, and the potato shreds won't stick to the wok during frying.
3. White vinegar is the best choice to present the sour flavor.
4. Do follow the recipe to add in vinegar along the brim of the wok. Pouring it straight on the potato shreds would influence the flavor.
Benefits of the Ingredients:
1. Potato: improving the function of intestines and stomach, preventing the high pressure, relieving the chronic stomachache, lowering lipid and anti-aging.
2. Green peppers: relaxing the respiratory passage, relieving cough and cold, preventing the cronary arteriosclerosis
Our Guests Attending Cooking Class
Our Guests Learn to Make Dumplings


Mr. Edgar's five family members from Mexico & Mr. Sharada and Ms. Bisnu from Nepal joined our cooking class in Xi'an during a family visit. Just as they said, this is a unique way to spend some time with local family in China, make new friends and learn new skills of cooking Chinese dishes. They love dumplings a lot and learnt to cook Spicy and Sour Shredded Potato – one of the most favorite dishes among Chinese.

Our Guests Dining in a Chinese Family

Mr. Andrew, Ms. Mary & Ms. Virginia from USA paid a private visit to a local family in Xi'an under the special arrangement by our company. The hospitable host received them with great enthusiasm. Then the host gave them a hand-by-hand Chinese food cooking class through cooking Spicy and Sour Shredded Potato,

Green Onion Pancakes

&

Yangzhou Fried Rice

. They said that it was a lovely experience and the easygoing host made them feel very welcome and at home.

Our Guests Making Dumplings

Mr. Carlos, Ms. Maria, Ms. Carla, Mr. Luis, Ms. Maria & Ms. Estefania from Mexico made a family tour specially arranged by Travelchinaguide, during which they learned to cook three well-known Chinese dishes from the skillful hostess -

Dumplings

,

Sweet and Sour Pork Fillet

& Spicy and Sour Shredded Potato. They admired the meal at the local family the best during their China trip in the feedback:"...For the best meal, we choose in Xi'an that served in the department of one person...."

Further Reading:
10 Quick and Easy Chinese Food Recipes for Beginners
Top 15 Vegetarian Chinese Food Recipes

More popular vegetable dishes in China:
- Last modified on Dec. 02, 2019 -