Yangzhou Fried Rice
Chinese name: 扬州炒饭 (yáng zhōu chǎo fàn)


Yangzhou Fried Rice, also named Yeung Chow Fried Rice, is a simple homemade dish, made from cold cooked rice and various ingredients, such as sausage, lettuce and green peas.


It is so named because its origin can be dated back to Yangzhou, where it is said fried rice started to be widely popular.


Recipe of Cooking Yangzhou Fried Rice
1 bowl of cold cooked rice (pre-cooked half to one day in advance would be better)
an egg
chicken breast or chicken leg, 50g
flower mushroom, 10g
sausage, 50g
green peas, 25g
shrimp, 5-10g
lettuce, 25g

Note: The general proportion of rice and the total amount of all other ingredients is 7:3.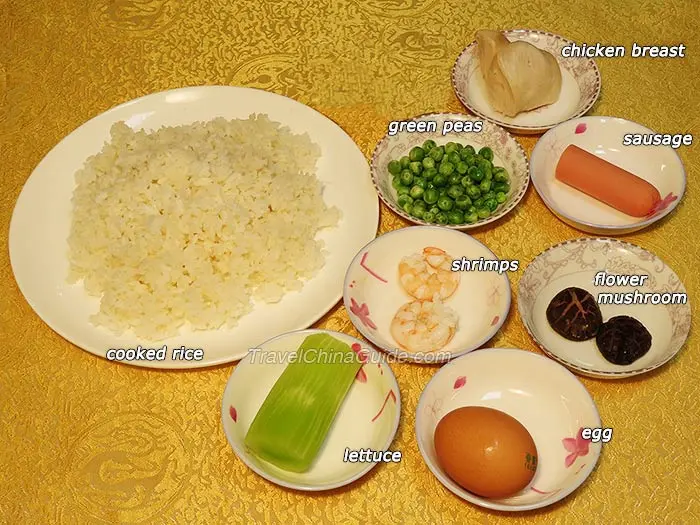 cooking oil; salt; yellow rice wine
Note: The amount of ingredients and seasonings above can be adjusted according to one's personal taste.

1. Crack two eggs into a bowl. Add a little salt and beat it up.
2. Peel, clean and cut the lettuce into 4mm
3
dices.
3. Cut the sausage into 2mm * 4mm * 4mm cubes.
4. Boil the chicken breast beforehand. Let it cool. Then cut into 4mm
3
dices.
5. Soak the flower mushroom in warm water for 1-2 hours. Drain off water and cut into 4mm
3
dices.
6. Boil the shrimps and dice finely.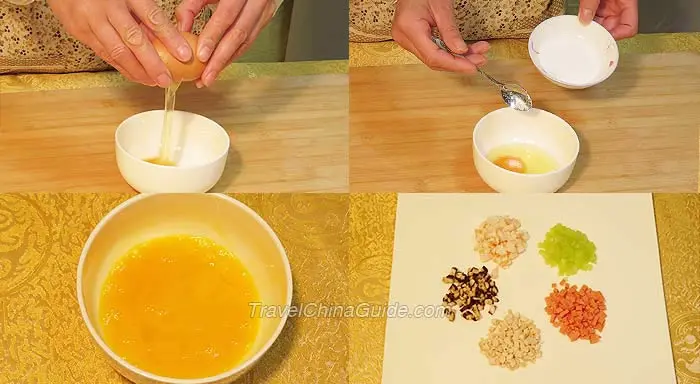 Methods:
STEP
1
Poach the green peas in boiling water for 5-10 minutes.

STEP
2
Stir-fry the shrimps: Preheat a wok. Add cooking oil and heat until 150

C (300

F). Add the shrimps, and stir-fry for 10-20 seconds. Remove and drain off the oil.

STEP
3
Fry the fixings / other ingredients: Heat the cooking oil. Add in diced chicken, flower mushroom, lettuce, chopped sausage and the poached green peas and fry for half a minute. Then pour in some yellow rice wine and add salt. Fry for 2-3 minutes and turn off the heat. Remove from the pan.

STEP
4
Fry the egg: Place the wok over medium heat. Pour in cooking oil and heat it. When the temperature reaches 150

C (300

F), add in the beaten egg and fry for about 1 minute until both sides turn golden. Cut it into small chunks with cooking spatula.

STEP
5
Add in rice and stir well to make all rice scattered in the wok. Fry for about 2 minutes. Then add in fried shrimps. Stir well to combine.

STEP
6
All the other ingredients prepared in Step 3. Stir-fry for another 1-2 minutes and mix well. Add some salt. Turn off the heat and serve on a nice plate.

The Yangzhou Fried Rice is cooked. Sprinkle some chopped green onion as garnish, which also improves the flavor. Your appetite will be improved at a glance of the nice color combination.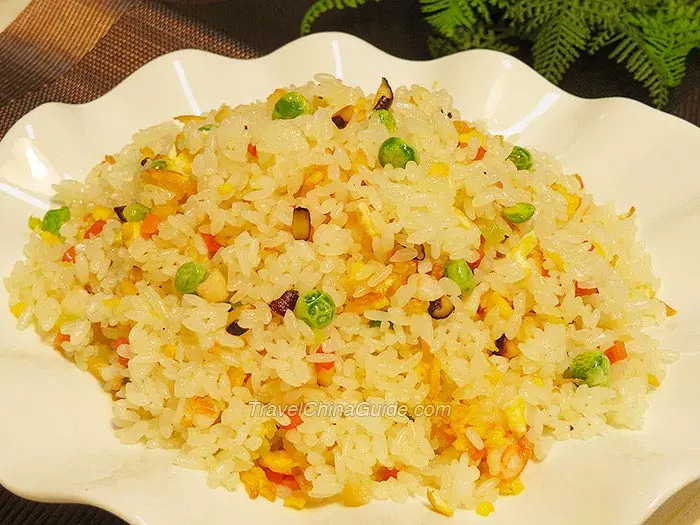 Origin of Yangzhou Fried Rice

Several different sayings are widely spread. It is said that people along the Ancient Yangzhou Canal started to eat
Egg Fried Rice
as early as the Spring and Autumn Period (770 – 476 BC). During that time, they usually fried the leftover rice together with the egg, adding some chopped green onion during cooking. Some people think it was Emperor Yang in the Sui Dynasty (581 - 618) that introduced the Golden Rice with Scrambled Eggs, Sui Jin Fan in Chinese, to Yangzhou when his royal cruise sailed in that area. As time passed by, local chefs added many materials like green peas and mushrooms into the dish, forming the earliest Yangzhou Fried Rice. Yi Bingshou, the Yangzhou Taishou, prefecture chief in feudal China during the reign of Emperor Jiaqing in the Qing Dynasty (1644 - 1911) added shrimps, diced meat and sausage when cooking the dish. Since then, the Yangzhou Fried Rice started to be popular; nowadays, it appears on the menu of many overseas Chinese restaurants.
Our Guests Attending Cooking Class
Our Guest Attending the Cooking Class

A small tour group including Mr. Robert and Mr. Douglas from Australia, Mr. George and Ms. Alba from USA, Mr. Michael and Ms. Lesley from UK, and other guests from Netherlands, France, Philippines, Myanmar and Japan joined our cooking class during their tour in China. They learnt to cook Yangzhou Fried Rice and Chinese vegetable dishes like

Ma Po Tofu

. They were beyond happy for this visit because they learnt how to prepare some classic Chinese dishes at home.

Our Guests in a Chinese Family



Mr. Hal, Ms. Marlene & Ms. Annette from UK paid a special family visit to a local Xi'an family arranged by our company. They said they had ever eaten fried rice and liked it a lot during their last China trip, so they especially booked this tour in the hope of learning to cook the well-known Yangzhou Fried Rice from the Chinese hostess on spot.

Ms. Rajada, Mr. Gerald & Mr. Shaun in a Chinese Family

Ms. Rajada and Mr. Shaun from Thailand, and Mr. Gerald from USA joined TravelChinaGuide's family tour in Xi'an and learned to cook Yangzhou Fried Rice &

Eggplant in Sichuan Style

. They highly favored it and commented in their feedback:"...It was nice to meet you in Xi'an and thank you for sending the photo taken at the home of the host for our home cooked meal. It was such a memorable moment and the highlight of our tour in China. The host was gracious and the dishes were excellent. My son and I enjoyed learning a few tricks of cooking from her, and even I bought some delicious cooking sauce from China to cook my dishes at home with Mr. Yuan's help. All in all, the arrangements of the trip you planned for us had given us much value for the money..."

Further Reading
12 Chinese Rice Dishes You Can Make at Home
Top 10 Chinese Dishes You Must Try

More Staple Food and Snacks in China:
- Last updated on Nov. 28, 2019 -
Questions & Answers on Yangzhou Fried Rice
Asked by VANILLALOVER1 | Feb. 16, 2019 13:55

Reply
I should try this looks so nice. Thanks to travel china guide
Answers (1)
Answered by Hailey from USA | Feb. 25, 2019 17:59

0

0

Reply
It tastes really good.
Asked by Peter Norfolk from UK | Feb. 04, 2015 13:17

Reply
Are there any traditional dishes associated with the Guilin/Yangshuo/ Daxu localities?
Answers (1)
Answered by Edison from KIRGIZSTAN | Feb. 05, 2015 20:54

0

0

Reply
Peter, Guilin rice noodles should be the most well-known dish, especially the rice noodles with spiral shells or horse meat. Others are braised pork with tarco, hot candied tarco. steamed duck in lotus leaf and fried beef with winter bamboo shoots. In Yangshuo, you shouldn't miss braised beer fish.
Asked by Mr.Amanda from CHINA | Jan. 03, 2010 22:09

Reply
I would like to know why it is called Yangzhou Fried Rice? Yangzhou is a city, right? What does the dish relate to the city? Any reply will be appreciated.
Answers (2)
Answered by Mr.Joey | Jan. 04, 2010 01:17

0

0

Reply
Hi,Amanda. You are right that Yangzhou is a city. I have read the first part of the page (left side of the top picture) and think that maybe because the dish originates from that place. LOL:)
Answered by VANILLALOVER1 | Feb. 16, 2019 13:58

0

0

Reply
Me too im curious:)