Noodles with Tomato Egg Sauce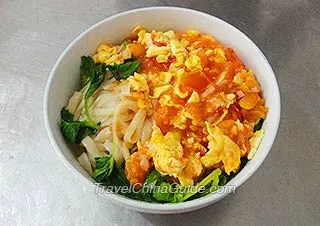 Chinese name: 西红柿鸡蛋面 (xī hóng shì jī dàn miàn)
Characteristics: Bright in color, delicious in taste and rich in nutrition.
Noodles with Tomato Egg Sauce is a traditional and popular Chinese dish. Its cooking recipe is easy to follow and the ingredients are easy to come by. Containing lots of nutrition such as vitamins and lecithin, it is beneficial to good health. The tomatoes in the dish are full of antioxidants, prevent cardiovascular diseases and reduce risk of cancer. Eggs are good for the nervous system and physical development, and the rich lecithin from their yolk also contributes to improving our memory.
The main ingredients of this dish are very simple: tomatoes, eggs,
hand-made noodles
and celery leaves. The celery leaves are optional and can be replaced with other vegetables to your taste such as spinach and baby cabbage.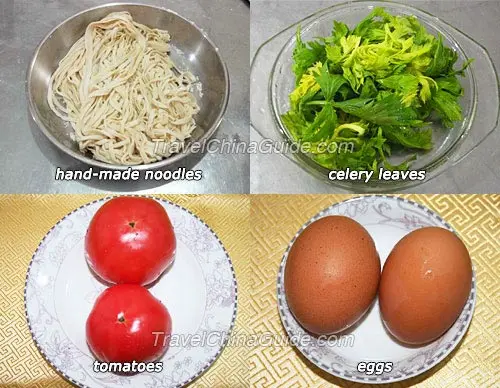 Salt, five-spice powder, chopped spring onion, chopped ginger.
Note: the amount of the seasonings listed above can be appropriately used according to one's personal taste.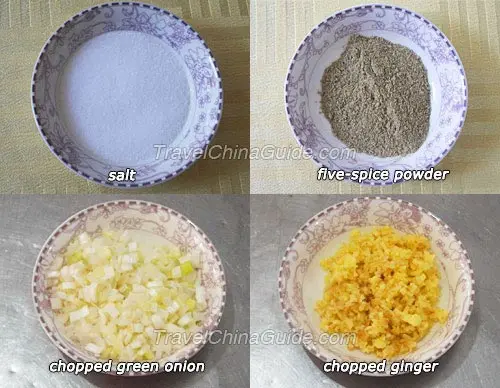 A. Crack the eggs into a bowl and whisk the yolks and whites.
B. Wash and skin the tomatoes, cut them into small chunks and put them to one side.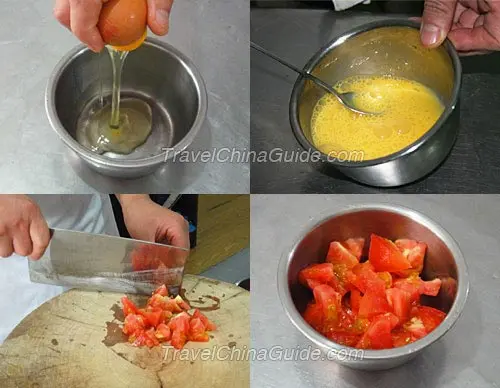 Methods:
STEP
1
Heat up some cooking oil over a low heat on your stove. Pour in the beaten egg and stir slowly. When the egg sets, remove it from the wok into a bowl and put it to one side.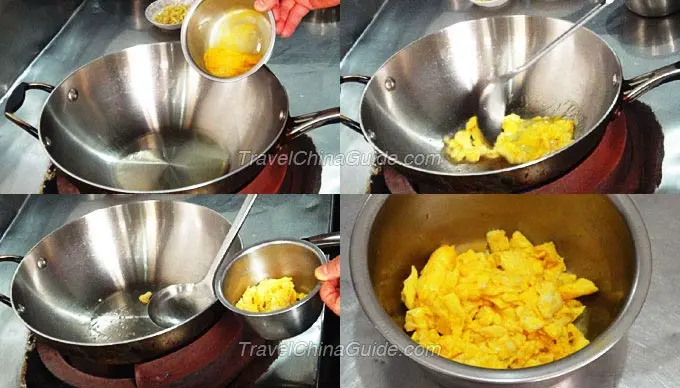 STEP
2
Add some more cooking oil to the wok and turn your stove up to a medium-to-high heat. When the oil becomes hot, add in the chopped spring onion and ginger. Stir fry and then pour in the tomato chunks and stir some more thoroughly. Add some salt and five-spice powder and continue to stir fry for about a minute. Now pour in some boiled water, stir well and cover the wok with a lid to let the contents simmer for about 2-3 minutes. Remove the lid and add in the fried egg. Stir thoroughly for about 30 seconds and then pour the contents into a bowl. The tomato and egg sauce is now ready.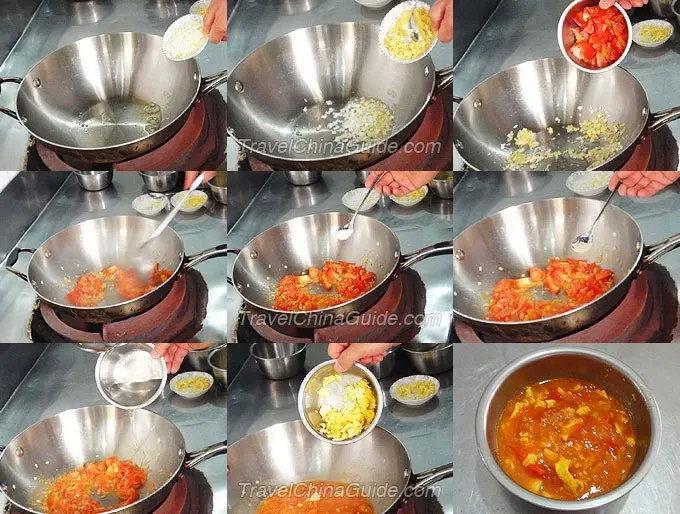 STEP
3
Clean the wok and add in some water. Put it over a middle-to-high heat on your stove. When the water boils, add in some hand-made noodles and stir slowly but well with chopsticks. When the water comes to a boil again, pour in some cold water. When the water comes to a boil once again, add in the celery leaves. When the water boils again this time, the noodles and celery should be cooked and you can remove them from the wok into a bowl. Finally, ladle the tomato and egg sauce on top of the noodles. To make your tomato and egg noodles more attractive, you can set the celery leaves on one side and ladle the sauce on the other side.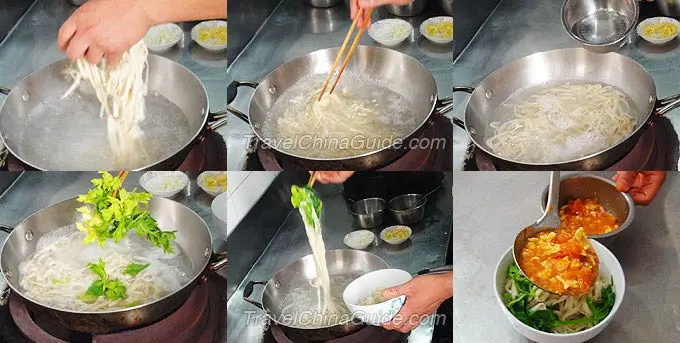 Your colorful, delicious and nutritious noodles with tomato egg sauce is now ready to be served.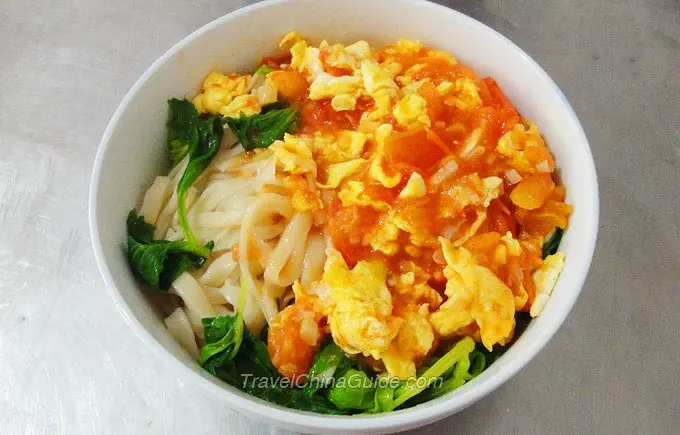 Our Guests Attending Cooking Class
Our Guests Learn to Make Dumplings

On May 16, 2013, a group including Mr. Chia-Bo, Ms. Amy, Mr. Joe, Ms. Doris, Ms. Tammy from the United States, and other guests from the UK, Canada and Greece paid a private visit to a local family in Xi'an. Some of them learnt to make dumplings from the hostess and some others were interested in cooking the popular noodles with local flavor - Noodles with Tomato Egg Sauce. They regarded this as the highlight of their Xi'an tour because they loved the idea to introduce foreigners to Chinese basic home food.

Our Guests Learn to Make Dumplings

On Feb. 24, 2013, a small tour group including Mr. & Ms. Boland from Ireland, Mr. Russell and Ms. Janet from USA, and other guests from UK, Canada, Australia, etc. joined a family tour arranged by TravelChinaGuide and learned to cook Chinese Dumplings, Sweet Corn Soup and Noodles with Tomato Egg Sauce in a local family in Xi'an. They had much fun and knowledge during the special tour and praised it the most pleasant and unforgettable experience of their China travel.

Our Guests in the Cooking Class

On Jun.18, 2012, under the guidance of our tour guide, Mr. Sjamsuddin, Ms. Dede, Mr. Jason and Ms. Wimmy from Indonesia visited a local family in Xi'an. They had a good time there with a cooking class and had a home-cooked a la carte lunch. They were excited to know how clean Chinese dishes were cooked with fresh vegetables. And it was also interesting to make dumplings and Noodles with Tomato Egg Sauce by themselves.

Further Reading:
10 Most Popular and Tasty Chinese Noodles Recipes
More Staple Food and Snacks in China:
- Last modified on Nov. 28, 2019 -