Hand-made Noodles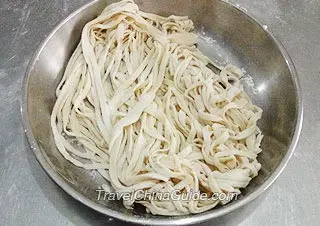 Chinese name: 手擀面条 (shǒu gǎn miàn tiáo)
Characteristics: Chewy, nutritious, and nourishing when made with fragrant rich flour.
In China, noodles have a history of about 4,000 years and are one of the most important staples, especially in northern China. Although many more kinds of noodles appear as time passes, hand-made noodles prevail, because they are so easily made and can be cooked into various dishes. One can boil them and then add in different sauces; minced pork for noodles with minced pork, tomato and egg sauce for tomato and egg noodles, etc., and one can also steam and then fry them with different vegetables and meat to make delicious Chow Mein (stir-fried noodles). Lastly, hand-made noodles are suitable for everyone, including the elderly and children. Enjoy the recipe blow, and you will know how the long and thin noodles are made.
The main ingredient of hand-made noodles is wheat flour. One can also add a little salt and an egg to make the noodles shinier and chewier.

Methods:
STEP
1
Put the flour into a basin and, while stirring, pour in some cold water. The flour-to-water ratio is about 10:4.5. One can add more water to get softer noodles or less water to get tougher noodles although soft noodles are generally considered more suitable for the elderly and children. Salt and a beaten egg are added and stirred in thoroughly. Then knead the combined flour mixture into a dough.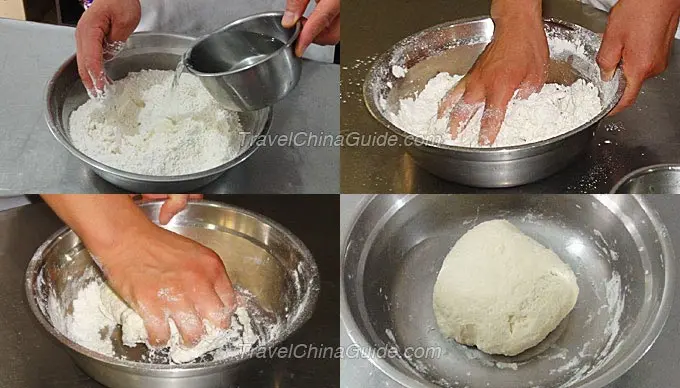 STEP
2
Take the dough out of the basin and knead again thoroughly. To get chewy noodles, one should knead the dough for a comparatively longer time until its surface is very smooth and there are a few or no air bubbles inside. Wrap the dough in cling film and let it rest for about 30 minutes.

STEP
3
Knead the dough thoroughly again and shape it into a ball. Dust some flour on a cutting board and flatten out the ball of dough. Keep flattening the dough with a rolling-pin. Then wrap the rolling-pin with the dough and roll to make the dough thinner. After a while, unwrap the rolling-pin and dust some flour on the dough. Then wrap the rolling-pin again from the other direction and continue rolling. Keep doing this for more times in all directions until a thin circle of dough has been made. The dough should be about 1mm thick. One can roll more times to make it thinner or fewer times to make it thicker. The elderly and children may prefer thinner noodles.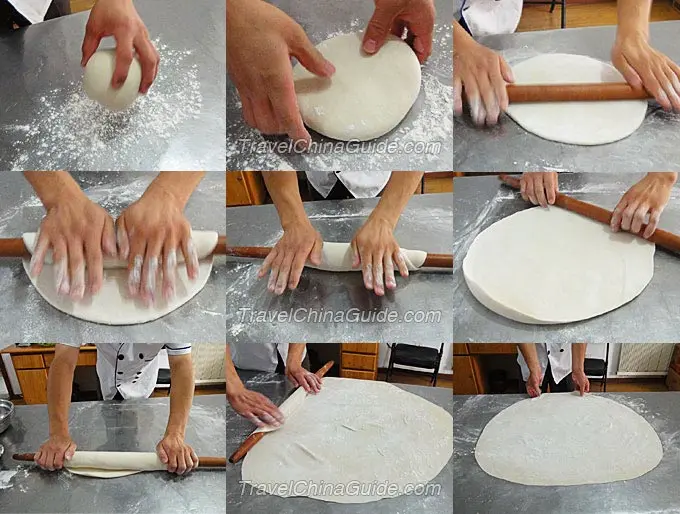 STEP
4
Dust flour onto the sheet of dough and fold it into multiple layers. Cut the layers into thin strips. The width of the strips is based on one's preference. Dust some flour on the strips and loosen them.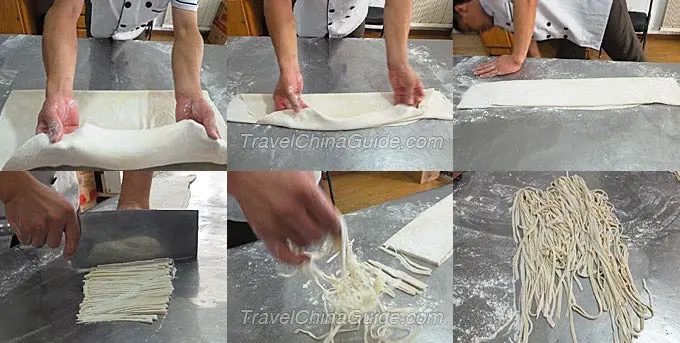 The hand-made noodles are now ready to be cooked in your favorite way!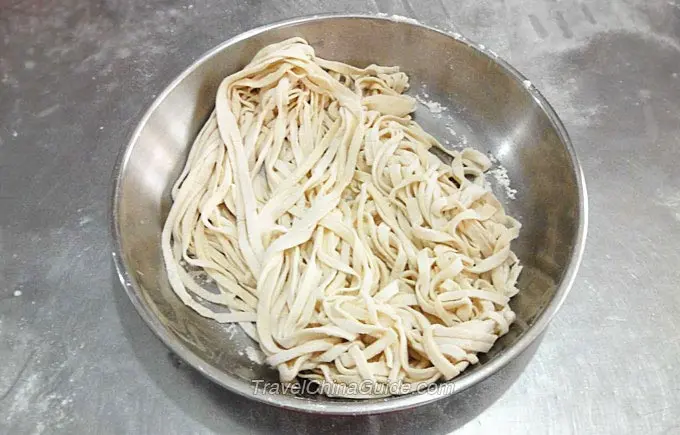 Learn to make Chinese dishes with hand-made noodles:
Our Guests Attending Cooking Class
Thomas and Susan Making Dumplings

On March 28, 2013, Mr. Thomas & Ms. Susan from the United Kingdom had a visit to a local family with our guide during their tour in Xi'an. They both enjoyed a great meal there. Anne learnt to cook Sichuan Twice-Cooked Pork Slices and Hand-made Noodles. And they learnt together to make dumplings and another similar staple food – Pan Fried Dumplings. It was interesting that they couldn't tell any difference between the "dumplings" at the first, which not only the dumplings fried in the pan, but also the crescent-shaped ones with the two outer sides open.

Our Guests Dining in a Local Family

On Jun. 4, 2012, Mr. Eric & Ms. Angela from the United States visited a local family in Xi'an. It seems that the couple is so affectionate to Chinese wheaten food that they learned to cook

Chinese Pancakes

and Hand-made Noodles at the same time. They commented that it was the most exciting experience of their China tour.

Ms. Heather Making a Doughball

On Mar. 25, 2012, Ms. Heather & Mr. Robert from New Zealand experienced our distinctive family visit tour in a local family of the ancient capital city Xi'an. Being Chinese food lovers especially keen on various wheaten foods, they learned to cook their favorites -

Chinese Dumplings

, Hand-made Noodles, and Shredded Pork with Garlic Sprouts in a pure Chinese environment for the first time in their life.

Further Reading:
10 Most Popular and Tasty Chinese Noodles Recipes
More Staple Food and Snacks in China:
- Last updated on Jan. 10, 2023 -
Questions & Answers on Hand-made Noodles
Asked by Jennifer from UNITED STATES | Jan. 10, 2023 10:56

Reply
measurement and serving size
Is the measurement based on cups (such as 10 cups of flour to 4 1/2 cups of water)? How many servings does this recipe make?
Answers (1)
Answered by Bonnie | Jan. 10, 2023 17:29

0

0

Reply
According to my experience, one servinig of the hand-made noodles needs about 250-300g flour and the dough should be a little bit hard, so the flour to water ratio is 4:1 or 4.5:1. Hope you will enjoy the cooking~
Asked by Pam R from USA | Oct. 02, 2016 14:50

Reply
To make these vegan, do you have to add egg?
Answers (1)
Answered by Gabriel from GERMANY | Oct. 07, 2016 22:48

1

0

Reply
As I know, eggs are not very necessary. Most people use them to add extra flavour. But you don't have to add them if you are a vegan.
Asked by Cynthia Bentley from UNITED STATES | Apr. 01, 2016 00:32

Reply
What does ratio conver to?
When you say 10:4.5, can that convert to 1&1/4 Cup (10 1/8C measures) to 1/2 Cup (4 1/8 C measures)?
Answers (1)
Answered by James from CANADA | Apr. 07, 2016 03:35

0

0

Reply
It is suggested to use the same vessel to weigh the flour and water for a more accurate ratio. If you use cup as the container, generally, a full cup of flour needs less than half a cup of water.
Asked by Mauricio from BRAZIL | Jul. 23, 2015 13:55

Reply
What are the proportion of the ingredients for making handmade noodles?
Answers (1)
Answered by Peter from INDIA | Jul. 23, 2015 22:07

0

0

Reply
Mauricio, you can ensure wheatflour and water ratio 10:4.5. If you prefer tougher noodles, you can add lesser water. If you prefer soft noodles, you can add more water. However, you should remember that you can't add water too much every time. Otherwise, the dough is too soft.
Asked by Eve from UNITED STATES | Apr. 22, 2015 16:17

Reply
Do these noodles have to be boiled before they are fried?
Answers (2)
Answered by Ellen from INDONESIA | Apr. 24, 2015 22:08

0

0

Reply
Yes, you should boil noodles before you fry them.
Answered by Bruno from MAURITIUS | Sep. 18, 2015 12:38

0

0

Reply
I think that the noddle should be steem oil and well ventilate before use