Chinese Pancakes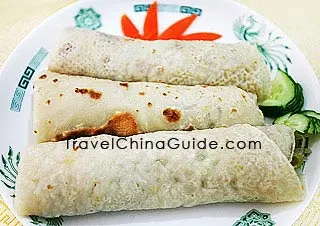 Chinese name: 煎饼卷菜 (jiān bǐng juǎn cài)
Style: Shaanxi Cuisine
Characteristics: they are soft and smooth.
Pancakes, also known as Chinese crepes or Jian Bing, are a traditional food of central Shaanxi, and can be seen in all the streets and lanes in
Xi'an
in the early morning.
They are usually eaten with different kinds of other dishes, like Potato with Vinegar Flavor, Fish-Flavored Shredded Pork, Stir-fried Vermicelli, cold cucumber shreds, or simply eaten with chili sauce or Szechuan peppercorns.
Methods:
STEP
1
Place 2 tablespoons of flour, and pour into a soup bowl. Use a spatula or chopsticks to scrape any elusive bits of flour from around the edge into the center, while gradually adding small quantities of water until the batter is smooth, with the consistency of thin cream.
STEP
2
Place a pan over high heat until hot. Brush a thin layer of oil in the pan. Take half a ladle of the flour and water mix, and pour in the pan. Shake the pan to make the mix fully cover the pan. Turn over it when the edge rises. Change to medium heat and fry pancake for 1 minute on both sides until cooked. Remove it from the pan and put on a plate. Repeat to cook more.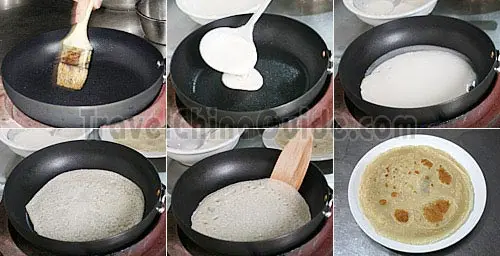 STEP
3
Replace the pan with a wok to prepare the other dishes to be eaten with the pancakes, such as Potato with Vinegar Flavor and Fish-Flavored Shredded Pork.
STEP
4
Take the prepared dishes and place in the pancake. Roll it up. Repeat to make more and serve on a plate.
Chinese pancakes are ready for you to enjoy. Cannot wait to learn the recipe?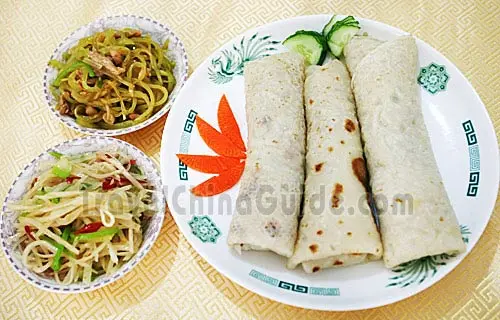 Our Guests Attending Cooking Class
Our Guests Dining in a Local Family


Ms. Nancy, Ms.Lucile from USA, Mr. Joshua and Mr. Timothy from Australia took part in our cooking class prepared in a local family in China. They learnt to make pancakes and cook perfectly matched dishes such as Shredded Pork with Green Pepper and Potato with Vinegar Flavor. They commended the hostess's skill of cutting up vegetables and meat, as well as the diversification of Chinese cooking.

The Bagols Having Dinner

Ms. Filma & Mr. Francis from Canada spent about 2-3 hours at a local family in Xi'an where they had a face-to-face communication with the hostess, and learned to cook Chinese dishes and snacks like

Kung Pao Chicken

and Chinese Pancake. It is our special tour service which gains rising popularity among our customers. They said that it was a great change for those who are interested in Chinese culture and Chinese cooking.

Mr. Mulligan Learning to Make Pancakes

Ms. Maureen and her husband from USA joined our tailor-made

family visit

in Xi'an and learned to cook

Braised Spare Ribs

, Chinese pancakes &

Hot and Sour Soup

in a typical Xi'an family specially selected by TravelChinaGuide. With great curiosity, Maureen asked to let her prepare the flour water for cooking the pancakes, and she suceeded finally thanks to the patient hostess. After the meal, she said that it was quite a life-enhancing experience for her and her husband.
More Staple Food and Snacks in China:
- Last modified on Jul. 17, 2019 -