Steamed Taro with Eight Delicacies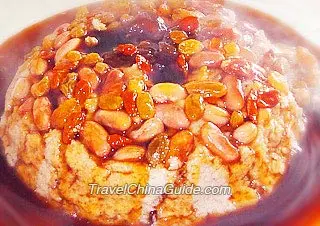 Chinese Name: 八宝芋泥 (bā bǎo yù ní)
Characteristics: The Steamed Taro with Eight Delicacies looks mouthwatering, and tastes sweet and soft with the special aroma of taro.
Steamed Taro with Eight Delicacies is a traditional dessert in Fujian, and is always served as the last but most important dish during a banquet. Taro is a healthy and nutrient-rich food; when decorated with all kinds of ingredients and covered with brown syrup, the dish appears more attractive and tastes better.
Note: Eating taro and bananas at the same time will lead to bloating, so remember not to eat banana before or after you enjoy this delicious dessert.
500g of taro, boiled peanuts and red kidney beans, washed raisin and wolfberry, 4 or 5 preserved dates, walnuts, two spoons of brown sugar, half spoon of cornstarch, whipping cream, and red bean pasta
Note: Dates, walnuts, peanuts, raisin and beans are used for decoration, and the amount of them can be appropriately used according to one's personal taste.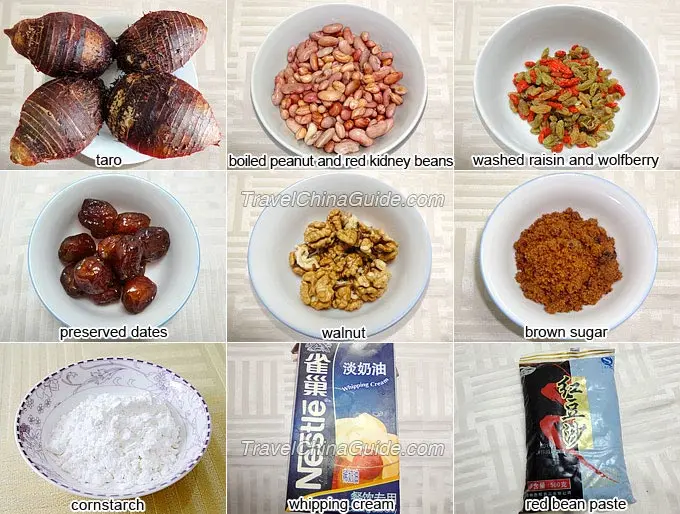 Methods:
STEP
1
Wash the taros and boil them in a pressure cooker for 15 – 20 minutes (if not a pressure cooker, the taros need to be steamed for about 1 hour). Remove the peel and mash the taro into a paste. Mix two spoons of whipping cream with the taro paste.
STEP
2
Wipe a bowl with oil. Put the delicacies in sequence at the bottom of the bowl: preserved dates, walnuts, boiled peanuts and red kidney beans, raisins and wolfberry (you can also place them into an asterisk pattern). Other nuts or fruit, such as longan and green plum can also be added according to one's personal taste.

STEP
3
Cover the eight delicacies with taro paste but leave a small pit in the middle in which to add some red bean paste. Then add more taro paste and press down the surface evenly. Cover the bowl with an upside-down plate.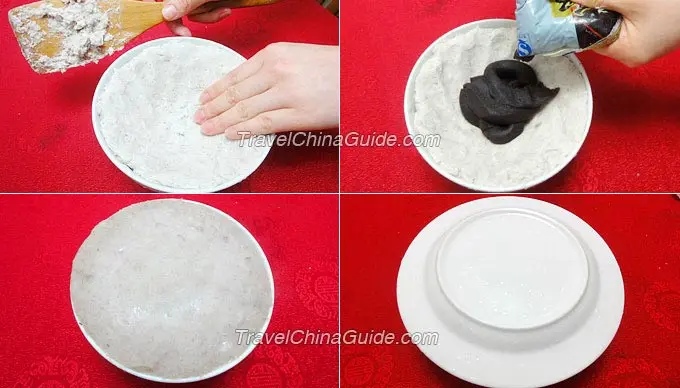 STEP
4
Steam the taro for about 20 minutes. Run a knife around the edge of the bowl and carefully invert it onto the plate.

STEP
5
Place a wok over high heat and add half bowl of water and two spoons of brown sugar. Boil it until it becomes thick syrup. Mix the cornstarch with one spoon of water and add it into the syrup. Boil the syrup for half minutes. Turn off the heat and pour the boiled syrup over the taro paste.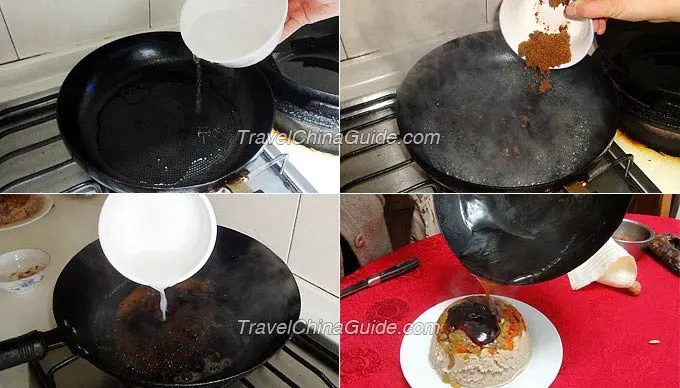 Finally, the Steamed Taro with Eight Delicacies is finished after cooking as the five steps of this recipe.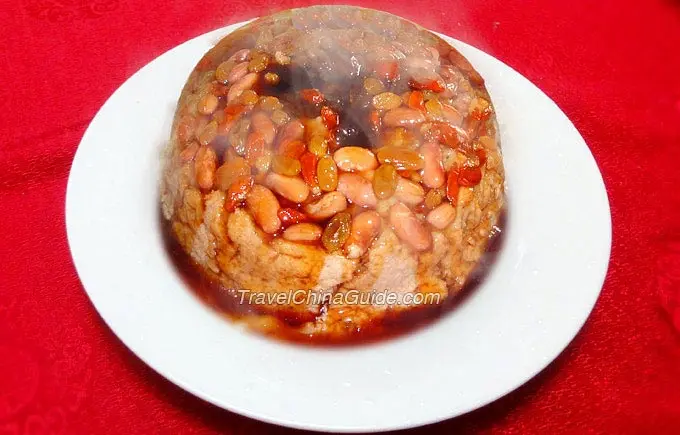 Our Guests Attending Cooking Class
Our Guests in the Cooking Class


On June 22, 2013, Mr. Leo, Ms. Leeanne, Mr. Aidan, Ms. Ailsa, Mr. Kieran and Mr. Reagan from Australia followed our guide to visit a local Chinese family in Xi'an. They had a good time there, chatted with the host, shared their impressions of China and Chinese people, learnt to make dumplings and cooked a sweet dish - Steamed Taro with Eight Delicacies. They loved this private visit very much because it was really fun and enjoyable. And we appreciated a lot as they sent us feedback with compliments on this private visit.

Our Guests Dining in a Local Family


On Sep. 7, 2012, Ms. Teresa & Mr. Stewart from USA had a family visit in Xi'an carefully prepared by TravelChinaGuide. They cherished this visit a lot because it was the first time for them to go into a Chinese family, chat with the hostess and learn how Chinese foods were cooked. They once tried the Steamed Taro with Eight Delicacies in a Chinese restaurant and got interested in it very much. So, this time they tried to cook it by themselves under the step-by-step guidance of the hostess.

Ms. Leona Learn to Make Dumplings

On Feb. 27, 2012, Ms. Leona from the US had a valuable opportunity to visit a private apartment in Xi'an through taking part in our family tour. Besides a simple view of the rooms, she also had a free talk with the family, and enjoyed a delicious meal there. The most interesting and memorable should be the cooking class by the hostess. She didn't think that it was so complicated to make

dumplings

and Steamed Taro with Eight Delicacies. She praised that the hostess's cooking techniques were amazing.
More Staple Food and Snacks in China:
- Last modified on Jun. 14, 2019 -