Chow Mein (Stir-fried Noodles)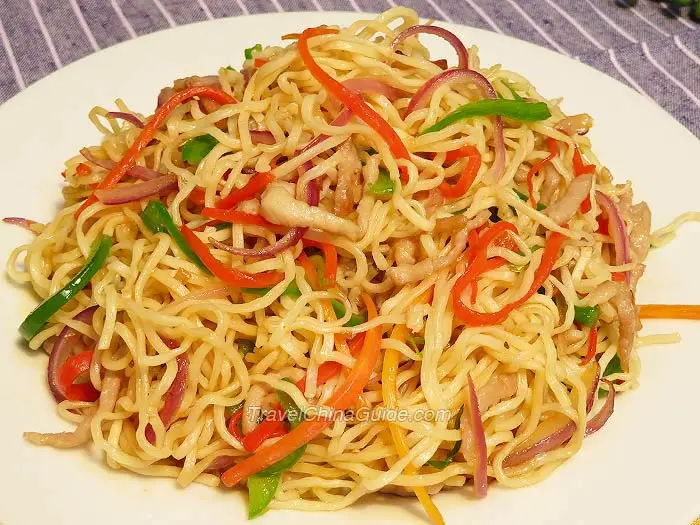 Chinese name: 炒面 (chǎo miàn)
Characteristics: It is a delicious and healthy dish, quick and easy to make.
Chow Mein can be cooked using different kinds of noodles including wide or thin noodles, noodle pieces and a variety of vegetables like carrots, onion, cabbage, green pepper, garlic sprouts, mushrooms, etc.
Ham, egg and meat sometimes are used to cook to better the flavor. This recipe presents the Chow Mein with lean pork. In addition, Chinese people usually add plenty of salt and soy sauce for extra flavor.
200g noodles
100g lean pork (beef or egg can also be used instead)
150g garlic sprouts (cabbage or green beans)
2 small green peppers
1 small carrot
1/2 small onion
Note:
1. The amount of ingredients listed above only serves one person.
2. If time permits, you can make some
hand-made noodles
by yourselves.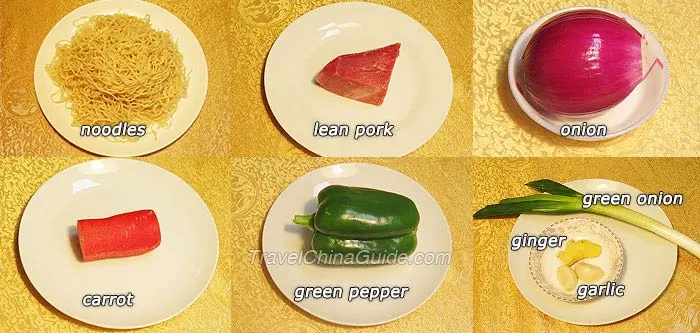 chopped ginger
chopped green onion
ground chili
salt
chicken essence (stock/bouillon) or MSG (monosodium glutamate)
cooking wine
soy sauce
tomato ketchup
cooking oil
Note: the amount of the seasonings listed above can be appropriately used according to one's personal taste.

A. Clean the lean pork. Cut into thick slices that are cut into thin strips. Put into a dish.
B. Wash the green peppers. Cut into slices and put into a dish.
C. Peel and clean the onion. Chop into thin slices and put into a dish.
D. Snip the peduncles of the garlic sprouts. Cut it into 2-3 cm long sections. Put into a dish after washed.
E. Wash and peel carrot. Cut into thin strips. Put into a dish.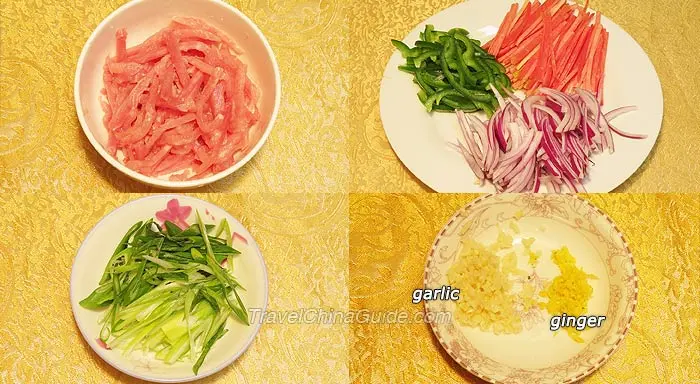 Methods:
STEP
1
Coat the lean pork strips by adding in cooking wine, soy sauce, salt, chicken essence or monosodium glutamate. Stir well it with chopsticks until you feel it is a bit sticky.

STEP
2
Noodles are best cooked in a steamer. Fill the steamer pot 1/4 full of water. Grease the steamer basket with a thin layer of oil to prevent the noodles from sticking. Place the steamer basket in the pot, add noodles, cover and steam for 2-3 minutes. Take the noodles out and put into a bowl, add some cooking oil and stir it well with chopsticks. Return noodles to steamer and stream for another 2-3 minutes. Place in a bowl.

STEP
3
Place a wok over high heat until hot. Add some cooking oil, swirling to coat sides. Add the coated lean pork strips and stir-fry until the meat turns pale yellow in color. Add the ground chili, chopped ginger and chopped green onion. Stir-fry for 20 seconds. Add all of the vegetables and fry, stir for 1 minute.

STEP
4
Add some salt and chicken essence and stir-fry for 10 seconds. Finally, add in the steamed noodles and the tomato ketchup, and stir-fry it for a further 1 minute.

STEP
5
Turn off the heat. Chow Mein is cooked. Serve it onto a plate.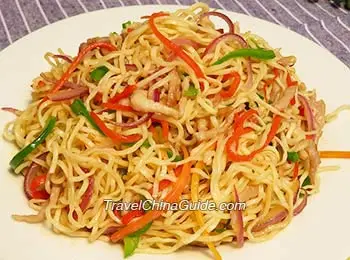 Our Guests Attending Cooking Class
Our Guests Learn to Make Dumplings



On July 25, 2012, Mr. David, Ms. Caroline, Ms. Alexandria & Ms. Elizabeth from USA had a great experience in a typical Xian family through a special cooking class by the host. With great curiosity about Chinese pastas, they learned to cook Chow Mein & Chinese dumplings at the same time. They commented it was a lot of fun and very insightful.

Our Guests in a Chinese Family

On May 8, 2012, Ms. Julie, Mr. Ashley, Ms. Judith & Ms. Tamara from Australia had a wonderful time in a typical family in Xian under the arrangement of our company. In addition to a pleasant talk with the host, they also learned to cook Chow Mein &

Shredded Pork with Garlic Sprouts

from the hostess. They said it was a special experience for them.

Our Guests Learn to Cook Chow Mein



On Apr. 30, 2010, Mr. Neil and Ms. Jeanette from Australia joined our family tour arranged in Xian and learned to cook Chow Mein in a local family specially selected by TravelChinaGuide. They especially mentioned the home-cooked lunch in their feedback:"...lunch provided by family host in Xian were meals fit for royalty and were very suitable to our Western palates...."
More Staple Food and Snacks in China: