Chow Mein (Stir-fried Noodles)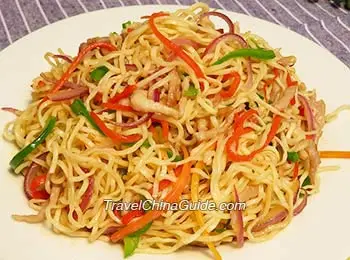 Chinese name: 炒面 (chǎo miàn)


Chow Mein, also Stir-fried Noodles, is welcomed throughout China because of its quick and easy cooking method.


All kinds of vegetables and meat can be used to fry with different types of noodles, such as wide & thin noodles, triangular or irregular-shaped noodle pieces and instant noodles.


Recipe of Cooking Chow Mein

raw noodles, 250g; lean pork, 50g; carrot, 30g; onion, 30g
green pepper, 30g; green onion, 20g; garlic, 2 cloves; ginger, 5g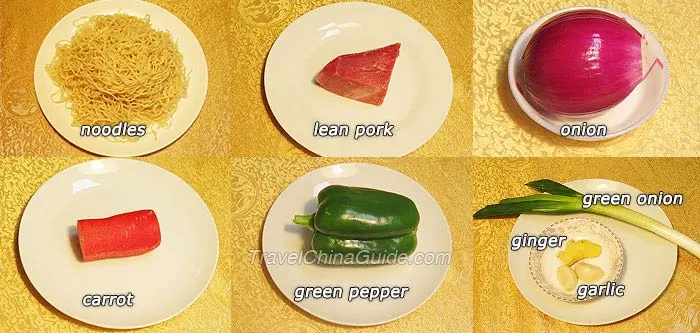 cooking oil; starch;
cooking wine
; salt; light soy sauce
Note: The amount of the ingredients and seasonings above can be appropriately used according to one's personal taste.

1. Clean the pork and cut into thin strips. Put them in a bowl.
2. Peel the carrot, remove the peduncles and seeds of green peppers, and discard the husk of the onion leaving the bulb. Clean all of them and cut into strips.
3. Trim the green onion. Clean and cut into thin slices.
4. Peel the ginger and dispose of the husk of the garlic. Clean and mince them.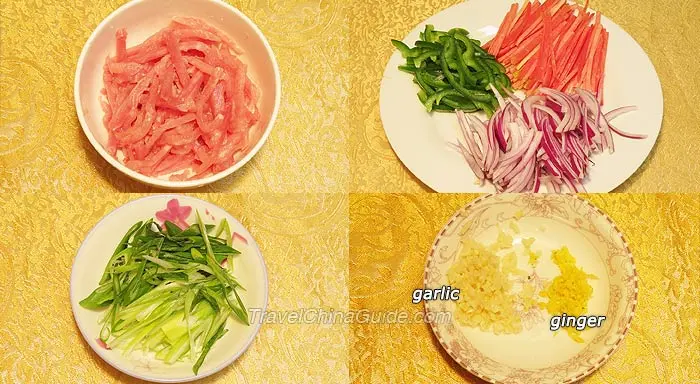 Methods:
STEP
1
Preserve the pork: Combine the pork strips with salt, starch and cooking wine. Stir to mix well and let it sit for 10 minutes.

STEP
2
Steam the noodles: Fill the steamer with 1/4-1/3 full of water and heat it until boiling. Grease the steamer basket with a thin layer of oil to prevent the noodles from sticking. Lay the noodles on the steamer basket and steam for about 10 minutes over high heat.

STEP
3
Fry the lean pork: Preheat the wok. Add cooking oil and heat it up. Add the pork strips and fry until they turn pale yellow, then remove.

STEP
4
Stir-fry the vegetables: Add a little more cooking oil in the wok and heat it. When the oil is hot, add in garlic, ginger and green onion. Stir-fry for 5-10 seconds until fragrant, then add in carrot and onion to fry for another 1 minute over medium heat.

STEP
5
Add the green pepper strips and fried lean pork. Combine well and fry for a half minute.

STEP
6
Add in the noodles. Stir to thoroughly mix with other vegetables. Fry for 1 minute over high heat. Add some light soy sauce and salt. Combine well and turn off the heat.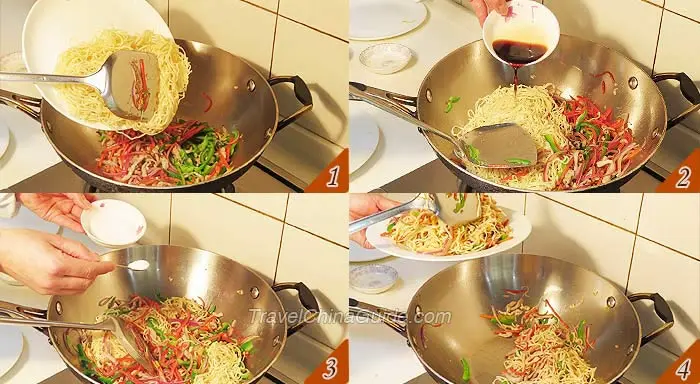 The Chow Mein (Stir-fried Noodles) is ready now.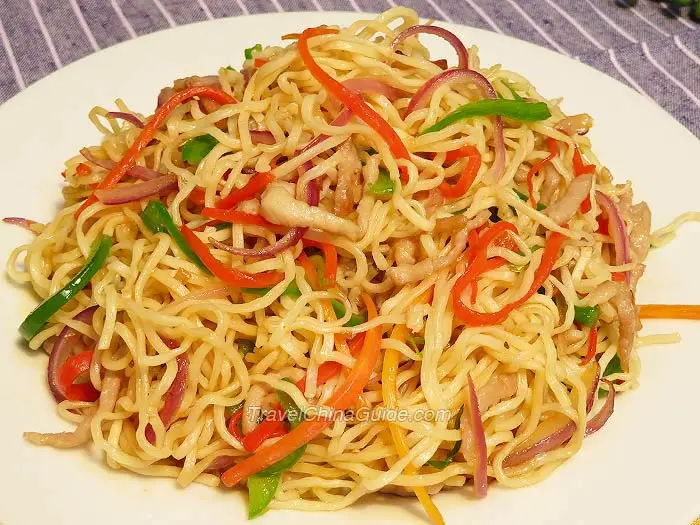 Tips on Cooking the Noodles:
Before cooking Chow Mein, it is necessary to cook the noodles first by steaming or boiling according to the different types of noodles. Usually steaming for 10 minutes will be sufficient, and the boiling process lasts 3-5 minutes, which can be flexibly adjusted. The thinner the noodles are, the shorter the boiling time can be. If choosing to boil, it is advised to soak the noodles in cold water for about 5 minutes afterwards, then drain off the water. Regardless of steaming or boiling, cook the noodles medium-well done, because frying will follow.
Our Guests Attending Cooking Class
Our Guests Learn to Make Dumplings



Mr. David, Ms. Caroline, Ms. Alexandria & Ms. Elizabeth from USA had a great experience in a typical Xi'an family through a special cooking class by the host. With great curiosity about Chinese pastas, they learned to cook Chow Mein & Chinese dumplings at the same time. They commented it was a lot of fun and very insightful.

Our Guests in a Chinese Family

Ms. Julie, Mr. Ashley, Ms. Judith & Ms. Tamara from Australia had a wonderful time in a typical family in Xi'an under the arrangement of our company. In addition to a pleasant talk with the host, they also learned to cook Chow Mein &

Shredded Pork with Garlic Sprouts

from the hostess. They said it was a special experience for them.

Our Guests Learn to Cook Chow Mein


Mr. Neil and Ms. Jeanette from Australia joined our family tour arranged in Xi'an and learned to cook Chow Mein in a local family specially selected by TravelChinaGuide. They especially mentioned the home-cooked lunch in their feedback:"...lunch provided by family host in Xi'an were meals fit for royalty and were very suitable to our Western palates...."

Further Reading
10 Most Popular and Tasty Chinese Noodles Recipes
Top 10 Chinese Dishes You Must Try

More Staple Food and Snacks in China:
- Last updated on Nov. 28, 2019 -
Questions & Answers on Chow Mein (Stir-fried Noodles)
Asked by amber from UNITED STATES | May. 09, 2016 11:55

Reply
What region of China is chow mein from?
Answers (2)
Answered by Shelley from UNITED KINGDOM | May. 09, 2016 22:21

0

0

Reply
As I know, most wheaten food, like Chow Mein was originated from Northern China because wheat has always been the major crop in that region.
Answered by amber from USA | May. 15, 2016 20:13

1

0

Reply
thank you for your knowledge
Asked by Nancy Mueller-Burck from SPAIN, | Dec. 25, 2012 12:31

Reply
How many mililiters in a "bowl" as the recipe says?
We love Chinese food! Your recipes and instructions are great, except for the above question- I can approximate, but sometimes I think it would be better to be exact. Love your website, so informative and appealing.It is helping us to plan our China travel dream. I am wheelchair-bound. Can you help me with my special needs such as roll-in showers and lifts whereever the able-bodied use stairs? Do you have vehicles such as sedans with low access or other methods of accomodating people who cannot walk?I would greatly appreciate a reply, especially about the wheelchair accessibility-Greetings from Mallorca, Spain.
Answers (1)
Answered by Mindy from AUSTRALIA | May. 02, 2013 04:52

3

0

Reply
I looked at the recipe. It seems that it is a large bowl. Last year, I learned cooking Chinese food from a Chinese lady. She told me generally a bowl in a Chinese food recipe is around 350ml. Thiis one in this page must be larger.
Asked by Steven weiler from USA | Sep. 05, 2012 19:59

Reply
How Do make home Made Cicken Chow Main
Answers (1)
Answered by Tina | Sep. 05, 2012 21:00

0

1

Reply
Hi, Chinese Chow Mein can be cooked with all kinds of noodles and a variety of vegetables like carrots, onion, cabbage, green pepper, garlic sprouts, mushrooms, etc.
About the detailed cooking methods, you can search on the website:
https://www.travelchinaguide.com/tour/food/chinese-cooking/stir-fried-noodles.htm