Seasoned Potatoes (Potato Strips with Flour)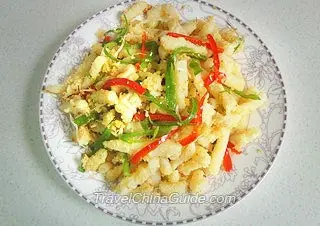 Chinese name: 洋芋叉叉(yang yù chā chā)
Style: Northern Shaanxi Style
Characteristics: Seasoned Potatoes is easy to make, low cost, and delicious. It can be served as either a main dish or a vegetable on the side.
Although traditionally a northern Shaanxi food, Seasoned Potatoes is also common in western Shanxi Province and eastern in Gansu Province. Historically, it was a common dish of poor families due to its low cost, hence reputed "result of ingenuity in poverty". Nowadays, it is more widely used as more and more people realize the benefits of vegetarian foods.
2 potatoes, 3 green peppers, 1 red pepper, wheat flour
salt
cooking oil
five-spice powder
green onion
Note: the amount used of the seasonings listed above should be accordingly to individual taste.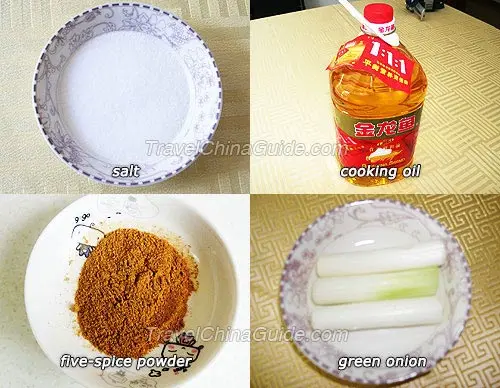 A. Peel and cut potatoes into strips as in making French Fries. Soak them in water for about 10 minutes to wash away the starch. If you are in a hurry, the potato strips can be washed thoroughly instead of waiting for the soaking.
B. Slice the green peppers, red pepper and green onion thinly and set them aside for later use.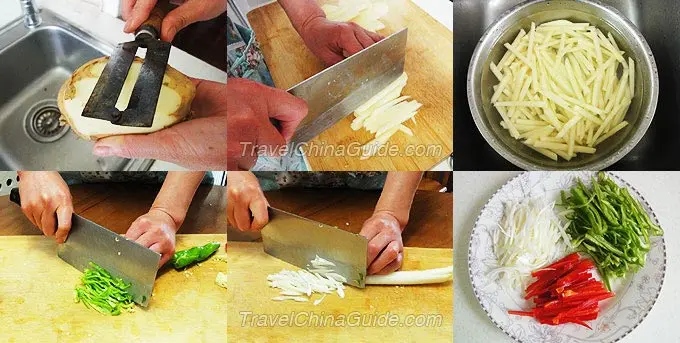 Methods:
STEP
1
Drain the potato strips well. Add the wheat flour and stir thoroughly by hands or chopsticks. Use just enough flour to cover every strip.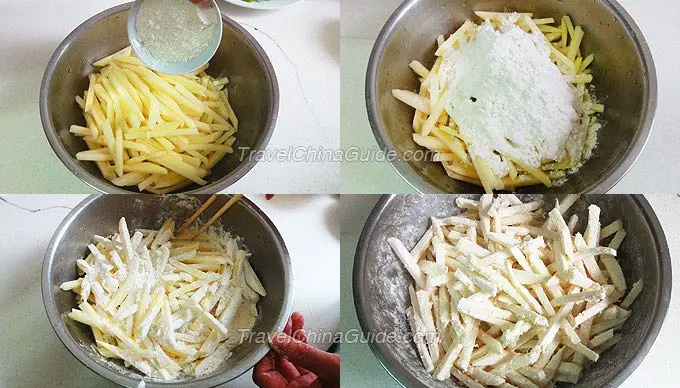 STEP
2
Put water into a steamer and put it over the fire. When the water boils, add the floured potato strips a few at a time making even layers. Cover and let them steam for about 10 minutes. Stir well and continue steaming for another 5- 10 minutes. Remove the steamer from the fire.
Note: According to one's personal taste, one can stop here and mix the steamed potato strips with salt, five-spice powder, red chili oil and other seasonings and serve; or, one can fry the steamed potato strips as discussed in Step 3.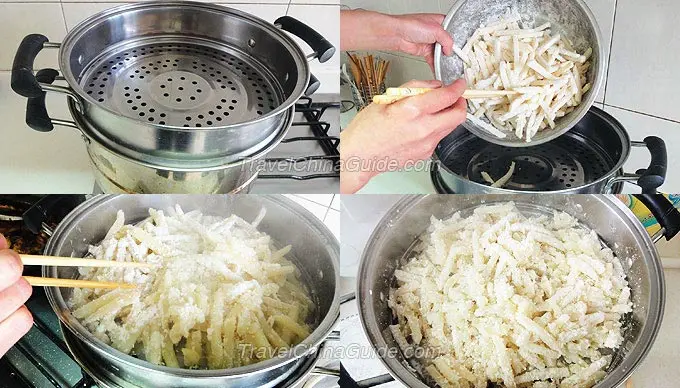 STEP
3
After the potato strips have cooled, put a wok over the fire and add some cooking oil. When the oil is hot, add the sliced green onion and stir-fry. Then add the green and red pepper slices and stir-fry for about 30 seconds. Add some salt and keep stirring for another 30 seconds. Then add the steamed potato strips and stir thoroughly. Finally, add the five-spice powder and stir-fry for about 1 minute.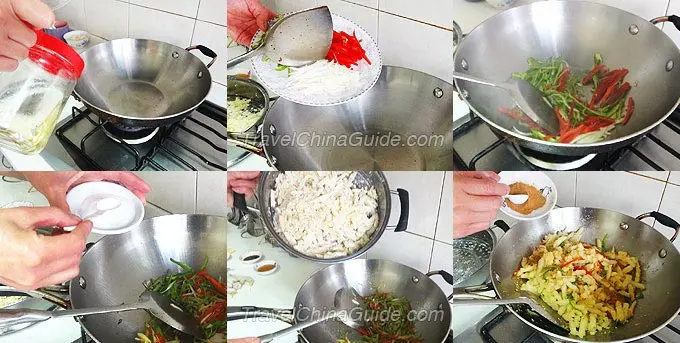 Now, all procedures of the recipe are finished. Serve the mixture on a plate, and enjoy the delicious and healthy Seasoned Potatoes.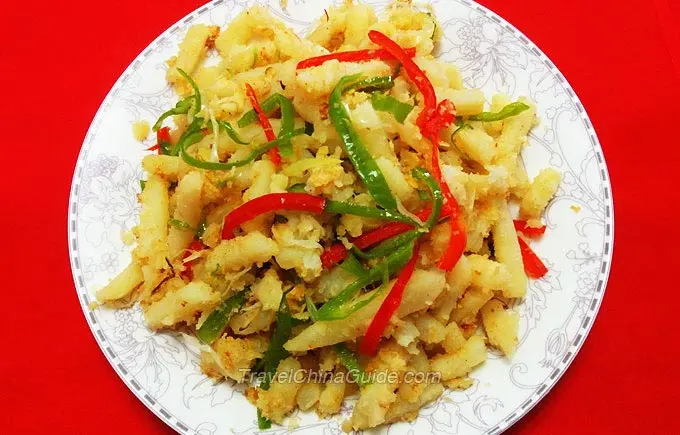 Our Guests Attending Cooking Class
Our Guests Dining in a Local Family


On August 22, 2013, a group of 31 members from the USA including Paul, Jeffrey, Sylvia, Ruth, Yvonne, Mary, Estelle and Cindy paid a visit to a local family in Xi'an, where a Chinese cooking class was meticulously prepared by our company. Some of them tried to cook Seasoned Potatoes and the others either participated in preparing vegetables for other dishes or watched and videotaped how the food being cooked. There is no doubt that it was the chance of lifetime for them to know Chinese family life better and enjoy truly home-made Chinese dishes during travel.

Our Guests Learn to Make Dumplings


On April 20, 2013, a group from Poland including Mr. Bartosz, Mr. Henryk, and Mr. Christopher, Ms. Katrina from the US, and Mr. ALAN, Ms. LEANNE from Australia paid a private visit to a family in Xi'an. The friendly hostess welcomed them with a big lunch, in which some dishes including dumplings and Seasoned Potatoes were cooked with the participation of our dear group members.

Our Guest Learn to Make Dumplings


On May 29, 2012, Ms. Elizabeth & Ms. Olanna from UK visited a local family during their tour in Xi'an and had a lunch there with all home-cooked Chinese food. The hostess with excellent cooking techniques offered them a cooking class based on their personal preference. They were very happy because they learnt some good tips by watching her cook and cooking by themselves. The staple food such as dumplings and Seasoned Potatoes were their favorite.
More Staple Food and Snacks in China:
- Last modified on Jun. 14, 2019 -
Questions & Answers on Seasoned Potatoes (Potato Strips with Flour)
Asked by Lauren from USA | Jul. 22, 2016 11:46

Reply
Hi there, I taught English in Taiyuan, China for a year.
And while I was there, one of my favorite dishes was this dish with the flour-coated potatoes. My coworkers told me it was called "bolanzi". Is this the same dish? The one I had was very similar, and sometimes it had scrambled eggs in it. One of my coworkers explained to me how to make it, but this is the first I've ever been able to find a recipe for it online. Tonight I'll make the dish.
Thank you so much for sharing!
Answers (2)
Answered by Tommy from POLAND | Jul. 25, 2016 19:35

0

0

Reply
It is the same dish but of a different name. In Shaanxi, people call it Yang Yu Cha Cha while the name Bolanzi is widely used in Shanxi.
Answered by Lauren from USA | Jul. 26, 2016 07:11

0

0

Reply
Interesting! Thank you for the information! I had trouble finding any recipes under the name "bolanzi". It must not be as common to call it that. I made the dish two days in a row, with tweaks to the flavors. It fantastic! Thanks for the recipe !