Fried Egg with Black Fungus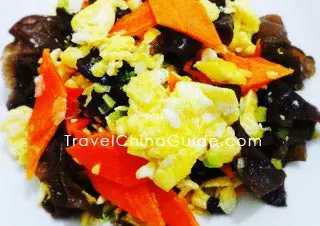 Chinese name: 木耳炒鸡蛋 (mù ěr chǎo jī dàn)
Characteristics: Fried Egg with Black fungus is a delicious entrée or side dish. The eggs fluffy and provide textural contrast to the crispy black fungus.
This home-style dish can be prepared year-round, since its ingredients are always available. Black fungus is rich in protein, vitamin E and iron, and has a reputation in Chinese herbal medicine for improving circulation.
In addition to the nutritious egg, this is really a health-preserving dish. The recipe here is easy to follow and you can try to cook on your own.
200g soaked black fungus
2-3 eggs
1 carrot
chopped green onion
pepper powder
salt
sesame oil
Note: The amounts above can be adjusted according to one's personal taste.
A. Soak the dry black fungus in cold water for 20-30 minutes until they fully expand. Clean them well, and trim off the stems with scissors. Tear them into small pieces, and set aside.
B. Wash and peel the carrot, and then cut it into thin diamond-shaped slices. Place onto a plate.
C. Crack the eggs into a bowl or a small basin. Beat it up.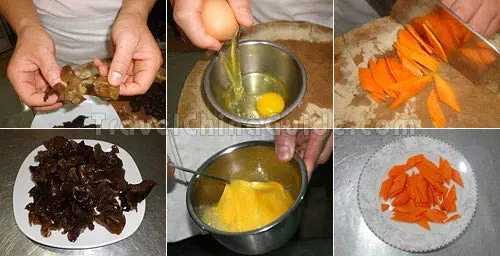 Methods:
STEP
1
Heat some oil in the wok and add the beaten eggs. Stir-fry for a few seconds until the eggs set. Turn off the heat, remove the eggs and set aside.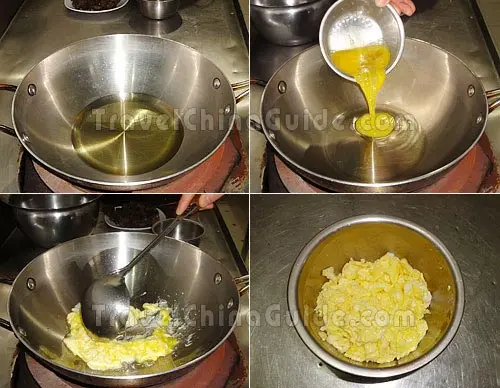 STEP
2
Heat some more oil and add the green onions and stir-fry for ten seconds until fragrant. Add the carrot slices and black fungus and stir-fry over high heat for about one minute. Add the salt and pepper and cook another twenty seconds. Turn the heat to low, add the eggs and stir-fry for another thirty seconds.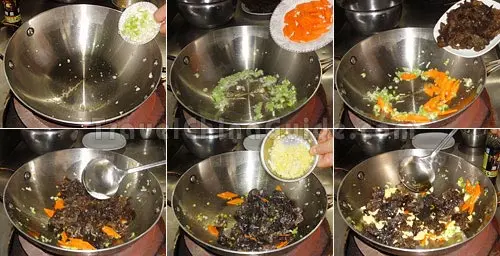 STEP
3
Turn off the heat, remove the contents from the wok and serve on a fine porcelain plate.
Our Guests Attending Cooking Class
Ms. Helene Making Dumplings


Ms. Helene, Mr. Marcel and Mr. Marc from Canada spent their time in a private family in Xi'an and had a la carte dishes offered by the friendly hostess. They were interested to learn to cook Fried Egg with Black Fungus, and it turned out to be very successful under the step-by-step guidance of the hostess. They said that this was the best way to learn Chinese cooking other than following what is listed in any recipe book.

Our Guests Learn to Make Dumplings

Ms. Helue, Ms. Nadia, Ms. Esperanza & Mr. Markus from Mexico participated in our China food tour in Xi'an with great excitement. They watched the whole process of the hostess' cooking and learned to cook

Eggplant in Sichuan Style

, Fried Egg with Black Fungus and Chinese dumplings. They said it was a great way to learn Chinese cooking.

Our Guests in a Chinese Family

Ms. Jolene from USA joined our company's family tour with cooking class in Xi'an. She had a good time cooking

Pan Fried Dumplings

& Fried Egg with Black Fungus. Finally, having the home-cooked meal with the Chinese family made the visit distinctive and memorabe.
More popular vegetable dishes in China:
- Last updated on May. 06, 2019 -
Questions & Answers on Fried Egg with Black Fungus
Asked by MTJ4 ATT&J14 from UNITED STATES | Nov. 17, 2016 10:13

Reply
How do you prepare Fresh Black Fungus?
I always hear about dried black fungus. But I too like this person also bought fresh black fungus. Does anyone know how to prepare fresh black fungus? I would like to use it in my smoothies, can I do that Or should I just throw it away?
Answers (1)
Answered by Allen from FRANCE | Nov. 17, 2016 20:24

0

0

Reply
The fresh black fungus cannot be eaten directly. You need to expose it to the sun for some time to dry it up. In this way, harmful substances will be resolved. Before cooking, soak it in clean water and change the water for several times. Then, you can use the black fungus in your smoothies.
Asked by Dan from USA | Jan. 05, 2015 22:24

Reply
Black Fungus
I saw fresh black fungus for sale at a chinese store, I didn't know what to do. The store keeper said it was good. Is it safe to eat?

Answers (1)
Answered by Rick from IRAQ | Jan. 06, 2015 00:34

3

1

Reply
Dan, black fungus is safe to eat. Usually, dry black fungus is sold in the market. You need to soak the fungus in water for around 20 to 30 minutes before you fry it with other vegetables.