Stir-fried Bitter Melon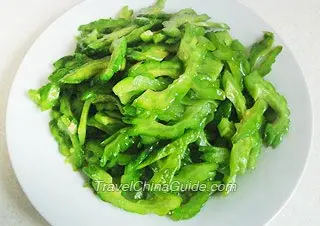 Chinese name: 清炒苦瓜 (qīng chǎo kǔ guā)
Characteristics: Stir-fried Bitter Melon is a healthy dish easily made at home, which is green in color, fresh and crisp in taste, and simple to prepare.
Bitter melon helps to clear away and relieve heat, thus very good in hot climates. In addition, it has the effects of sharpening the appetite, nourishing the blood, supplementing the kidneys, strengthening the spleen, improving eyesight, preventing and treating cancer, and reducing blood sugar. These benefits make stir-fried bitter melon a very healthy dish, which is suitable for everyone, especially those with diabetes, cancer, and heat rash. Bitter melon in this recipe can keep the original flavor and nutrition of bitter melon to the uttermost, so one is not suggested to eat too much at a time; those suffering spleen and stomach problems should avoid it, for bitter melon brings on a feeling of being cold.
Note: How to choose bitter melons?
1. Choose bitter melons with big warts, for the bigger the warts, the thicker the flesh.
2. Choose those with a green skin rather than a yellow one. Yellow skins denote the melons have been picked too late, and their flesh will be soft and not crisp.
3. Dark green bitter melons have a more bitter taste than the light green ones. Choose according to one's personal taste.
2 -3 bitter melons, salt, sugar
Note: the amount of salt and sugar used varies according to individual taste. Try using just a little of each, then add more once the melon is partially cooked and can be tasted.

Wash the bitter melons well and divide them into halves (length-wise). Use a spoon to scoop out the seeds. Then place the halves face down on the cutting board and slice them thinly. Put the slices onto a plate for later use.
Tip on cutting bitter melon slices:
The bitter melon halves should be cut at an inclined angle to expose more flesh so that the seasonings can soak in more easily during cooking.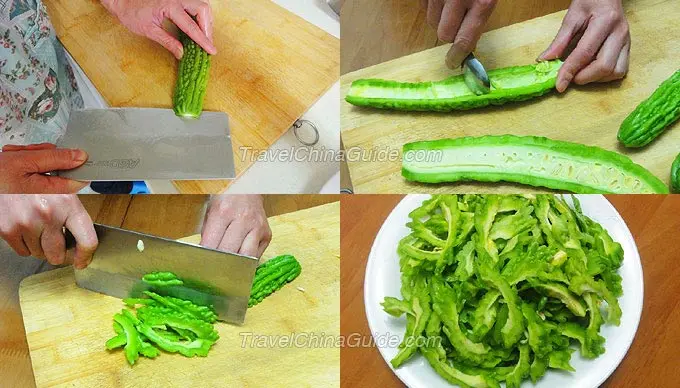 Methods:
Put a wok on high heat and add the cooking oil. When the oil is hot, pour in the bitter melon slices and stir-fry for a few seconds. Add the salt and sugar and stir-fry for an additional 2-3 minutes. Pour the contents onto a serving plate.

Tips on stir-frying bitter melon:
1. To make the dish truly delicious, use sufficient cooking oil to coat the melon and stir-fry over high heat. This method is suitable for all stir-fried vegetables.
2. If one does not like the bitterness, add more sugar to neutralize it; another way to remove the bitterness is to rinse the bitter melon slices in water for 20-30 minutes before stir-frying.
3. Generally, the bitter melon should be medium cooked and stir-fried for no more than 5 minutes overall. If overcooked, the melon does not stay crisp and will taste even bitterer.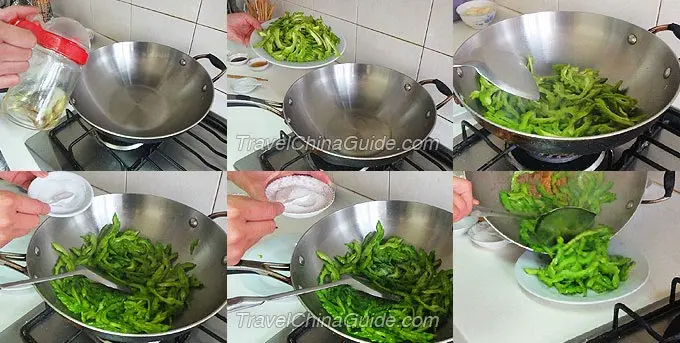 The attractive, healthy Stir-fried Bitter Melon is now ready to serve.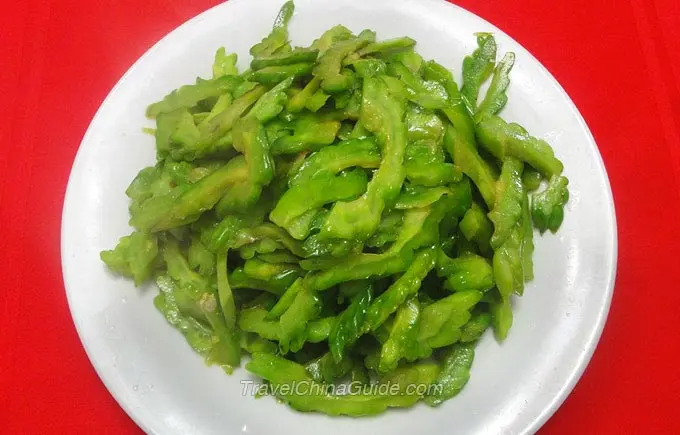 Our Guests Attending Cooking Class
Our Guests Learn to Make Dumplings

A small group including Mr. David, Ms. Margaret from the UK, and Ms. Mary, Ms. Sonya and Ms. Sophia from the US took part in our private family tour to a local family in Xi'an. It was our great honor to know that some of them loved Chinese food for long, and they believed that the Chinese diet is the healthiest in the world. Some of them made dumplings and David chose to learn an easy but extremely healthy dish - Stir-fried Bitter Melon, which is very popular among Chinese as well.

Mr. Guan in the Kitchen



Mr. Guan from Australia had a good time with his tour guide in a local family in Xi'an, where the hostess was very kind and offered a Chinese cooking class to him. It was great and he raised many questions about China and Chinese culture, including Chinese dietary culture. Mr. Guan was in favor of healthy eating, so he learnt to cook Stir-fried Bitter Melon, a very healthy dish, which is known to clear inner heat.

Ms. Morag Learn to Make Dumplings

Ms. Morag from the United Kingdom enjoyed her time with our guide in a local family in Xi'an. She deemed this visit a rewarding experience because it was a really rare chance for her to know Chinese and their family life. And she learnt how important it is for a wife and mother to have good cooking skills and to supply the family with delicious food and a balanced diet. Also, Morag learnt to make

dumplings

, cook Stir-fried Bitter Melon under the step-by-step guidance of the hostess.
More popular vegetable dishes in China:
- Last modified on Aug. 06, 2019 -
Questions & Answers on Stir-fried Bitter Melon
Asked by Charles O Williams from USA | Feb. 16, 2018 09:36

Reply
bittermelon skin (peel)
Should bittermelon be consumed when uncooked?

Answers (1)
Answered by Carter from USA | Feb. 21, 2018 21:33

1

0

Reply
Oh, you don't need to peel the bittermelon skin. Just put the halves face down on the cutting board and slice them. :)
Asked by Paul Gilstrap from USA | Jan. 11, 2017 21:23

Reply
Does cooking bitter melon take the nutrients out?
Answers (1)
Answered by Pilar from SPAIN | Jan. 12, 2017 18:51

1

0

Reply
No, it won't take out the nutrients. Instead, you can get enough nutrients from it. :)
Asked by Susan Gruber from UNITED STATES | Oct. 25, 2016 09:37

Reply
Can I roast the squash in the oven with coating mix?
Answers (1)
Answered by Francis from SINGAPORE | Oct. 26, 2016 21:54

0

1

Reply
I'm afraid this may not be good. The squash would taste even bitter by doing so.
Asked by Barry Tewes from AUSTRALIA | Feb. 01, 2015 13:38

Reply
How much salt and sugar is used to stir-fry one 8 inch bitter melon?
Answers (1)
Answered by Henry from CANADA | Feb. 02, 2015 02:06

2

2

Reply
Chinese people usually mix the seasonings according to cooking experience. If you wish to know the amount, add one-third to half spoonful of salt and three spoonfuls of sugar first. Then appropriately add according to your taste.