Stir-fried Spinach with Minced Garlic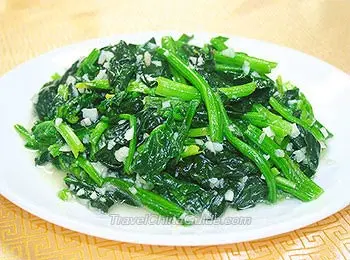 Chinese name: 蒜蓉菠菜 (suàn róng bō cài)
Characteristics: The dish can be cooked easily, only requiring spinach and garlic. The cooking method of stir-frying makes spinach fresh and green; with the minced garlic added, it smells more aromatic.

Stir-fried Spinach with Minced Garlic is a favorite of many Chinese people due to its simple cooking method and abundant nutrition value. Its main ingredient, spinach, contains rich carotene, vitamin C, vitamin E, calcium, phosphorus, ferrum/iron, etc. Among them, the vitamin C and vitamin E's anti-oxygenation function attract the attention of many girls and middle-age women; iron/ferrum has the function of adjuvant therapy to anemia, and B-group vitamin not only helps to prevent the complication of pregnancy like insomnia and deprementia, but also is effective to prevent chloasma of mothers-to-be.

Seasonings:
cooking oil; 6-8 cloves of garlic; salt
Note: The amounts of the ingredient and seasonings listed above can be appropriately used according to one's personal taste.

Preparation:
1. Trim the spinage, disposing of the roots and yellow leaves. Clean and cut it into 6-8cm sections. Place them onto a plate.
Note: It is suggested to blanch the spinage in boiling water before frying. Drain them and allow to cool a little.
2. Remove the husk of garlic and clean the cloves. Mince them all.

Methods:
STEP
1
Place a wok over high heat. Pour in some cooking oil until hot. Add the minced garlic and stir-fry for about 10 seconds until the fragrance comes out.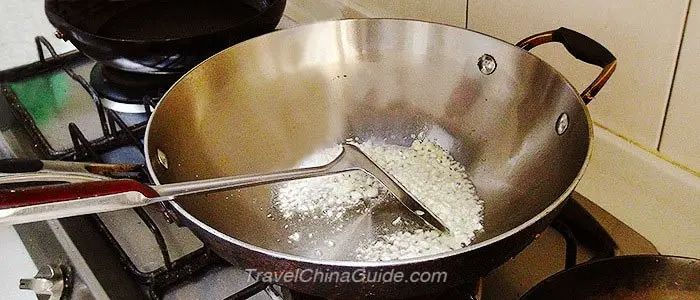 STEP
2
Pour the processed spinage into wok. Stir-fry for about 15 seconds. Then add in some salt.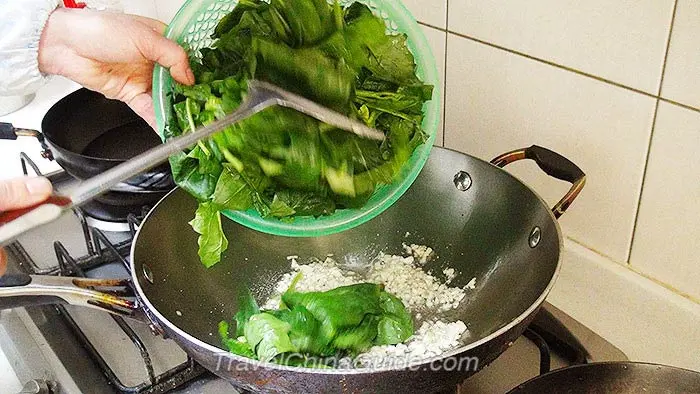 STEP
3
Turn off the heat. Serve the mixture onto a delicate plate. Now the Stir-fried Spinach with Minced Garlic is prepared.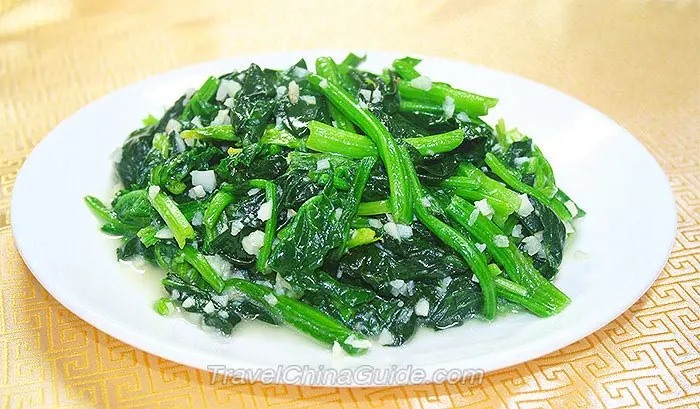 Tips on spinach:
1. How to select the best vegetable?
Fresh spinach has deep green leaves and their roots are red. It is best to choose those with unfolded and broad leaves. Those with yellow leaves should be avoided.
---
2. How to cook delicious dishes with spinach?
The regular cooking methods include stir-frying like this recipe and cold processing; sometimes, spinage is used to cook soups and congee. The popular dishes are
Cold Sesame Spinach
, Stir-fried Spinach with Minced Garlic, and Spinach and Egg Porridge/Congee. Regardless of cold or hot dishes, it is recommended to blanch the spinage first. In addition, garlic can be a must to better the flavor of the dish.
---
3. How long can I keep spinach in the fridge?
Usually the most appropriate preserving time is 2-3 days. If being put into fridge, it is best to cover them with preservative film and consume them within 3 days.
---
4. Can people with high blood pressure eat spinage?
Yes, they can consume it without any problem. Generally, people with the diseases and symptoms of piles, hematochezia, scurvy, hypertension, diabetes, and nyctalopia are strongly recommended to have more. However, people suffering lithangiuria, weakness in spleen and stomach, nephritis, kidney stone and diarrhea should avoid consumption of it.
---
5. What ingredients should be avoided of being cooked together with spinach?
Some food interactions require your close attention:
A. Don't cook it with cucumber, which contains catabolic enzyme of vitamin C. It will damage the nutrition of the vegetable.
B. Avoid consuming it with tofu (bean curd). Otherwise, it may cause calculus, and influences the intake of calcium.
C. Don't fry with pork liver, or it will influence the intake of iron.
D. If consuming together with soybean, the copper metabolism may be affected.
---
6. How does spinach benefit people?
It benefits people in many ways due to its plentiful nutrition. The following ones are just for your reference:
A. Relaxing the bowels to prevent from suffering piles;
B. Boosting growth and strengthening the anti-disease capability;
C. Improving the metabolism;
D. Delaying aging as well as cleaning skin pores. In addition, pigmented spots and wrinkles can be restrained more or less.
E. Nourishing blood, to be a strong recommendation for people with anemia.
Learn to make more Chinese dishes:
- Last modified on Apr. 14, 2021 -