Cold Sesame Spinach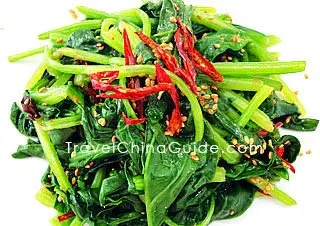 Chinese name: 凉拌菠菜 (liáng bàn bō cài)
Characteristics: Cold Sesame Spinach is fresh and tasty, with attractive green color.
Cold Sesame Spinach is a good appetizer in hot summer. Spinach is rich in beta-carotene, iron, and vitamin B6, esteemed a good facial appearance article. It can be either stir-fried, or made into a fine cold dish after being blanched briefly.
Apart from the Cold Sesame Spinach as the recipe presents, spinach soup is also popular in most part of the world.
spinach, 300 g
red chili shreds
white sesame
cooking oil
chicken essence (chicken stock/bouillon)
salt
Note: the amount of the ingredients especially the seasonings listed above can be appropriately used according to one's personal taste.
Get rid of the roots of the spinach, wash and clean the spinach leaves.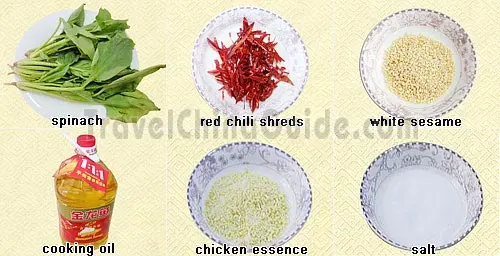 Methods:
STEP
1
Cut the spinach leaves lengthwise into halves, and place in a plate. Half fill a wok with water, bring the water to boil. Then add the spinach halves, and stir and blanch for 30 seconds and then pick them out of the wok, and remove excess water through a colander. Put them into a basin filled with cold water to cool for a while. Remove excess water through a colander again, and place into a plate.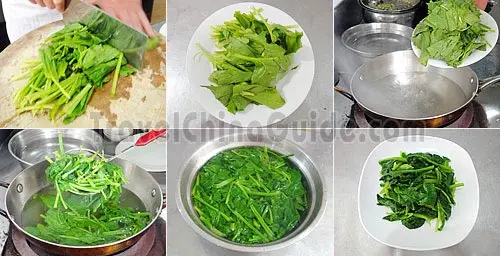 STEP
2
Place the red chili shreds on the blanched spinach halves. Pour the water out of the wok, and place it over high heat until hot. Add some cooking oil, and add in the white sesame when the oil is sizzling. Stir-fry it for 20 seconds when it is fragrant. Turn off the heat, pick the stir-fried sesame with oil out of the wok and pour onto the red chili shreds. Add in the chicken essence and salt, and stir it well.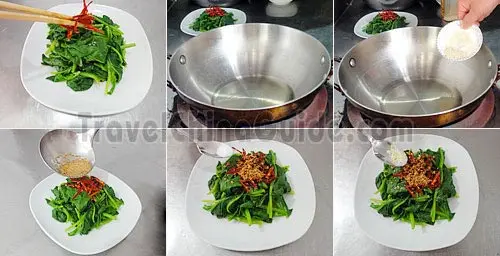 Cold Sesame Spinach is ready.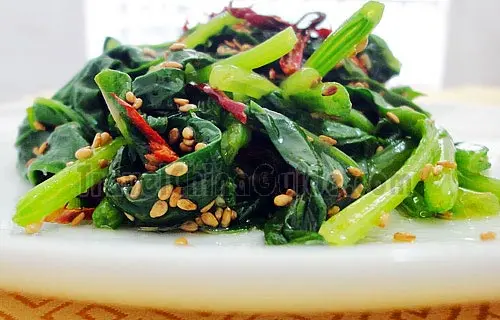 Our Guests Attending Cooking Class
Our Guests Learning to Make Dumplings


On August 22 2013, Mr. Matthew, Ms. Dilanthi, Mr. Kamyar, Ms. Gita and Mr. John from USA, Ms. Esther and Ms. Deepani from Canada, and Mr. Hiral and Ms. Aarti from UK joined our family visit in Xi'an, where Chinese cooking class was offered by the skillful hostess. They were all interested in making dumplings. Although rolling dumplings looks easy, it requires great skill. Few of them were good at it but the whole process was really funny. They also learnt to cook Cold Sesame Spinach, which turn out to be very successful.

Our Guests in a Xi'an Family

On Sep. 13, 2012, Mr. Riley & Ms. Diana from USA had a unique visit to a typical Xi'an family when they took part in our China tour. Besides a friendly chat, they learned to cook three Chinese dishes from the host as well, including

Kung Pao Chicken

,

Hot and Sour Soup

& Cold Sesame Spinach. They commented that they will have memories they will never forget and will come to China again with our company.

Our Guests in a Chinese Family

On Oct. 18, 2010, Ms. Lorraine, Mr. Ronald, Mr. Robin & Ms. Barbara from UK and Canada made a family visit arranged by TravelChinaGuide in Xi'an, and learned to cook Cold Sesame Spinach and

Sweet and Sour Spare Ribs

. They recommended it in their feedback:"...Thanks for your wonderful arrangement. The meals were wonderful, especially in Beijing and the home visit we did in Xi'an with cooking class, so flavorful! The environment in Beijing restaurants was outstanding, have never seen such beautiful restaurants, so stylishly decorated before! We would highly recommend the family visit with Ms. Stone in Xi'an, it was wonderful to see how some of the dishes were cooked and always a pleasure sharing it in someone's home....why is it "home cooking" always tastes the best!..."
More popular cold dishes in China:
- Last modified on Jul. 24, 2019 -
Questions & Answers on Cold Sesame Spinach
Asked by sdsf from SDFSF | Apr. 14, 2015 15:10

Reply
Do they use all of these methods?
Answers (3)
Answered by Rick from INDONESIA | Apr. 16, 2015 21:15

2

11

Reply
sdsf, I don't think so. The cook use the cooking mehods according to the materials and what dishes they make. For example, when they make a cold dishes called Cold Cucumber with Garlic, they just cut the cucumber into dices and then add some other seasonings to flavor. Frying, steaming and other cooking methods are not used.
Answered by bd from ENGLAND | Mar. 27, 2017 05:47

2

2

Reply
thank you

Answered by Ria from INDIA | Sep. 03, 2019 04:37

0

0

Reply
For everyone it is not possible to see.....But for my project it is too much for me....thanks