Cold Onion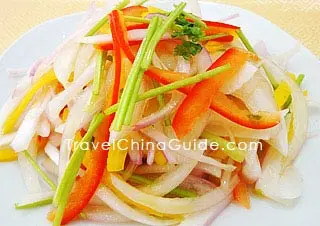 Chinese name: 爽口洋葱 (shuǎng kǒu yáng cōng)
Characteristics: Cold onion tastes crispy, sweet, sour and a little bit hot, with pure and fresh color.
Onion is a popular vegetable all over the world. It can be either made into warm dishes through stir-frying or just simply used as a cold dish without boiling or blanching.
As a good choice during hot summers, you can try to make the Cold Onion following this recipe, helping you to whet appetite whilst keeping your internal organs cool as medicinal tonic.
1 onion, 200g
1 red chili and 1 yellow chili
parsley
sesame oil
white vinegar
mustard oil
chicken essence (chicken stock/bouillon)
salt
white sugar
Note: the amount of the ingedients especially the seasonings listed above can be appropriately used according to one's personal taste.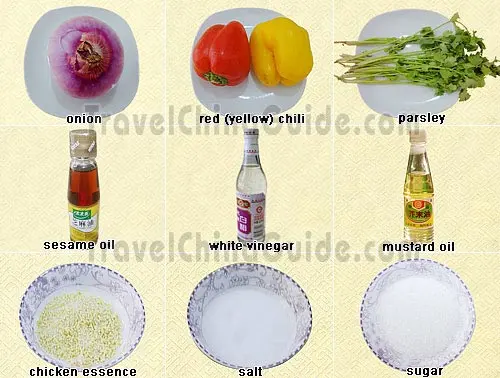 A. Remove the outer skin from the onion, and wash the remaining bulb. Cut it into strips, and place onto a plate;
B. Remove the roots of the parsley, and wash them. Cut them into sections of 2-3 cm, and place onto a separate plate;
C. Remove the stems and seeds of the chili, and wash them. Cut them into shreds, and place onto another plate.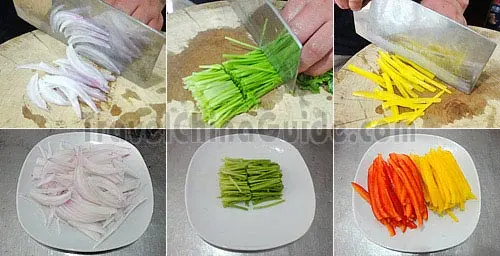 Methods:
STEP
1
Taking a bowl or a small basin. Add the salt, white sugar, white vinegar, sesame oil, mustard oil, and chicken essence, and then stir well with the teaspoon.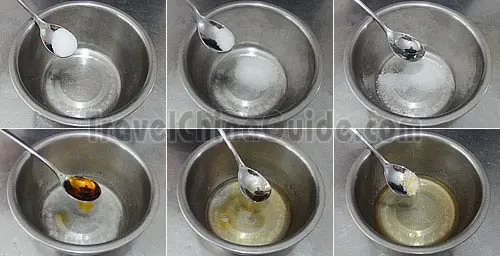 STEP
2
Add the onion shreds, parsley sections and chili shreds to a mixing bowl. Pour the seasoning juice prepared in step 1 onto the vegetable shreds, and stir them well with chopsticks or a teaspoon (spatula).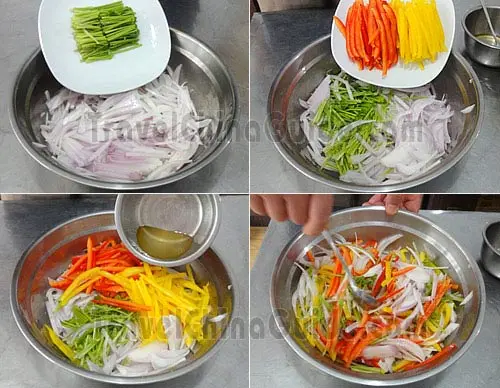 STEP
3
Pour this mixture onto a dish, garnish with a little parsley leaf spray and serve to table. Cold Onion is ready.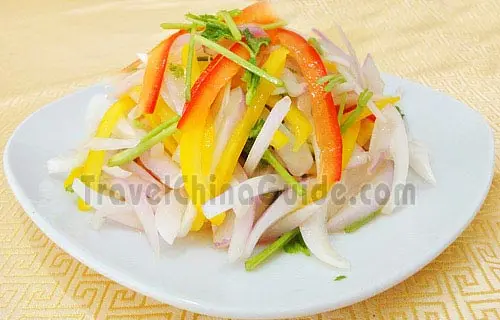 Our Guests Attending Cooking Class
Our Guests in a Chinese Family

On Sep. 15, 2012, Ms. Teresa & Mr. Stewart from USA visited an ordinary family in Xi'an, and had a cooking class by the hostess through learning to cook

Hot and Sour Soup

,

Shredded Pork with Garlic Sprouts

& Cold Onion. They said the service was exceptional – especially the cooking class by the gracious, polite and skilful hostess, and they would recommend us to other travelers.

Making Chinese Dumplings



Ms. Paula and Ms. Jennifer from Australia paid a visit to a local family in Xi'an on 10th May, 2012, and had a great meal there offered by the warm host. Apart from the fabulous tour to Terra-Cotta Warriors and City Wall, they really enjoyed the time spent with the host. They took a dumpling making class – to make the dumpling dough, roll and fill the dumplings, which was really fun and entertaining. Also, they learnt to cook Cold Onion. Although the dish was easy with simple cooking, it was tasty and refreshing.

Mr. Vinay & Ms. Latika and the Chinese Housewife

On Sep. 9, 2010, Mr. Vinay & Ms. Latika from UK joined Travelchinaguide's family tour in Xi'an. For the first time in their life, they visited a personal apartment of a local Chinese family, learned to cook Chinese dishes

Kung Pao Chicken

,

Eggplant in Sichuan Style

& Cold Onion in a Chinese kitchen, and had a meal with a Chinese family.
More popular cold dishes in China:
- Last modified on May. 08, 2019 -