Cold Lotus Root in Vinegar Sauce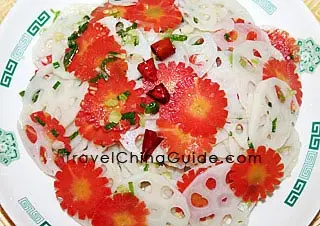 Chinese name: 炝莲菜 (qiàng lián cài)
Style: Shaanxi Cuisine
Characteristics: Cold Lotus Root in Vinegar Sauce tastes crispy and refreshing, appearing red and white.
Cold Lotus Root in Vinegar Sauce is a typical cold dish in Shaanxi Province, China. It is a good food on hot summer days, since lotus root itself has the function of relieving heat and sunstroke.
Besides eaten cold, lotus root, 'ginseng in water', can be cooked to make many kinds of warm dishes by stir-frying, braising or steaming.
lotus root, 350g
carrot , 150g
chopped green onion
chopped ginger
salt
chicken essence (chicken stock/bouillon) or monosodium glutamate
white sugar
dry chili sections
white vinegar
Note: the amount of the ingredients especially the seasonings listed above can be appropriately used according to one's personal taste.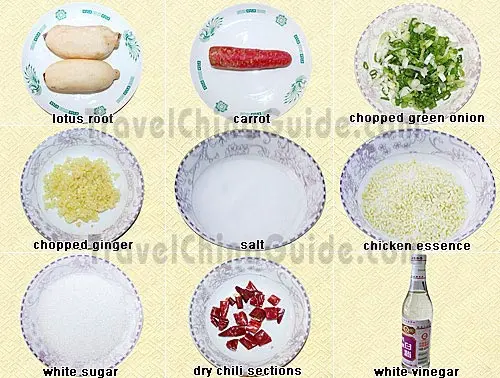 1. Peel the lotus root. Wash them in water. Cut into thin slices and put onto a plate.
2. Peel the carrot and wash it. Cut some shallow slots in it evenly, and then cut into thin slices. (You may also just cut the carrot into thin shreds). Put onto a separate plate.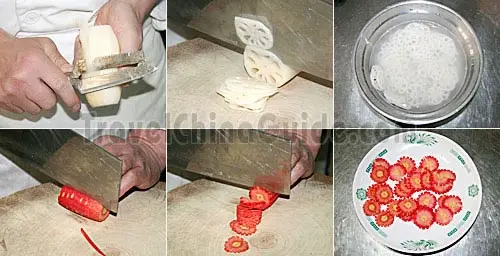 Methods:
STEP
1
Half fill a wok with water, bring the water to boil. Then add the lotus root and carrot slices. Stir and boil for 1 minute and then pick them out of the wok, and remove excess water through a colander. Put them into a basin filled with cold water to cool for a while.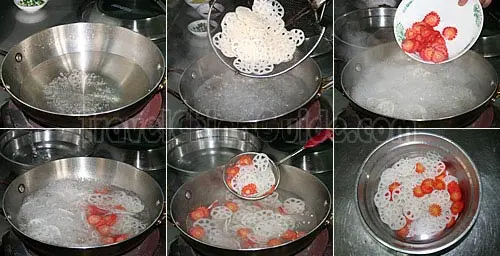 STEP
2
Drain the lotus root and carrot slices through a colander again. Pour the water out of the wok, and place it over a high heat until hot. Add some cooking oil and heat to about 90℃(194℉). At the same time, put the chopped green onion and ginger, and the dry chili sections onto the lotus root and carrot slices. Spoon the oil out of the wok and pour over the vegetables.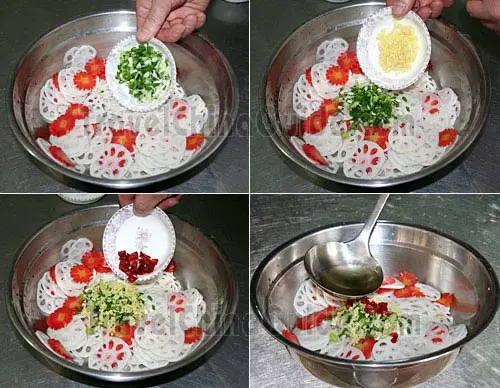 STEP
3
Add salt, white sugar, chicken essence and white vinegar into the oiled lotus root and carrot slices. Stir it well with a patula or chopsticks.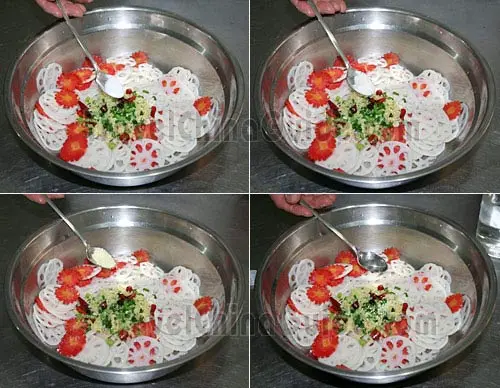 STEP
4
Pour it onto a fine porcelain plate and serve. Now all processes of the recipe are done. Cold Lotus Root in Vinegar Sauce is cooked.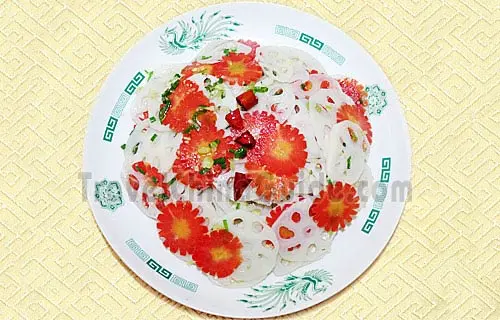 Our Guests Attending Cooking Class
Our Guests Making Dumplings

On Aug. 10, 2012, Mr. Scott from UK, Ms. Michelle, Ms. Eilidh & Mr. William from Australia had a private visit to a typical family in Xi'an. In addition to viewing the apartment, they also had a Chinese food cooking class through making

Chinese dumplings

,

Sweet and Sour Pork with Pineapple

and Cold Lotus Root in Vinegar Sauce, and enjoyed an authentic home-style meal in the family.

Delicious Dinner in a Chinese Family


A group of 6 members including Mr. Michael, Ms. Lynda, Mr. Gregory, Mr. William and Ms. Carol from the USA and Ms. Sofia from France paid a family visit in Xi'an on March 24, 2012. They had a beautiful lunch there, and they really liked it. Ladies took part in preparing vegetables and learnt from the hostess Ms. Shi to cook Cold Lotus Root in Vinegar Sauce. We were very glad to hear that all dishes were praised "Haochi" (yummy) by those dear members. They regarded their tour in Xi'an as well as this family visit as the highlight of the whole trip.

Mr. Jairaj & Ms. Manjula Having a Meal in a Chinese Family

On Sep. 11, 2010, Mr. Jairaj & Ms. Manjula from New Zealand made a family visit specially offered by Travelchinaguide. They also had a cooking class at the family, learning to cook

Braised Pomfret

,

Eggplant in Sichuan Style

& Cold Lotus Root in Vinegar Sauce. They commented it the most enjoyable experience of their China trip.
More popular cold dishes in China:
- Last updated on Aug. 06, 2019 -
Questions & Answers on Cold Lotus Root in Vinegar Sauce
Asked by Mary Bear from AUSTRALIA | Mar. 07, 2018 23:20

Reply
No fresh lotus root here in Queensland!
Can I use dried or will it lack texture? Alternatively, is there another vegetable I could use?

Answers (1)
Answered by Colton from SINGAPORE | Mar. 12, 2018 02:01

1

0

Reply
Well, if there is no fresh lotus root, you can use lettuce to instead. These two vegetables have similar taste. Maybe you can try it. Hope helpful!