Cold Chayote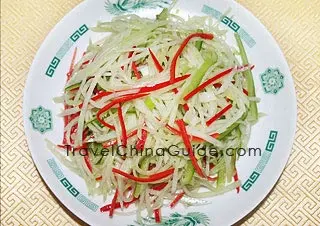 Chinese name: 凉拌佛手瓜 (liáng bàn fó shǒu guā)
Characteristics: Cold Chayote tastes fresh, crispy and tender with attractive color.
Cold Chayote is a home-style dish, made mostly from sweet pepper and chayote (vegetable pear).
Chayote is a healthy food, containing high protein, calcium, vitamins and minerals but with low heat and sodium. It is said that eating chayote helps build up the body's resistance to diseases and can enhance one's brainpower.
400g chayotes
half to one sweet green pepper
2-3 fresh red chili peppers
A. Peel the chayote and remove its seeds. Clean and cut it into thin strips.
B. Clean and cut the sweet green pepper into thin strips.
C. Clean and cut the red chili peppers into thin strips.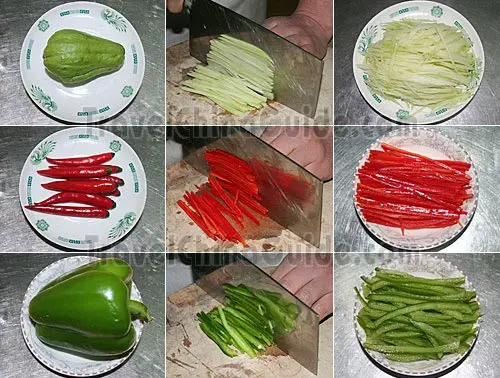 chopped green onion
chopped ginger
prickly ash seeds
white sugar
chicken essence (chicken stock/bouillon) or monosodium glutamate
salt
white vinegar
Note: the amount of the seasonings listed above can be appropriately used according to one's personal taste.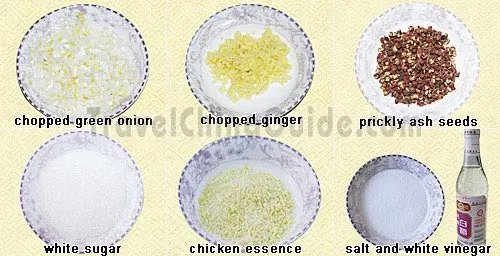 Methods:
STEP
1
In a soup bowl or a small basin, mix the chayote, sweet green pepper and red chili pepper strips. Then add in the chopped ginger and green onion.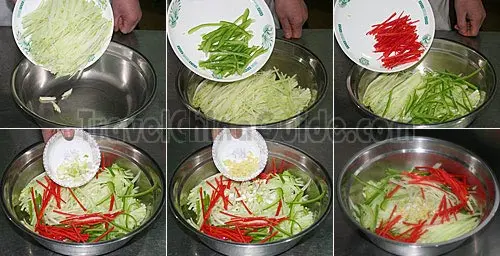 STEP
2
Place a wok over high heat, and add some cooking oil. When the oil is hot, add some prickly ash seeds. Stir it for about 30 seconds until fragrant. Turn off the heat, and strain the prickly ash seeds from the oil through a colander. Pour the oil in the wok onto the vegetables.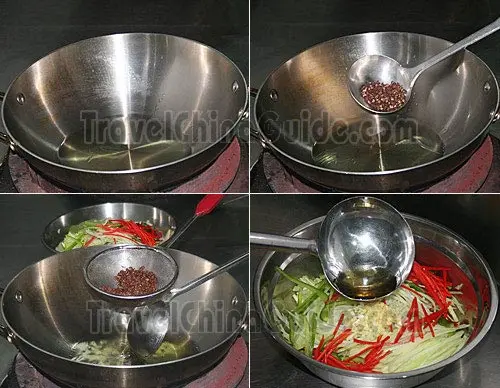 STEP
3
Add the salt, chicken essence and white sugar and white vinegar. Stir it well with chopsticks and serve.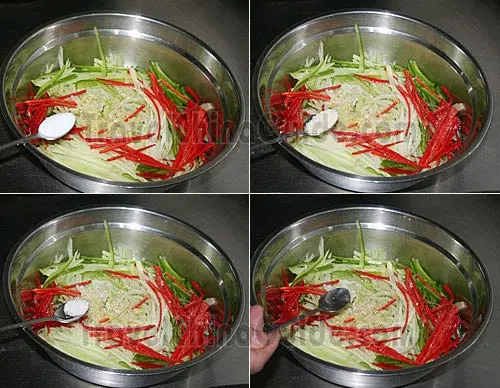 Just follow the steps of the recipe. You will surely enjoy this very tasty Cold Chayote now.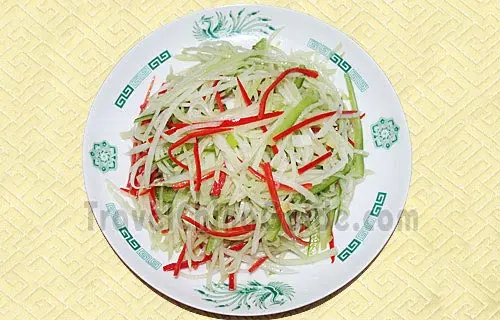 Our Guests Attending Cooking Class
Our Guests Making Dumplings


On July 26, 2013, Mr. Clive, Ms. Carole, Mr. Edward and Mr. Joshua from the UK took part in our family visit activity in Xi'an, where they were welcomed by the hostess with all truly home-made Chinese dishes. They participated in preparing the fresh ingredients actively, and learnt how to cook food with authentic Chinese recipe, including information on important steps to add seasoning. Carole and Joshua made dumplings very well, and the Cold Chayote made by them was also tasty.

Joseph and Laura Dining in a Local Family

On May 17, 2012, Mr. Joseph from Canada and Ms. Laura from USA stepped into a real local family in Xi'an during their China tour. Due to the considerate arrangement by TravelChinaGuide, they had a cooking class to learn several dishes including the Cold Chayote and

Fish-Flavored Shredded Pork

. This rear chance to have authentic home-made food in China made them all excited.

Mr. Gregory & Ms. Lynn Having a Meal in a Chinese Family

On Sep. 28, 2010, Mr. Gregory & Ms. Lynn from UK joined a family tour arranged by TravelChinaGuide and learned to cook Cold Chayote,

Eggplant in Sichuan Style

&

Kung Pao Chicken

in a local family in Xi'an. Their cooking poses seemed to be unique in a Chinese kitchen because of the big difference between western and Chinese cooking. However, they were always trying to be perfect at any step.
More popular cold dishes in China:
- Last updated on May. 05, 2019 -