Cold Celery and Dry Bean Curd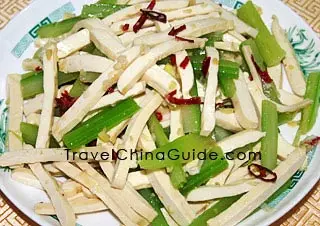 Chinese name: 西芹拌豆干 (xī qín bàn dòu gān)
Style: Shaanxi Cuisine
Characteristics: Cold Celery and Dry Bean Curd tastes crispy and fresh, with an appearing green and white appearance.
Celery and bean curd are good partners in Chinese cooking. They can be either stir-fried (see
Celery and Dry Bean Curd Recipe
), or just made into a fine cold dish after being boiled briefly.
Cold Celery and Dry Bean Curd is simpler to prepare, and has a unique fresh flavor than that of stir-fried version.
dry bean curd, 300g
celery stems, 200 g
1. Wash the dry bean curd, and cut into shreds. Put into a plate
2. Wash the celery stems, and cut into shreds, too. Place into a separate plate.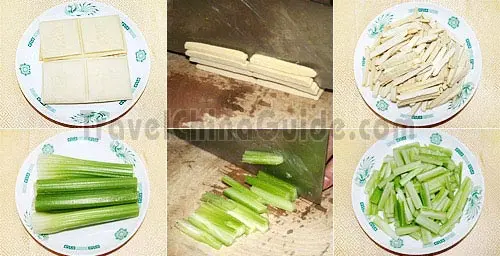 hopped green onion
chopped ginger
Prickly ash seeds
red chili shreds
chicken essence (chicken stock/bouillon)
salt
white vinegar
Note: the amount of the seasonings listed above can be appropriately used according to one's personal taste.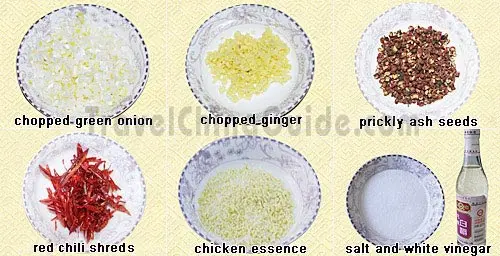 Methods:
STEP
1
Fill a wok half full of water, turn on the heat and pour in the celery shreds when the water is boiling. Stir and boil for 1 minute and then pick out, and remove excess water through a colander. Put the celery into a basin filled of cold water to cool it for a while. Repeat to process the dry bean curd shreds.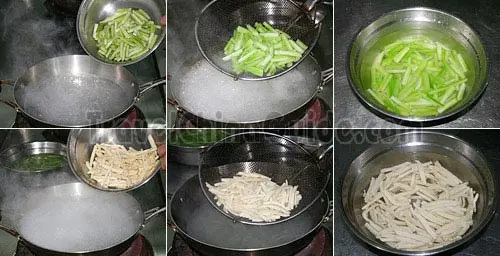 STEP
2
Drain the celery and dry bean curd shreds through a colander again, and put into separate plates. Mix the boiled celery and bean curd shreds, chopped green onion and ginger, and red chili shreds in a small bowl.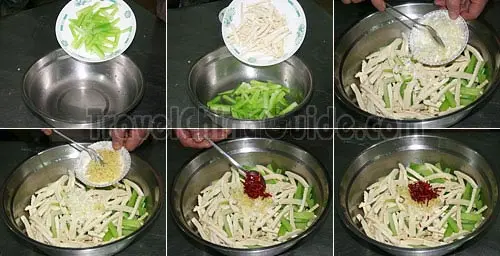 STEP
3
Pour the water out of the wok. Place it over high heat until hot. Add some cooking oil and heat to about 90

C (194

F). Add in the prickly ash seeds to be fried for 30 seconds. Remove them from the wok through a colander. Turn off the heat. Spoon the oil out and pour into the bowl containing the prepared celery and dry bean curd.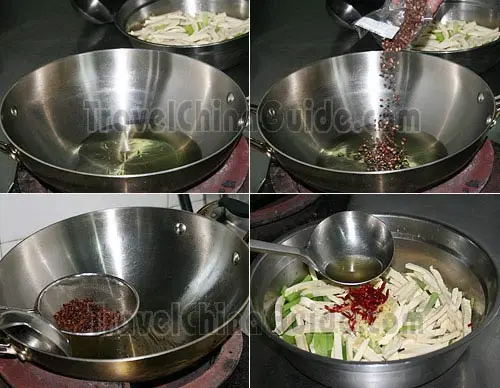 STEP
4
Add the salt, chicken essence and white vinegar into the oiled celery and dry bean curd shreds. Stir it well with a patula or chopsticks.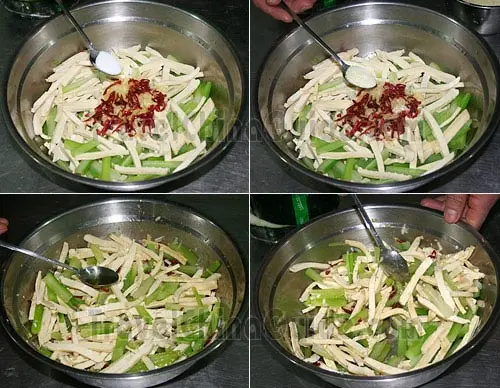 STEP
5
Pour it into a fine porcelain plate. The Cold Celery and Dry Bean Curd is ready.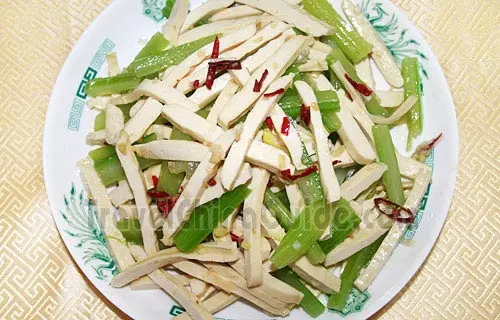 Our Guests Attending Cooking Class
Ms. Adele Learn to Make Dumplings

On Sep. 12, 2012, Mr. Michael & Ms. Adele from USA had a memorable experience in a typical family in Xi'an where they learned to make

dumplings

and several home-style dishes such as Cold Celery and Dry Bean Curd, and finally had a truly home-cooked meal with the family.

Our Guests with the Hostess



Mr. Kurt and & Ms. Susan from the United States took a chance to visit a local family during their tour with us in Xi'an on 23rd June 2012, where they had a wonderful meal. They joined the Chinese cooking class there to learn how to make dumplings and try to cook Cold Celery and Dry Bean Curd. Our guide recorded the enjoyable times. They highly recommended the classes as an enriching cultural experience, as well as a way to meet new people and learn something new.

Mr. Heinz & Ms. Jeannette Having Meal in a Local Family

On Apr. 16, 2011, Mr. Heinz & Ms. Jeannette from Switzerland made a special family tour through TravelChinaGuide. In addition to family visit, they also learned to cook

Sweet and Sour Pork Fillet

& Cold Celery and Dry Bean Curd from the hostess and had a true home-cooked meal there.
More popular cold dishes in China:
- Last updated on May. 10, 2019 -