Braised Baby Cabbage in Broth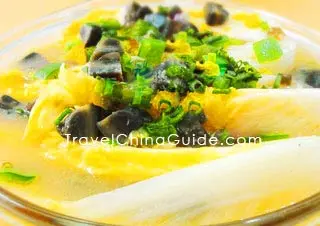 Chinese name: 上汤娃娃菜 (shàng tāng wá wá cài)
Characteristics: it tastes fresh, silky and mouth-filling.
This dish is normally prepared with baby cabbage and preserved egg. Baby cabbage is specially grown in the mountains of Yunnan and it has high vitamin contents.
The following recipe teaches one of the many dishes that cooked with baby cabbage. Being cooked in broth with preserved egg, red date and wolfberry, this dish helps to nourish the stomach and relieve internal heat.
baby cabbage 400g
1 preserved egg
1 green pepper
1 bowl chicken broth
chopped green onion
garlic slices
cornstarch mixed with a little water
Note: the amount of the ingredients use, especially the seasonings listed above can be varied according to personal taste.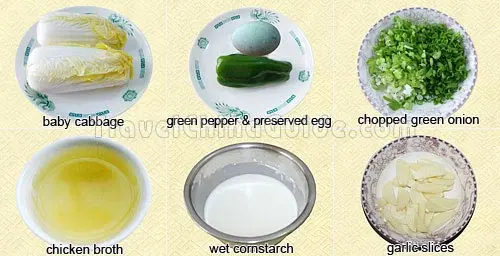 A. Wash and cut the baby cabbage into quarters. Put aside.
B. Wash and cut open the green pepper, discarding the seeds. Then cut into small cubes and put aside.
C. Wash the preserved egg after breaking the shell, and dice it.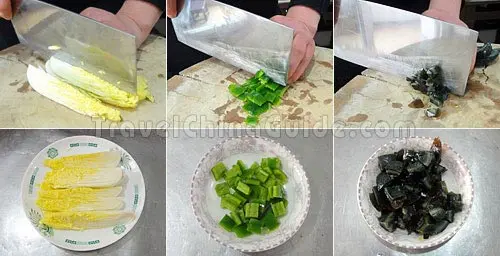 Methods:
STEP
1
Heat up the wok over high heat. Add in a little cooking oil and heat it up. Add in the garlic slices and stir-fry for about 5 seconds till fragrant. Pour in the chicken broth and bring it to boil. Add the baby cabbage quarters and preserved eggs dices and boil for 2-3 minutes until the cabbage quarters turn soft. Turn to low heat and dish out the cabbage quarters into a serving soup bowl.
STEP
2
Turn to high heat, add the green pepper cubes and boil for 1 minute. Add salt to taste and thicken the broth with cornstarch. Turn off the heat and pour the thicken broth over the cabbage quarters. Finally, sprinkle some chopped green onion before serving.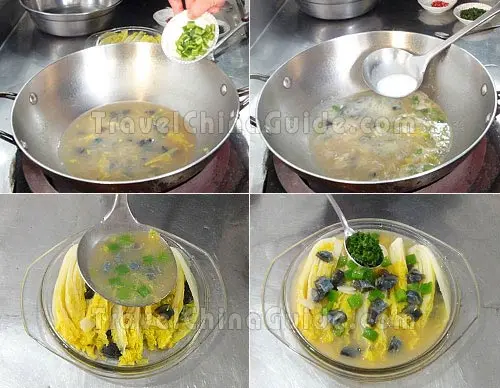 Braised Baby Cabbage in Broth is cooked.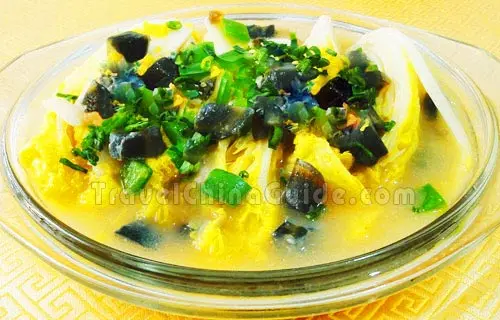 Our Guests Attending Cooking Class
Our Guests Attending the Cooking Class


A small tour group including Mr. Joel and Mr. Alan from USA, Mr. Frederic and Ms. Helene from France, and other guests from Italy, Turkey, Mexico, Belgium and Israel paid a private visit to a typical family in Xi'an where they joined a Chinese cooking class specially arranged by our company. They learnt to make dumplings and cook the home style dish Braised Baby Cabbage in Broth. They all looked very proudly when they said "It tastes better than that offered in the restaurant!".

Our Guests Learn to Cook Chinese Food

Ms. Diane, Mr. Paul & Mr. Craig from USA entered a typical family in Xi'an to know about the true life of a Chinese family, to have a Chinese food cooking class by the host and to have a completely home-made meal with the family. As what they booked in advance, they learned to cook

Hot and Sour Soup

, Braised Baby Cabbage in Broth and dumplings under the detailed instructions by the host, which was commented the most interesting part in the family by them.

Ms. Morresa and the Hostess in the Kitchen

Mr. Martin & Ms. Morresa from USA visited a native Xi'an family privately with our guide. It seems that they have a strong affection to Chinese food, for they ordered to learn to cook many dishes, including the Braised Baby Cabbage in Broth,

Stir-fried Shaanxi Pasta

(Mashi) &

dumplings

. They gave high appraisal for the hostess's cooking skills and our service.
More popular vegetable dishes in China:
- Last updated on Jun. 17, 2019 -