Black Pepper Beef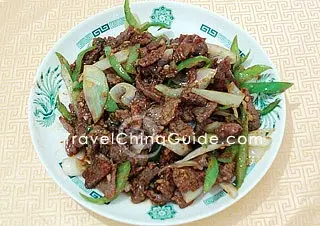 Chinese name: 黑胡椒牛柳 (hēi hú jiāo niú liǔ)
Style:
Cantonese Cuisine
Characteristics: Black pepper beef looks dark in color and tastes strong. The beef in it tastes smooth and tender after frying in the oil; the onion in the dish is fragrant and crispy, while the green pepper makes it more fresh and eye-catching.
One of the local characteristic dishes of Cantonese Cuisine, black pepper beef is a good choice for people who like spicy food. Black pepper is a spicy and hot seasoning, which can help people to withstand the cold and the dampness. Besides beef used in this recipe, Chinese people also cook black pepper chicken and black pepper pork.
1-2 green peppers; 1 small onion; 300g beef fillet
salt
cooking wine
soy sauce
oyster sauce
ground black pepper
meat tenderizer
monosodium glutamate (chicken essence/bouillon/stock)
tomato ketchup
garlic
green onion
ginger
Note: the amount of the seasonings listed above can be appropriately used according to one's personal taste.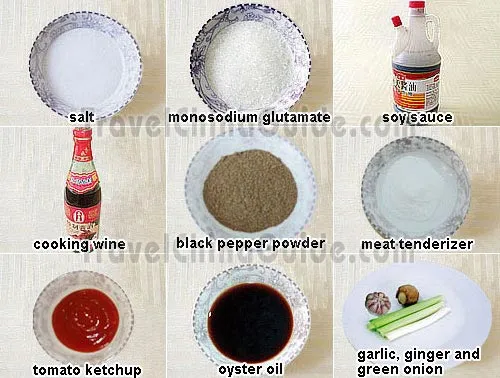 1. Clean the beef and cut it into slices, about 2-3 cm long and 1-2 cm wide. Put it into a soup dish
2. Clean the green pepper and the onion after being peeled. Cut the green pepper into strips and the onion into small pieces. Put into dish separately.
3. Clean the green onion. Peel the garlic and the ginger, and then clean them. Mash them on the chopping board. Put into dish separately.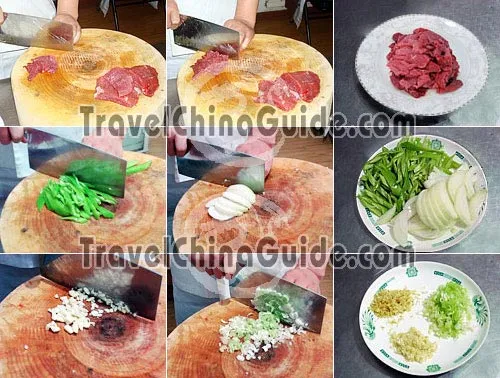 Methods:
STEP
1
Coat the beef by adding in cooking wine, sauce, salt, MSG (or chicken bouillon), egg white and meat tenderizer. Stir well it with chopsticks until you feel it is a bit sticky.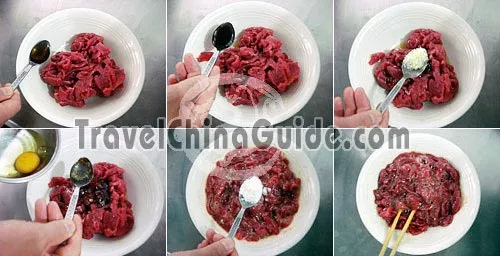 STEP
2
Place a wok over high heat until hot. Add some cooking oil, and add in the processed beef fillet slices to be fried for 3-5 minutes. Turn off the fire and remove them when they look yellowish-white and put them in a dish.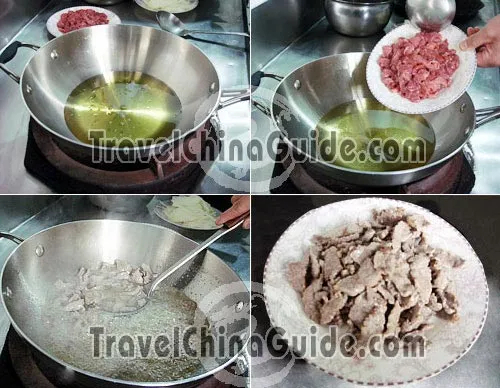 STEP
3
Leave some cooking oil in the wok, swirling to coat the sides. Add in half of the mashed green onion, oyster sauce and tomato ketchup. Stir-fry over high heat for about 30 seconds. Then, add in the fried beef fillet slices and stir-fry for 3 minute. And in some soy sauce and black pepper to be stir-fried for about 30 seconds. Pick out them when the beef fillet slices turn dark brown.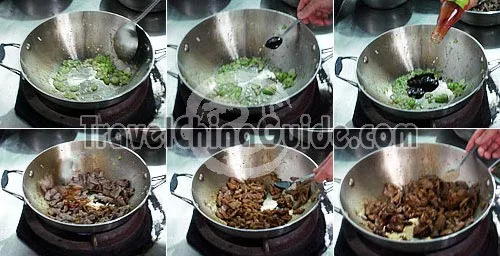 STEP
4
Turn on the heat. Add some cooking oil again. Add in the left mashed green onion, ginger and garlic when the oil is hot. Stir-fry it for about 20 seconds until fragrant. Add in green pepper strips and onion pieces to be stir-fried for 1 minute. Add in some salt and MSG (or chicken essence). Stir-fry for 10 seconds again. Add in the stir-fried beef and stir it together with the others for 3-5 minutes.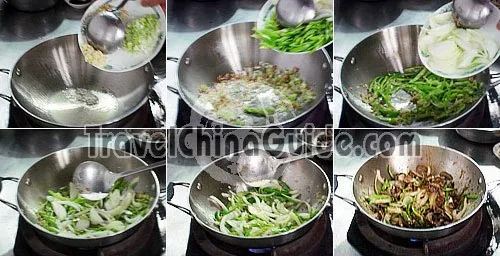 STEP
5
Turn off the heat. Remove them from the wok and put them in a fine porcelain plate. Black pepper beef is ready, with an attractive color of brown, white and green.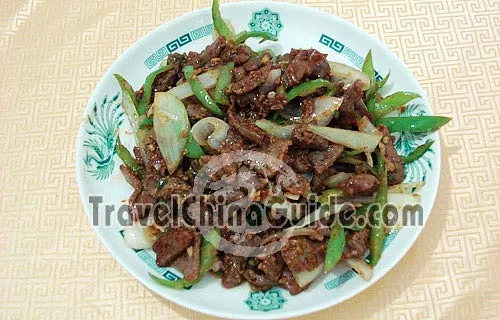 Our Guests Attending Cooking Class
Our Guests Dining in a Local Family

Mr. Leonard & Ms. Lorraine from Australia made their trip to Xi'an and joined our cooking class to a native family. They both love Chinese food very much, so they valued this chance to learn as many as they can from the able hostess. The dish Black Pepper Beef was even more successful than they once ate in Chinatown, because they controlled the fire very well. It was the hardest thing for cooking beef to be just perfect.

Our Guests in an Ordinary Xi'an Family

Mr. Scott, Ms. Leanne & Ms. Shannan from Australia had a family visit in Xi'an to know about the ordinary Chinese's daily life and to learn to cook their favorite Chinese dishes – Kung Pao Chicken & Black Pepper Beef. They said it was unique, a lot of fun and very insightful, and they would try to cook what they learned at home.

Our Guests in a Chinese Family

Mr. Arlen, Ms. Catherine & Ms. Allison from USA paid a visit to a local family in Xi'an privately. They also took the chance to learn to make Chinese dumplings and Black Pepper Beef from the attentive hostess. In there feedback to our service, they said:"...We liked having some choices, for example at the lunch in the local condo in Xi'an (this was one of the highlights of our trip)..."

Further Reading:
12 Best Chinese Beef Recipes to Whet Your Appetite
More popular meat dishes in China:
- Last updated on Nov. 22, 2019 -
Questions & Answers on Black Pepper Beef
Asked by Mrs.fann from MALAYSIA | Sep. 06, 2010 09:13

Reply
how long to marinate the beef ?
Answers (1)
Answered by Mr.Simon from EUROPE | Sep. 07, 2010 15:21

1

0

Reply
Hi Mrs. Fann.

You can marinate it for 30 minutes in the fridge.