Beef Stew with Potatoes & Carrots
Characteristics: Due to the various ingredients, the dish is nutritious and delicious. This good-looking dish with red, white and brown colors attracts many diners.
Beef Stew with Potatoes & Carrots is a popular dish in Northeastern China. Beef is not only good for the skeleton and spleen, but also helps to warm the stomach in winter. Potatoes with a little fat and carrots with considerable carotene and vitamins are common vegetables for all Chinese people. When cooked together as this recipe, they taste fabulous and the nutrition contained inside makes it a good choice for all ages.
beef, 300g
1-2 potatoes, 300g
1 carrot, 150g
1 small onion
5-10 small dried red peppers
green onion
ginger
3-5 cloves of garlic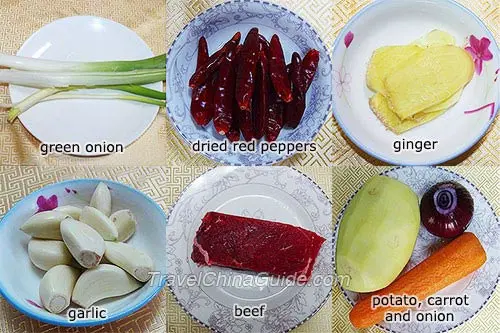 cooking oil; amomum tsaoko; star anise; cinnamon; salt;
white granulated sugar; dark soy sauce; pepper powder.
Note: The amount of the ingredients and seasonings above can be appropriately used according to one's personal taste.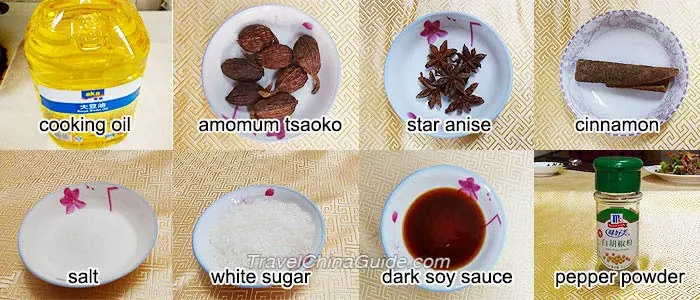 1. Clean and cube the beef. Absorb the water on the beef with kitchen paper.
2. Clean and dice the carrot. Place on a plate.
3. Peel the potatoes. Clean and dice them. Put these dices in a bowl with water submerging them all.
4. Remove the outer skin of the onion, and leave the bulb. Clean and cut it into shreds.
5. Clean the green onion and cut it into 2-3cm small sections.
6. Chop ginger and garlic into small pieces and place them on a small plate.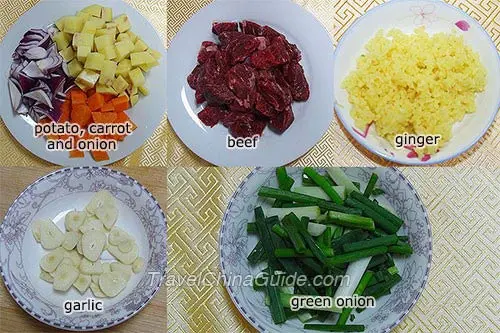 Methods:
STEP
1
Place a wok over high heat. Add the beef and enough water to submerge the beef. Heat it until the water boils. Switch the heat to medium to further boil for 3-5 minutes. When all the blood on the beef comes out, pick out the beef with a colander and remove the water.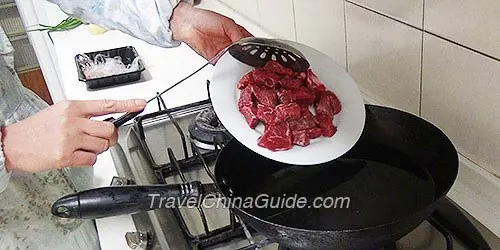 STEP
2
Pour out the water. Clean and dry the wok, and place it over high heat. Add proper amount of cooking oil. When hot, add star anise, amomum tsaoko, cinnamon, dried red peppers, green onions, ginger and garlic and stir for 15-20 seconds until their fragrance comes out.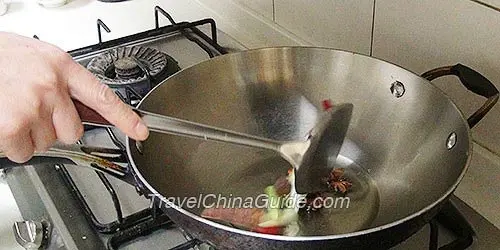 STEP
3
Pour the processed beef into the wok. Stir for 3-5 minutes and mix all ingredients well. Fry until all the water in the beef evaporates.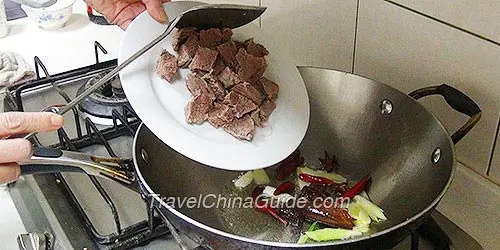 STEP
4
Add water to submerge the beef. After that, cook on low heat for 30-40 minutes. Then add a little dark soy sauce and desired amount of white granulated sugar and stir to mix well.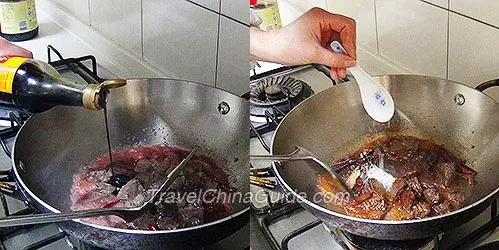 STEP
5
Switch to high heat. Add potatoes and carrots and heat for another 10 minutes. Then add a little salt and pepper powder. Stir and mix them well. Turn off the heat. Pick out the star anise, amomum tsaoko and cinnamon.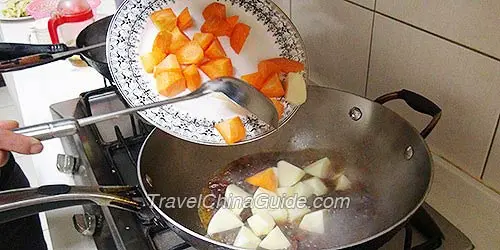 STEP
6
Beef Stew with Potatoes & Carrots is finished. Serve the mixture on a plate. Garnish with coriander leaves. What a delicious and mouthwatering dish it is!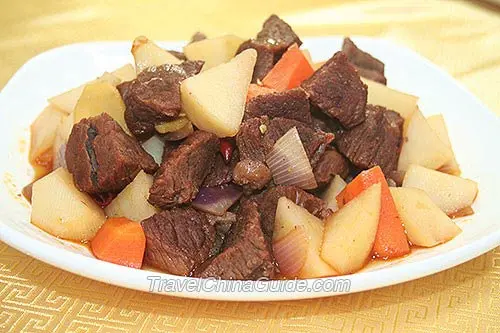 Further Reading:
12 Best Chinese Beef Recipes to Whet Your Appetite
More popular meat dishes in China:
- Last updated on Dec. 09, 2022 -