Beef Curry with Potatoes & Carrots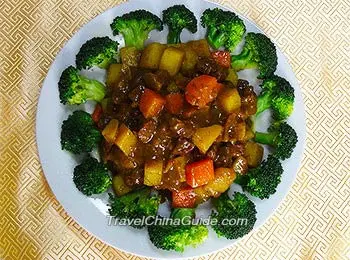 Chinese name: 咖喱牛肉 (gā lí niú ròu)
Characteristics: The dish cooked with the recipe is in good appearance, with the perfect collocation of colors: yellowish potato, red or orange carrot, brown beef and green broccoli. After being stewed for almost an hour in the whole cooking, the beef tastes quite tender, and the vegetables are soft enough. The curry powder makes the dish a little bit spicy, but still very aromatic and delicious.
Beef Curry with Potatoes & Carrots is welcomed for a number of reasons – visual feast with bright colors, exotic flavor with fragrant and spicy curry, satisfactory nutrition value with the combination of meat and vegetables, and crunchy and soft taste. The word "curry" is originated from Tamil, meaning that a variety of spices are cooked together. It is right the way how curry is made. Curry is usually used for cooking Indian, Thailand and Japan foods, and is served up with rice, meat or vegetables. Now it has been a common seasoning in many countries and areas especially Asia. Besides the Beef Curry with Potatoes & Carrots, curry mutton, curry seafood, and curry chicken attract a great many diners.
beef, 300-400g; potato, 200g;
carrot, 100g ; onion, 50g.

curry powder, 50g
cooking oil
salt
brown sugar, 20g
Note: The amount of the ingredients and seasonings above can be appropriately used according to one's personal taste.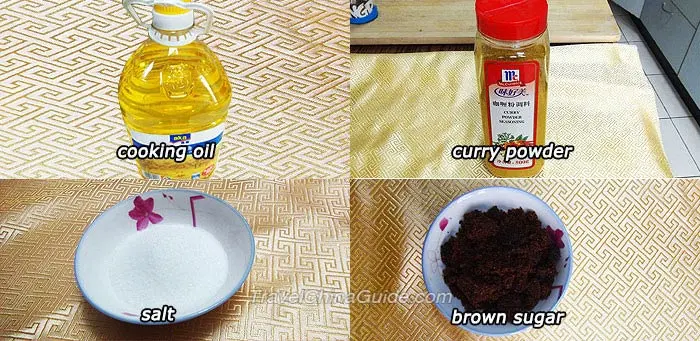 1. Clean and dice the beef. Place the cubed beef on a plate.
2. Peel the potato and carrot, and dice them.
3. Remove the outer skin of onion and leave the bulb. Clean and slice it or cut into strips.

Methods:
STEP
1
Pour enough cold water into a wok to submerge the diced beef. Heat it over high heat until boiling. Then switch to medium fire and heat for another 5-6 minutes. Remain the water boiling until the beef releases all blood and turns grey. Pick up the beef with a colander and drain off the water. Leave it to cool down for 5 minutes.

STEP
2
Pour out the water and clean the wok. Place it over high heat. Add some cooking oil until hot. Pour in the processed beef and fry for 2-3 minutes. Turn down the heat to medium level, and then add 20g brown sugar. Completely mix them and fry. At this point, add hot water to submerge the mixture. Stew for about 30-40 minutes over low heat.

STEP
3
Turn up the heat to big fire. Add the prepared potato, carrot, and onion. Stir and fry them for 1-2 minutes, and then add in curry powder. Combine them all, and pour in some water again to submerge the mixture. Heat over high heat for another 15 minutes until all ingredients become soft and tender. According to the individual taste, add the proper amount of salt and fully mix.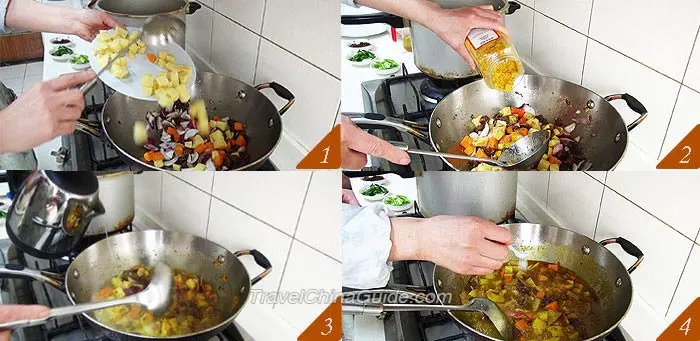 STEP
4
Turn off the heat and dish up. Now the Beef Curry with Potatoes & Carrots is ready. Garnish the dish with the broccoli to better the appearance if serving on a banquet. What a masterpiece of food!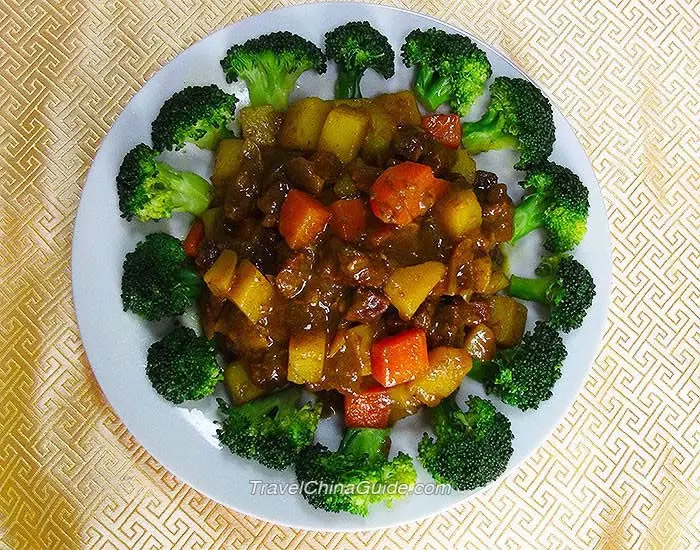 Nutrition Value of Curry
1. Promoting blood circulation;
2. Boosting one's appetite;
3. Benefiting wound healing;
4. Improving the constipation;
5. Preventing from dementia.

Further Reading:
12 Best Chinese Beef Recipes to Whet Your Appetite
Learn to make more Chinese dishes:
- Last updated on Dec. 09, 2022 -