Cucumber with Mashed Garlic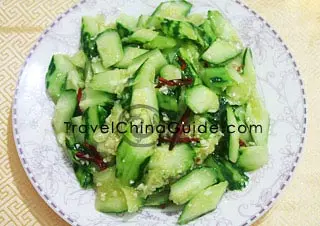 Chinese name: 蒜泥黄瓜 (suàn ní huáng guā)
Style:
Sichuan Cuisine
Characteristics: Cucumber with mashed garlic tastes salty, sour, fresh and crispy, having a peasant garlic flavor.
The most popular cucumber dish in China, Cucumber with Mashed Garlic, is simple to cook with a recipe at home, but tasty to eat. Cucumber is cold by nature, and it can clear away heat, moisturize pathogenic dryness to loosen the bowel and reduce body fat. It's said that cucumber juice is very good for cleanness, skin protection and wrinkle smoothing. In addition to garlic's killing germs, it is really a healthy dish.
2-3 cucumbers
3-6 cloves of garlic
1. Peel the cucumbers to remove the pesticide residues on the skin. Wash them in water. Smack the cucumber to loosen it. Cut it into chunks and put then into a soup bowl. Set aside.
2. Remove the garlic skins. Wash the cloves in water. Chop them up and put them into a small dish.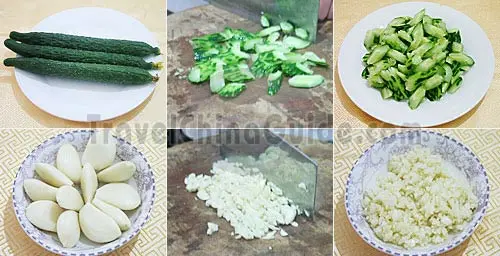 soy sauce
salt
white sugar
white vinegar
sesame oil
chicken essence (chicken stock/bouillon) or monosodium glutamate
red chili shreds
Note: the amount of the seasonings listed above can be appropriately used according to one's personal taste.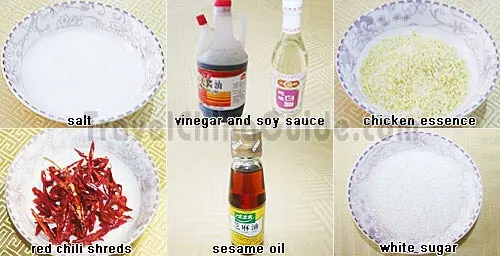 Methods:
STEP
1
Pour the cucumber chunks into a soup bowl. Add in mashed garlic, red chili shreds, chicken essence, salt, white sugar, soy sauce, sesame oil and white vinegar.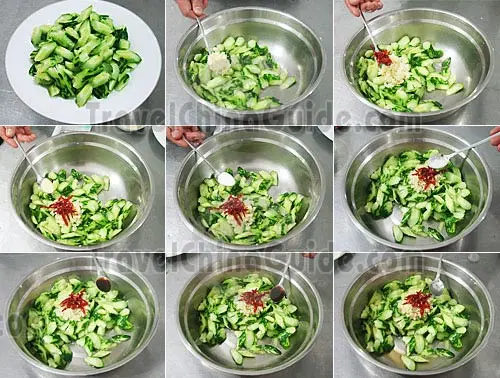 STEP
2
Place a wok over high heat until hot. Add some cooking oil heat to about 90℃(194℉). Spoon the oil out and pour into the soup bowl with cucumber and seasonings.

STEP
3
Stir it well with chopsticks or a spatula until all the materials are mixed up. Pour into a prepared porcelain plate finally.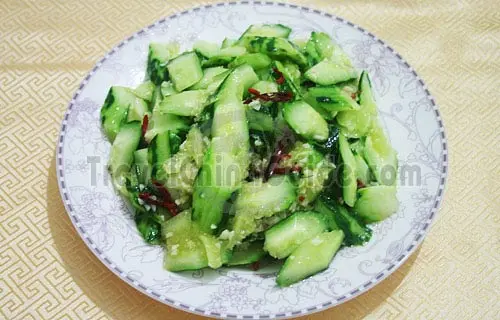 Tips: if you don't like cucumber with garlic, try the
Sweet and Sour Cucumber
instead.
Our Guests Attending Cooking Class
Learn to Make Dumplings



On October 17 2013, Mr. Ghodrat, Mr. William, Ms. Joan, Ms. Farideh and Mr. Gibson from USA, Mr. Christopher and Mr. John from UK, Ms. Belinda, Mr. Nicholas, Ms. Helen and Ms. Pauline from Australia had a unique experience to visit a local family in Xi'an. They enjoyed their time with the warm host and learnt to make dumplings and cooked an easy but refreshing cold dish – Cucumber with Mashed Garlic. It was fun that they highly appreciated the dumplings and the dish made by themselves.

Our Guests in a Local Xi'an Family

On Oct. 2, 2012, Ms. Suzanne & Mr. Jeff from Australia experienced our family visit tour with great curiosity. The family they visited is a most representative one in Xi'an that is well-chosen by our company. The hostess is a full-time housewife who is excellent in cooking. She had a very stunning cooking class to Suzie and Jeff by teaching them to cook Cucumber with Mashed Garlic,

Twice-Cooked Pork

&

Yangzhou Fried Rice

.

Ms. Sarah & Mr. Benjamin in a Local Family

On Oct. 10, 2010, Ms. Sarah & Mr. Benjamin from Canada had a rare chance to have an on-site cooking class while visiting a local family in Xi'an, which is a special tour service offered by Travelchinaguide. As Sarah & Benjamin ordered from our Chinese Food Cooking Class, the friendly hostess taught them to cook

Black Pepper Beef

, Cucumber with Mashed Garlic &

Chow Mein

step by step.

Further Reading:
10 Quick and Easy Chinese Food Recipes for Beginners
Top 15 Vegetarian Chinese Food Recipes

More popular cold dishes in China:
- Last updated on Dec. 02, 2019 -
Questions & Answers on Cucumber with Mashed Garlic
Asked by nanola01 from SPAIN | Jan. 16, 2013 09:42

Reply
What is the mililiter content of bowls as given in your recipes?
Answers (1)
Answered by Mindy from AUSTRALIA | May. 02, 2013 04:49

1

0

Reply
Hi, a Chinese lady who taught me to cook Chinese food told me that it is general around 350ml.