Sweet and Sour Cucumber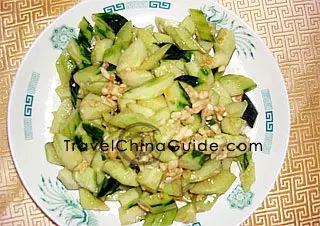 Chinese name: 糖醋黄瓜 (tang cù huáng guā)
Characteristics: Sweet and sour cucumber is green in color, tasting fresh, sweet, sour and crispy.
One of the home-style dishes in northeastern and southeastern China, sweet and sour cucumber is mainly made of cucumber which contains a great amount of water, carotene as well as many beneficial minerals such as thiamine (vitamin B1) and riboflavin(or vitamin B2), but with low protein and sugar.
Different from
Cucumber with Mashed Garlic
, the recipe below teaches you how to cook a sweet and sour cucumber.
Peel the cucumbers to remove the pesticide residues on the skin. Wash them in water. Cut them into diamond-shaped chunks on the chopping board. Finally, put the chunks into a soup plate.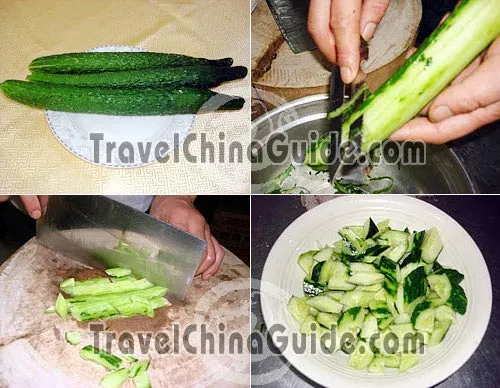 salt
soy sauce
white vinegar
sesame oil
sweet bean sauce (white sugar)
mashed garlic
Note: the amount of the seasonings listed above can be appropriately used according to one's personal taste.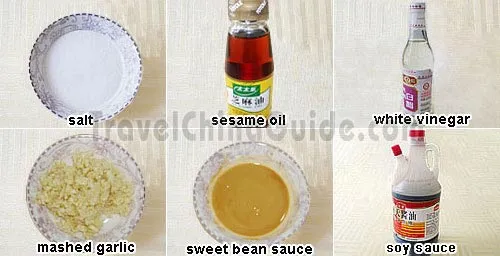 Methods:
STEP
1
Sprinkle some salt in the cucumber chunks and leave for 2 minutes for the juice to run out. Strain off the liquid with a colander.

STEP
2
Add the mashed garlic, (sweet bean sauce or white sugar), sesame oil, white vinegar and soy sauce. Stir it well with chopsticks until mixed. Pour it into a porcelain plate or just leave it in the soup plate.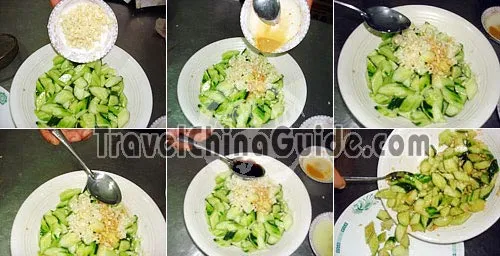 A plate of green, cool and tasty sweet and sour cucumber prepared in this way, is really helpful in reducing weight.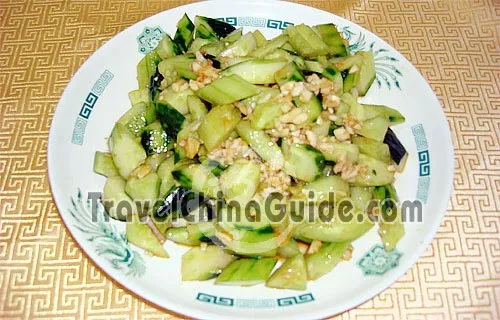 Tips: Please choose fresh and tender cucumbers to ensure the dish is really tasty. If you don't like Sweet and Sour Cucumber,
Cucumber with Mashed Garlic
is another choise.
Our Guests Attending Cooking Class
Our Guests Making Dumplings


On October 13 2013, Mr. Wayne and Ms. Lynn from Canada, and Mr. Vasile and Ms. Luminita from Romania took part in our Chinese cooking class during their visit in Xi'an. The process of making dumplings was very enjoyable. Also, they loved the cold dish - Sweet and Sour Cucumber very much. As what they said, it was a wonderful hands-on experience because they can learn something that they can take home. Besides, the personal touch of eating a home cooked meal was really an unprecedented experience while traveling.

Our Guests Learn to Make Dumplings

On May 31, 2012, Mr. Keith & Ms. Nancy from New Zealand made a private tour to a local family in Xi'an organized by TravelChinaGuide. They had a close contact and communication with the family members, learned to cook Sweet and Sour Cucumber at the kitchen of the house, and finally enjoyed a true home-cooked Chinese meal with the family. They wrote to us "We thought our visit in your country was one of the best organized one we have ever been on…"

Our Guests at the Dining Table

On Nov. 4, 2011, Mr. Eric & Ms. Carol from USA spent about 2-3 hours at a local family in Xi'an where they had a face-to-face communication with the host, and learned to cook

Kung Pao Chicken

& Sweet and Sour Cucumber. It is a special tour service offered by Travelchinaguide for those who are interested in

Chinese culture

and Chinese cooking.
More popular cold dishes in China:
- Last updated on Jul. 22, 2019 -
Questions & Answers on Sweet and Sour Cucumber
Asked by Nanda Robarts from PORTUGAL | Nov. 11, 2016 05:41

Reply
As a child I used to eat steamed minced pork with sweet cucumber in slices.
How can I make this sweet cucumber? Where I live now there is little Chinese food for sale?
Can you help me?
Answers (1)
Answered by Nathan from GERMANY | Nov. 15, 2016 21:25

0

0

Reply
If there is no cucumber for sale around your house, maybe you don't have to add this dish to the steamed minced pork. It should not affect the favor.
Asked by Mr.Aayush from INDIA | Oct. 28, 2009 04:45

Reply
Looks like a cool dish!

Answers (1)
Answered by Ms.Kayla | Oct. 29, 2009 04:25

0

0

Reply
Yes, it is a cool dish, tasting cool and delicious, you can have a try.