Ants Climbing Trees (Vermicelli with Spicy Minced Pork)
Style:
Sichuan Cuisine
Characteristics: Ants Climbing Trees is bright in color. The vermicelli in it tastes soft, and appears glittering and translucent. The dish smells quite fresh alongside with the brown ground pork.
Ants Climbing Trees, is also named Ma Yi Shang Shu in Chinese, Ants Creeping on Trees or Ants Climbing a Hill. People also call it Rou Mo Fen Tiao, which means vermicelli with ground pork. The dish is a very flavorsome Sichuan dish. The ants here refer to the ground pork, and the trees are the vermicelli. As the stir-fried ground pork attached on the glittering vermicelli looks likes ants climbing trees, hence the name.
Recipe of Cooking Ants Climbing Trees
vermicelli, 150g
lean pork, 100g

cooking oil, ginger, garlic, green onion, broad bean paste, salt, white sugar, light soy sauce,
cooking wine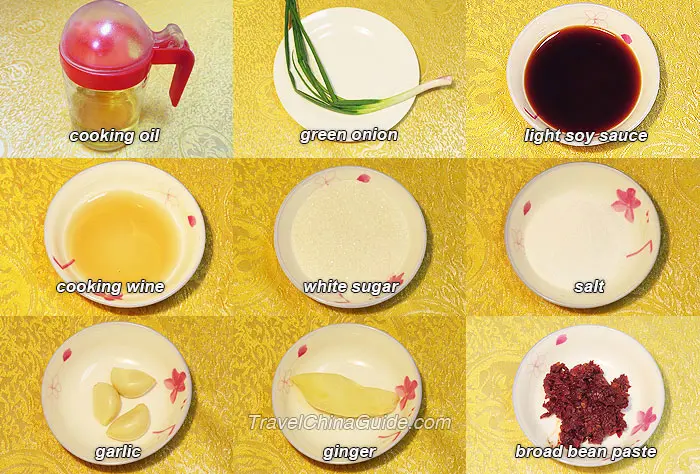 1. Soak the vermicelli in cold water for an hour. When the vermicelli becomes soft, pick out for further use.
2. Rinse and chop the lean pork. Add a little salt, light soy sauce and cooking wine and preserve for 10-15min.
3. Peel the ginger and dispose of the husk of the garlic, then chop them. Trim the green onion. Clean and cut into small pieces.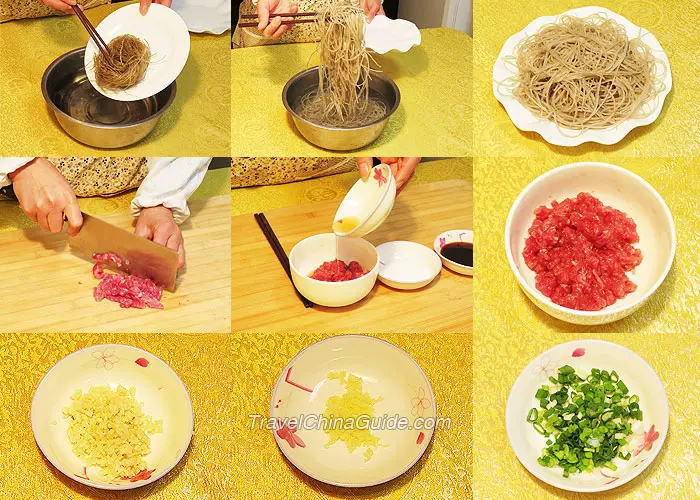 Methods:
STEP
1
Fry the ground pork: Place a wok over high heat until hot and pour in some cooking oil. When the oil is hot, add the chopped ginger and garlic. Stir-fry for 5-10sec. When the aroma is given out, switch the heat to medium fire and add the ground pork. Stir-fry till the color changes and the pork is well coated with ginger and garlic.

STEP
2
Season the pork: Add in the broad bean paste and fry until its oil flows out and the aroma appears. Pour in some water and add the light soy sauce, white sugar and salt according to one's personal taste. Heat the mixture over high heat till boiling.

STEP
3
Add the soaked vermicelli. Stir-fry and combine with other ingredients. Boil the mixture over medium heat for 2-3min. Then turn to high flame to let the vermicelli absorb the sauce. When the sauce dries off, turn off the heat. Pick out and sprinkle some small pieces of green onion.

The Ants Climbing Trees (Vermicelli with Spicy Minced Pork) is ready now. The appearance is adorable.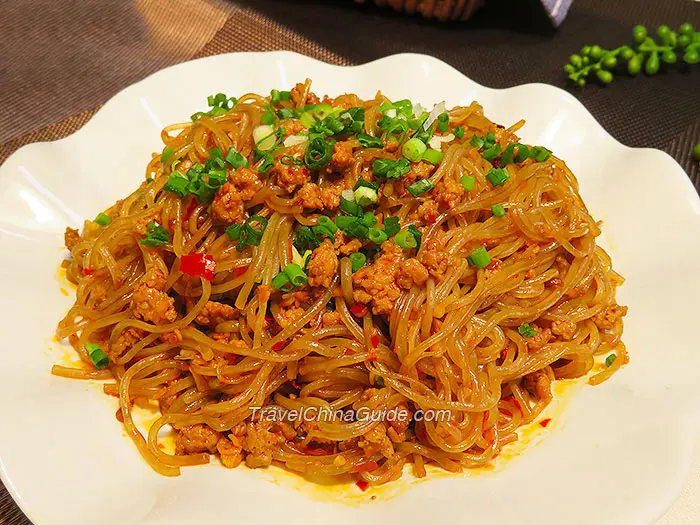 Legend about Ants Climbing Trees (Vermicelli with Spicy Minced Pork)
In order to sit for a higher civil service examination, Dou Tianzhang, a scholar of the Yuan Dynasty (1271-1368), sold his daughter Dou E to his creditor Mrs Cai to be the child bride of her son. Dou E was attentive to her husband and mother-in-law in Cai's home. Unluckily, her husband died of illness soon after their marriage, and Mrs Cai also got sick in bed due to the sorrow of losing her son. Dou E had to shoulder the responsibility of the family. She tried her best to cook all sorts of tasty food for Mrs Cai in hoping that her mother-in-law would recover fast.

However, their economy became tight soon without any income. She forced herself to buy food on credit. Coming to the butcher's shop for the third time, she was refused further credit. After Dou E's pleading and begging, the butcher cut a small chunk of pork for her. Thinking of what to do with so little pork, Dou E went back home and glanced a wisp of vermicelli. She placed the vermicelli in a bowl filled with water to make it soft, then chopped the pork. She stir-fried the chopped pork with ginger, green onion and soy sauce and added the soaked vermicelli to fry together.

"What are you cooking? It smells so delicious." Mrs Cai asked surprisingly. "Just stir-fried vermicelli." Dou E answered and took the dish to her mother-in-law, who found that there were many black spots on the vermicelli. "Why are there so many ants?" Mrs Cai questioned. After knowing the truth, she had a taste and praised it a lot. Then she happily called the dish Ma Yi Shang Shu, namely Ants Climbing Trees.
Our Guests Attending Cooking Class
Dinner in a Local Family

Mr. Arthur, Ms. Eileen, Ms. Kelly, Mr. Jasten and Mr. Michael from the United States paid a visit to a local family in Xi'an where a Chinese cooking class was offered under the arrangement by our company. They learnt from the hostess to cook Vermicelli with Spicy Minced Pork and had meal with all home-made dishes. We are gratified as they sent us feedback that "For the meals included, we really liked the home cooked meal from the family visit…".

Our Guests Learn to Make Dumplings

Mr. Rodger & Mr. Alexander from USA walked into a typical family in Xi'an and had a face-to-face Chinese food cooking class from the friendly host. They watched the hostess cooking Ants Climbing Trees, Black Pepper Beef & Shredded Pork with Garlic Sprouts, and learnt to make dumplings in the field. They commented it their favorite meal during their China trip.

Our Guests Learn to Make Dumplings

Ms. Hawhwa from USA visited a local Chinese family in Xi'an during her China tour arranged by Travelchinaguide, through which she didn't only have more knowledge about the Chinese people's daily life, but also learned to cook two famous Chinese dishes - Chinese Dumplings & Ants Climbing Trees (Vermicelli with Spicy Minced Pork) from the hostess.

Further Reading:
Top 10 Chinese Pork Recipes to Satisfy Your Taste Bud
More popular meat dishes in China:
- Last modified on Nov. 28, 2019 -
Questions & Answers on Vermicelli with Spicy Minced Pork
Asked by Ms.Debbie | Dec. 02, 2009 21:14

Reply
Why the dish is called ants climbing trees? What do aunts and trees matter with the dish? confused. Would someone kindly explain to me? Thanx (:
Answers (1)
Answered by Mr.Jerry from CHINA | Dec. 02, 2009 21:26

0

0

Reply
Hi,Debbie.
Read the legend about ants climbing trees and you will understand