Red Braised Pork (Hong Shao Rou)
Red Braised Pork, Hong Shao Rou in Chinese, is loved by many diners because it is delicious, nutritious and goes well with rice.
Using pork as the only main ingredient, the dish is slowly stewed for an hour, which makes the pork not greasy. Rock candy is added to make brown syrup and better the flavor; therefore, the dish is also named Stewed Pork with Brown Sauce.
Recipe of Cooking Red Braised Pork

boneless pork belly with skin, 400g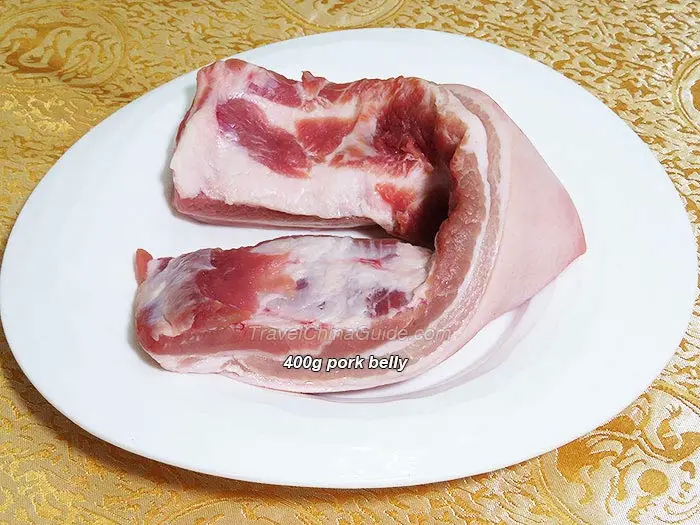 cooking oil; yellow rice wine; soy sauce;
cooking wine
; rock candy; salt; dried chili peppers;
garlic; ginger; star anise; cinnamon; myrcia; dried orange peel
Note:
1. White sugar can take the place of rock candy.
2. The amount of the ingredients and seasonings above can be appropriately used according to one's personal taste.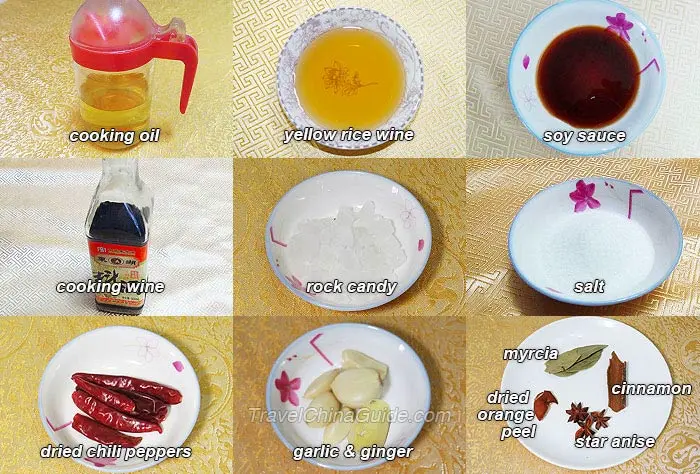 1. Clean the pork belly and cut into 2-3cm cubes.
2. Prepare 4-6 cloves of garlic and clean them. Peel the ginger and cut into slices.

Methods:
STEP
1
Blanch the pork: Place a wok filled with enough cold water over high heat. Add in ginger slices, some cooking wine, and pork cubes. Boil for 5 minutes. Get rid of the scum. Pick out the pork cubes and drain off water.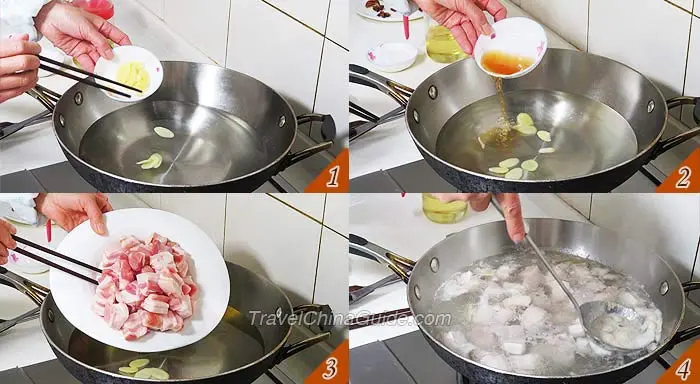 STEP
2
Make sugar syrup: Heat the wok. Pour in a thin layer of cooking oil and heat it up. Add in rock candy and heat over low fire. Keep stirring and fry until the brown syrup densely bubbles and starts boiling.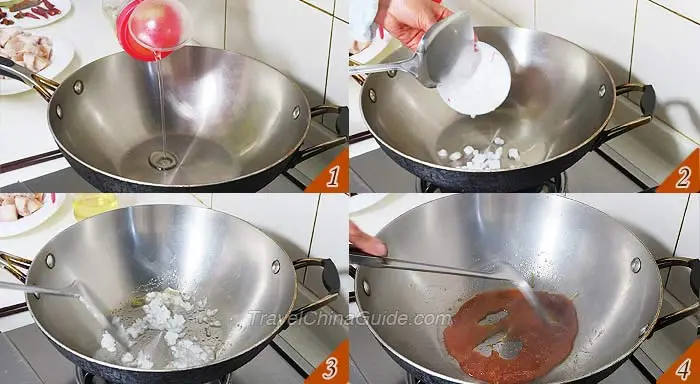 STEP
3
Add the blanched pork cubes into wok. Completely stir and make sure all of them are coated with the brown sauce. After that, add in ginger and garlic. Stir-fry for 2-3 minutes and add in 2 tablespoons of yellow rice wine and 3 teaspoons of soy sauce. Combine well.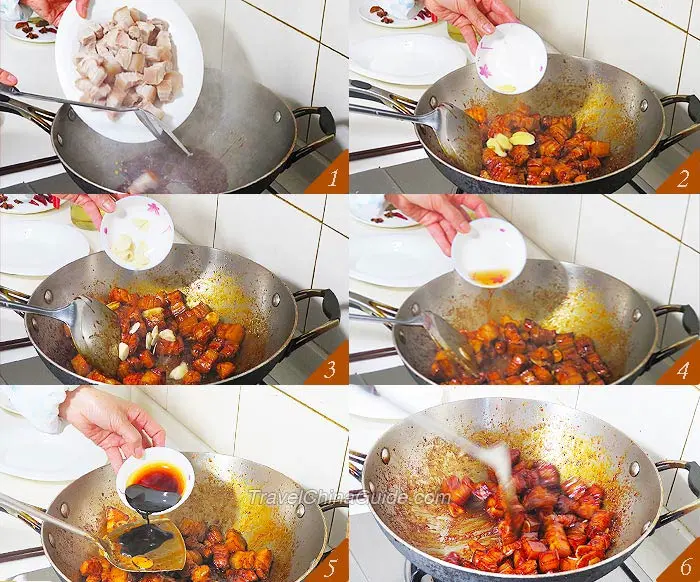 STEP
4
Pour in hot water to submerge all pork cubes. Add in star anise, cinnamon, dried orange peel, dried chili peppers and myrcia. Bring it to a boil and turn down the heat to low fire. Stew for 15-20 minutes.

STEP
5
Pour the mixture into an earthen pot and stew over low fire for 50-60 minutes. Add some salt according to the individual's taste. Then move the mixture into the wok and heat over high heat until the soup gets thick. Pick out the star anise, cinnamon, dried orange peel, dried chili peppers and myrcia. Turn off the heat and dish up.

The Red Braised Pork (Hong Shao Rou) is cooked. It is deep red in color, and the meat tastes soft and juicy, but not greasy at all.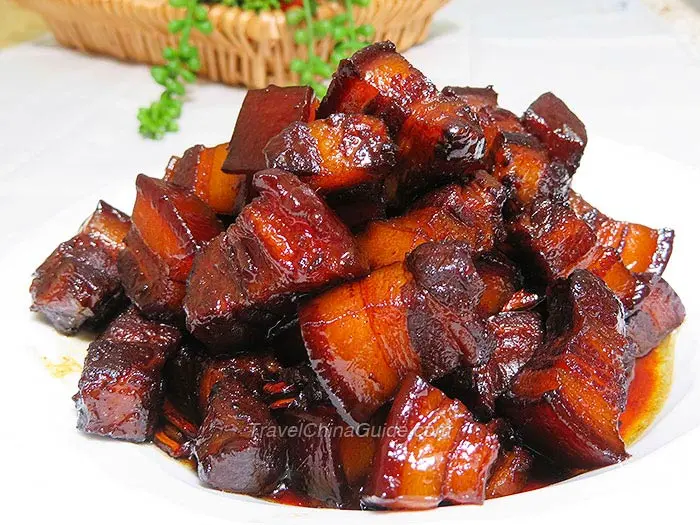 Kind Reminder:
The deep red color and pleasant flavor of Hong Shao Rou always attract many diners; however, people with hyperlipemia, high blood pressure and hyperglycaemia should control the consumption of it. Also having much of the dish will cause fat accumulation; what's worse, obesity.
Our Guests Attending Cooking Class
Our Guests with the Hostess


A group of guests including Mr. Matthew, Ms. Julie, Mr. Te Yen, Mr. Ching Ying, Ms. Emily, Mr. Christopher and Mr. Charles from the United States joined our Chinese cooking class during their tour in Xi'an. They had so much fun to learn how to make dumplings together. And some of them participated in cooking the dish-Stewed Pork with Brown Sauce. Although this was a rare chance for them to cook Chinese food, they showed a great interest in cooking the local delicacies.

Mr. Kociolek Cooking Chinese Dish

Mr. Dariusz and Ms. Katarzyna from Poland had a Chinese food cooking class and enjoyed a truly home-made meal in a typical family in Xi'an. The warmhearted host taught them to make dumplings step by step, and taught them to cook a table of home-style dishes including Stewed Pork with Brown Sauce,

Seaweed and Egg Soup

, etc. They liked the special service very much, and said that they looked forward to making Chinese dishes for their families when they went home.

Diana & William Having Dinner

Ms. Diana & Mr. William from UK participated in our family visit in Xi'an, during which they had a pleasant talk with the family and learned to cook Stewed Pork with Brown Sauce and

Yangzhou Fried Rice

. They said it was a day they will remember most, because it was their first time to have such a wonderful experience.

Further Reading:
Top 10 Chinese Pork Recipes to Satisfy Your Taste Bud
More popular meat dishes in China:
- Last updated on Aug. 30, 2019 -