Steamed Perch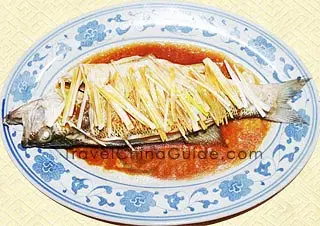 Chinese name: 清蒸鲈鱼 (qīng zhēng lú yú)
Style:
Cantonese Cuisine
Characteristics: Steamed Perch is characterized by an emphasis on freshness and aroma.
Steamed Perch is a lighter food, but it gives out the freshness and tenderness of perch fully. Perch is rich in multi-nutrition. Its DHA is the highest among the freshwater fishes, so it is very helpful for enriching the brain. Besides, it also contains high-quality protein but with low fat. With this simple recipe, you are able to make this dish easily for family members at home.
1 perch, 500 - 600g
ginger
green onion sections
soy sauce
cooking wine
fish gravy (a kind of sauce especially used for cooking fish)
salt
chicken essence (chicken stock/bouillon)
wet cornstarch (cornstarch mixed with a little water to make a smooth paste)
sesame oil, optional
Note: the amount of the ingredients especially the seasonings listed above can be appropriately used according to one's personal taste.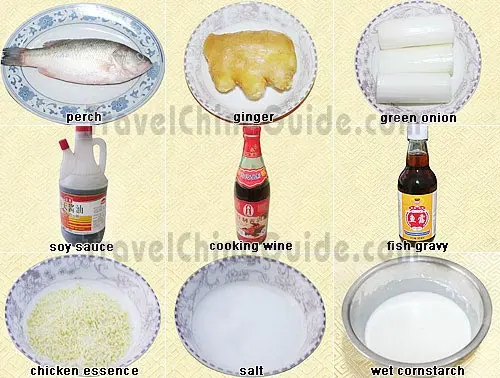 A. Peel and clean the ginger. Cut it into thin slices, half of which are cut into shreds. Put into separate saucers.
B. Clean the green onion sections. Cut it into thin slices, half of which are cut into shreds. Put into separate saucers.
C. Scrape the scales off the perch and remove the entrails (some fish has been cleaned of scales and inwards, so this step can be omitted.). Wash it well. Score it symmetrically on both sides. Put into a dish.
Methods:
STEP
1
Sprinkle some cooking wine and salt on the prepared perch. Put the ginger slices and green onion sections on it and put some in. Salt it for 15-20 minutes.

STEP
2
Fill the steamer pot 1/4 full of water and put the steamer basket in. Put the perch dish on the basket and cover it. Turn on the heat to steam it for 8-10 minutes. Turn off the heat, and steam it for a furthur 6-8 minutes without heat. Pick it out.

STEP
3
Place a wok over high heat until hot. Add some cooking oil, swirling to coat sides. Pour in the fish juice of the steamed perch. Add in the soy sauce, fish gravy, salt, chicken essence and wet cornstarch. Stir-fry it for 20 seconds on high heat.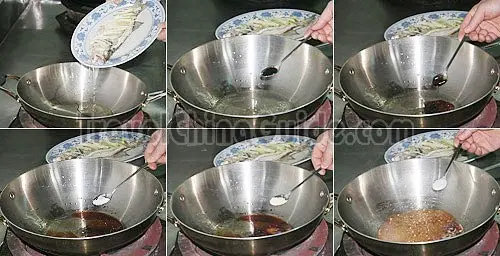 STEP
4
Remove the ginger slices and green onion sections on the perch used for steaming, and put on the ginger and green onion shreds on it instead. Pour the stir-fried juice on it, too. Meanwhile, sprinkle some sesame oil on it to make it more fragrant and delicious.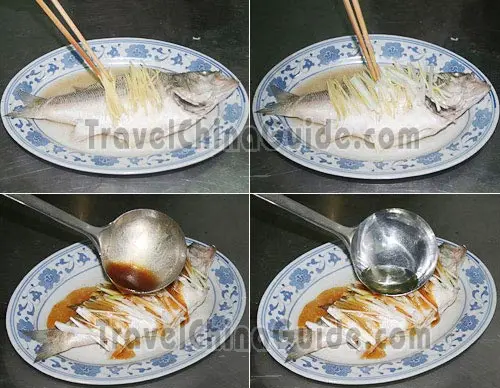 Your steamed perch is cooked.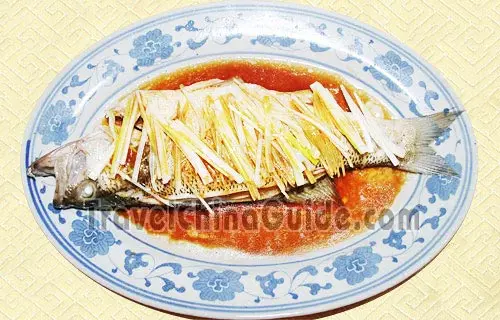 Notice for Our Guests:
At present, this dish is not applicable for the family visit and cooking class in our tour service.
Our Guests Attending Cooking Class
Making Delicious Dumplings



On November 7 2013, Ms. Sabine, Mr. Mark, Mr. Raymond, Ms. Christina, Ms. Marcy and Ms. Birgit from the US, Ms. Jacquelyn and Mr. Gavin from the UK, Mr. Maury and Ms. Helen from Canada, and Mr. Paul and Ms. Kate from Australia had a private visit to a local family in Xi'an. They enjoyed a great meal there with all home-made Chinese food served by the gracious host. Also, they learnt to make dumplings and cooked the Steamed Perch.

Our Guest Learn to make Dumplings

On Sep. 16, 2012, Mr. Samuel & Mr. Heather from Australia had a special cooking class in a typical family in Xi'an When they joined our China tour package. The kind hostess also taught them to make

dumplings

in addition to

Braised Beef Fillet with Scallion

& Steamed Perch that they ordered to learn to cook. They said it was an enriching experience, and they would make another visit to know more about Chinese people's life.

Ms. Rahman and Her Family Having Meal

On Mar. 8, 2012, guests of TravelChinaGuide, Mr. Mohammad, his wife and his daughter from Bangladesh dropped in at a local Xi'an family where they had a good talk with the family and learned to cook Steamed Perch and

Fried Egg with Black Fungus

. After the tour, they commented that this special service is fabulous and they love every minute spent in the family.
More popular seafoods in China:
- Last updated on Oct. 25, 2019 -