Steamed Fish with Chopped Red Chili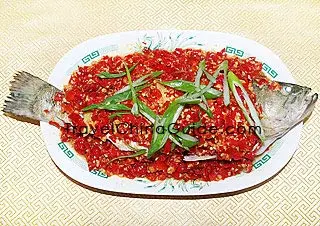 Chinese name: 剁椒鱼 (duò jiāo yú)
Style:
Hunan Cuisine
Characteristics: The fish in Steamed Fish with Chopped Red Chili has a strong taste because of the spicy red chili, but rather tender and fresh.
One of the well-known dishes in Hunan Cuisine, Steamed Fish with Chopped Red Chili presents a unique taste by combining fish and red chili. Its renown originates from Huang Zongxian, a famous mathematician of the
Qing Dynasty
(1644 - 1911). It's said that he traveled to present Hunan Province and stayed at a family there. On that particular night, the son of the family caught a fish from the nearby pool, so the hostess cooked the fish in the local way of steaming together with chopped chili for their guests. Dinning on it, Huang Zongxian considered it very delicious, so he got the recipe from the hostess and brought it back home. Later, the recipe was spread and favored by more and more people.
1 grass carp or carp, around 500 g (it has been cleaned of scales and inwards)
chopped red chili
chopped garlic
green onion sections (prepare some shredded green onion leaves as well)
ginger slices
cooking wine
chicken essence (chicken stock/bouillon)
salt
five spices powder
Note: the amount of the ingredients especially the seasonings listed above can be appropriately used according to one's personal taste.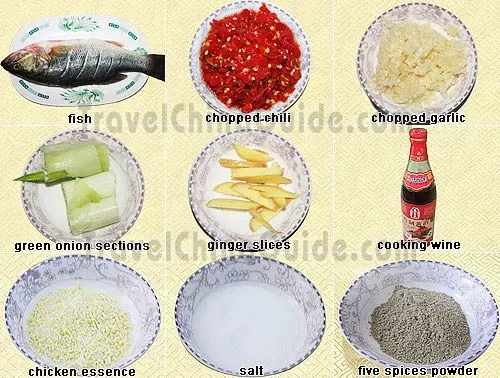 Methods:
STEP
1
Wash the fish well both inside and outside. Score it symmetrically on both sides. Put into a small basin. Add in the green onion sections, ginger slices, cooking wine, chicken essence and salt. Marinate for 15-20 minutes.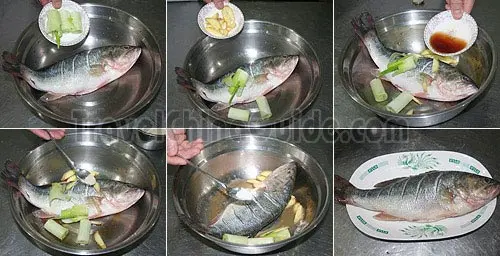 STEP
2
Place a wok over high heat until hot. Add some cooking oil, swirling to coat sides. Add in the chopped garlic and chopped red chili. Stir-fry for about 20 seconds until fragrant. Turn to medium heat and add in the five spices powder. Stir-fry for 20 seconds again. Turn off the heat.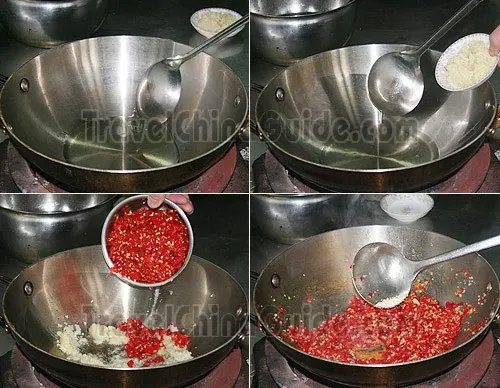 STEP
3
Pick the fish out of the basin and serve on a plate. Put the stir-fried chopped red chili on the fish. Remove the wok and place the steamer pot on the gas cooker instead. Fill 1/4 full of water and put the steamer basket in. Put the plate on the basket and cover it. Turn on the heat to steam it for 8-10 minutes. Turn off the heat, and steam it for another 5 minutes without heat. Pick it out.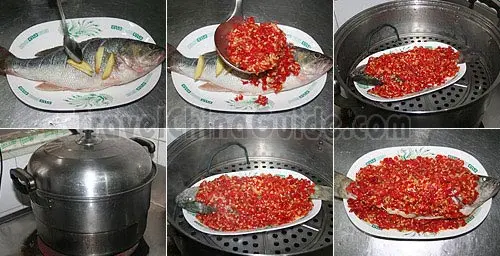 STEP
4
Garnish the fish with shredded green onion. Steamed Fish with Chopped Red Chili is ready.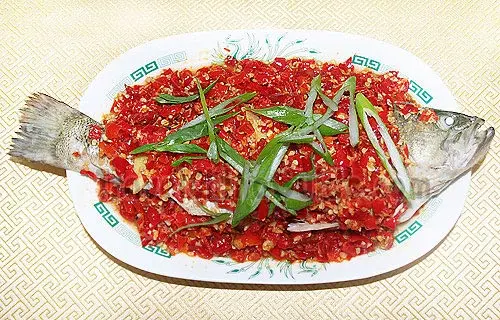 Our Guests Attending Cooking Class
Mr. Tait Learning to Make Dumplings

Mr. Tait and Ms. Li from Australia visited a local family during their tour in Xi'an on December 2 2013. They were really interested to see what type of home the local people live in, and chat with the host to know more about Chinese people's life. Apart from the pleasant communication, they also learnt from the hostess to make dumplings and cook the very challenging dish – Steamed Fish with Chopped Red Chili. The process of cooking Chinese food for the first time was fun for the couple. They told us that they would highly recommend the cooking class to their friends when getting back home.

Our Guests Learn to make Dumplings

On Oct. 29, 2012, Ms. Constance, Mr. Robert, Mr. Roger & Ms. Judith from USA dropped in at a local Xi'an family. After the cooking class of Dumplings,

Yangzhou Fried Rice

& Steamed Fish with Chopped Red Chili, they found they got some impulsion to start cooking Chinese food which they always felt was too difficult, so they especially asked the hostess to write down some basic cooking tips for their reference at home before leaving.

Ms. Jill & Mr. Karim in a Chinese Family

On Nov. 11, 2010, Ms. Jill & Mr. Karim from UK paid a family visit to a local family in Xi'an during their private tour arranged by TravelChinaGuide. Instead of just walking on the street, they stepped into the home of the local people and learned to cook Chinese food

dumplings

and Steamed Fish with Chopped Red Chili in the family, which helps to get a better understanding of Chinese culture and Chinese people.
More popular seafoods in China:
- Last updated on Oct. 25, 2019 -