Poached Shrimp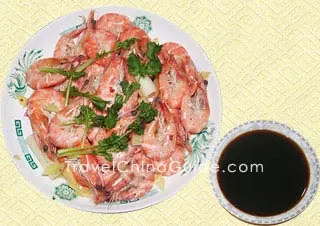 Chinese name: 白灼基围虾 (bái zhuó jī wéi xiā)
Style:
Cantonese Cuisine
Characteristic: Poached Shrimp tastes fresh and tender, with bright red color.
Poached Shrimp is a classic poached dish, cooked by scalding food in boiling water. It is made with simple ingredients but with rich nutrition. One thing must be paid attention to is to ensure that there is always a cup of tea to go with it, which is for getting rid of the fishy smell on the hands when eating the shrimps. So don't put yourself in the embarrassing situation of drinking the tea while waiting for the dish.
Cut off the mustache and get rid of the black intestine in its back. Wash them well and put into a basin.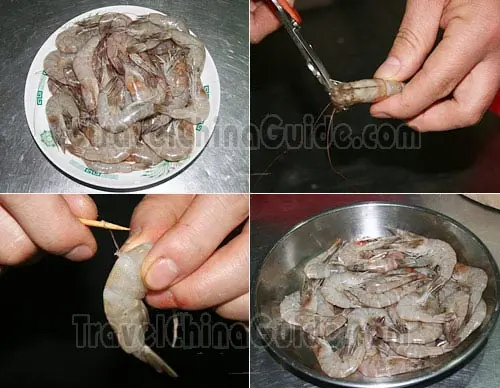 ginger slices, 5 g; green onion sections, 5 g; 2 teaspoons of vinegar; 1/2 teaspoon of salt; 3 teaspoons of
cooking wine
; 4 teaspoons of soy sauce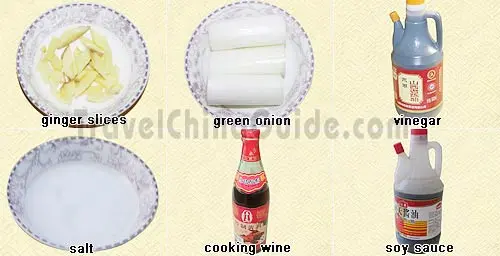 Methods:
STEP
1
Put the wok on a high heat and add in 3/4 wok of water. Add in ginger slices, green onion sections and the cleaned shrimps when the water is boiling. Boil it for 2-3 minutes until it turns red. Add in the cooking wine and boil it for another 1 minute. Strain the shrimps in a colander and place them into a porcelain dish.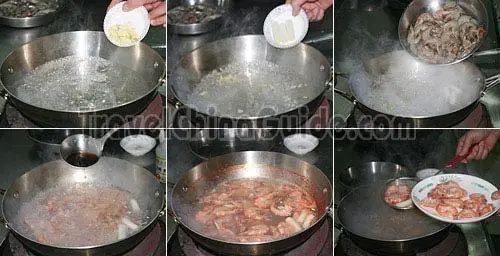 STEP
2
Find a small basin or dish. Put in 4 teaspoons of soy sauce, 2 teaspoons of vinegar and 1/2 teaspoon of salt. Stir it well through the teaspoon.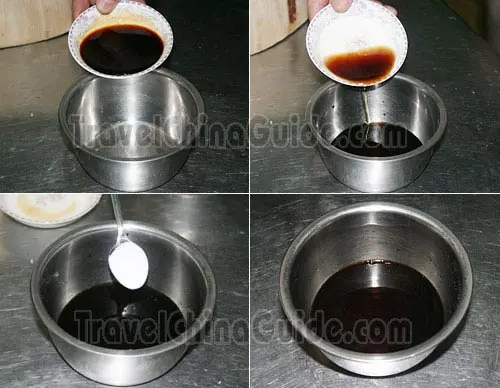 STEP
3
The last step of this recipe is to put some chopped coriander over the shrimps to color and flavor them. Poached Shrimp with the dipping sauce is now prepared.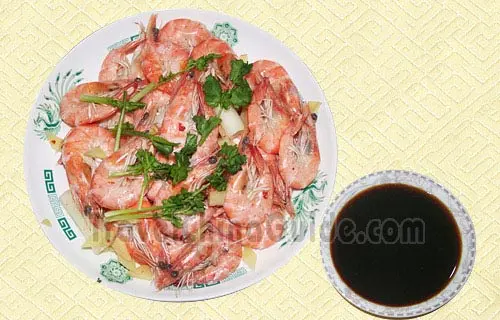 Notice for Our Guests:
At present, this dish is not applicable for the family visit and cooking class in our tour service.
Our Guests Attending Cooking Class
Dining in a Chinese Family


On November 7 2013, Ms. Jacquelyn and Mr. Gavin from the United Kingdom, Mr. John, Ms. Lillie and Mr. Richard, Ms. Sabine and Mr. Mark from the United States, and Mr. Maury and Ms. Helen from Canada joined our Chinese cooking class during their tour in Xi'an. They all loved learning how to make dumpling dough, dumpling rolls and fill them with stuffing. Poached Shrimp is what they tried to learn as their first Chinese dish, because it looks easy and the cooking idea can be taken home.

Our Guests Learn to make Dumplings

On December 28, 2012, Mr. Gerard & Ms. Loraine from Australia visited a local family in Xi'an, which was especially arranged by our company to let our guests have an experience of the true life in a Chinese family. The couple were also given a cooking class by the host through making

dumplings

, Poached Shrimp,

Twice Cooked Pork

and several other local dishes. They said it was very interesting, practical and useful, and they had known how to cook Chinese rice.

Mr. Scott in the Kitchen

On Apr. 18, 2012, Mr. Scott from Australia and Ms. Teresa from UK had a family cooking class during their visit to a local family in Xi'an, which is a special service newly offered by TravelChinaGuide. At a real Chinese kitchen and with Chinese kitchen wares, they succeeded in cooking Poached Shrimp and Sweet and Sour Pork Fillet thanks to the help of the friendly and enthusiastic hostess.
More popular seafoods in China:
- Last updated on Oct. 25, 2019 -