Tangba Town's Stir-fried Fish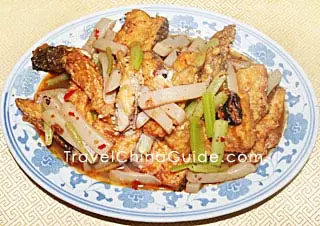 Chinese name: 塘坝鱼 (táng bà yú)
Style:
Sichuan Cuisine
Characteristics: Tangba Town's Stir-fried Fish is characterized by fresh, tender ingredients with a spicy aroma.
Tangba Town's Stir-fried Fish is a Sichuan specialty, generously spiced but not so hot as other Sichuan dishes. It originated from a Xi'an boy named Su whose home town was Tangba of
Chongqing
. Being away from his home town, Su missed the strong flavor of Chongqing dishes. One day, he invited his friends for a meal and cooked some fish for them using the chili sauce he had brought from home. To his surprise, all his friends loved his fish. Later, Su opened a small restaurant in Xi'an and asked a chef from his hometown Tangba to teach him to cook fish. Su named the dish cooked by his master from Tangba 'Tangba Fish'. If you like Sichuan cuisine and fish, you are recommended to follow the recipe below to cook it at home.
1 grass carp, around 500g
150g konjac or hard bean curd)
50-100g celery stems
A. Scrape the scales off the grass carp and remove the entrails. Wash it well and cut it into chunks.
B. Clean the konjac tofu (or hard bean curd). Cut into thick strips and place in a dish.
C. Clean the celery stems. Cut into sections and put in a dish.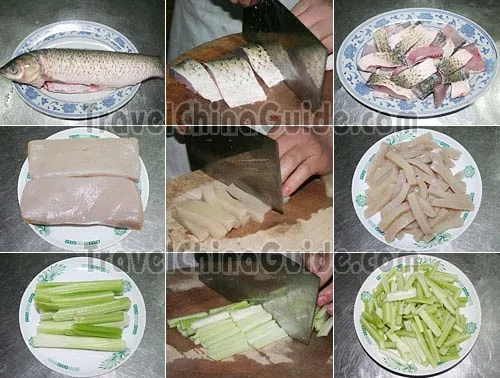 green onion sections
thinly sliced ginger
broad bean paste
cooking wine
soy sauce
dry cornstarch
salt
chicken essence (chicken stock/bouillon) or monosodium glutamate
five spices powder
Note: the amount of the seasonings listed above can be appropriately used according to one's personal taste.
Methods:
STEP
1
Pour the grass carp chunks into a small basin. Add the green onion sections, ginger slices, cooking wine, salt, five spices powder and soy sauce. Stir well with chopsticks, and leave to marinate for 15-20 minutes.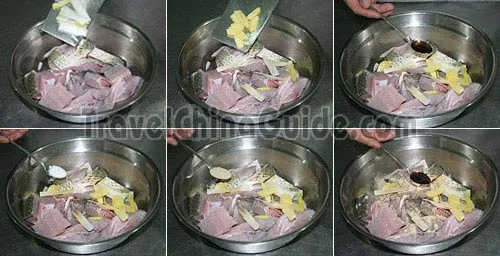 STEP
2
Sprinkle some dry cornstarch on the carp chunks, and stir well with chopsticks until the fish feels sticky. Place a wok over high heat. Add some cooking oil. Add in the fish pieces one by one with chopsticks. Turn heat to medium to stir-fry the carp chunks as soon as they turn golden. Turn off the heat and quickly remove the pieces from the wok, and place in a colander to drain the oil, and then transfer to a dish.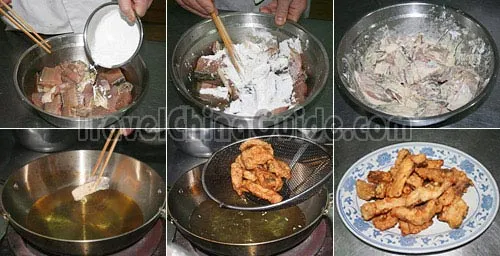 STEP
3
Leave some cooking oil in the wok, swirling to coat the sides. Add the broad bean paste and stir it for 30 seconds until you feel the spiciness.
STEP
4
Pour in the konjac tofu (or hard bean curd) straps and add half a bowl of water. Bring to boil and add the salt and chicken essence. Stir well and add the celery sections and fried grass carp chunks. Stir and boil it for 2-3 minutes.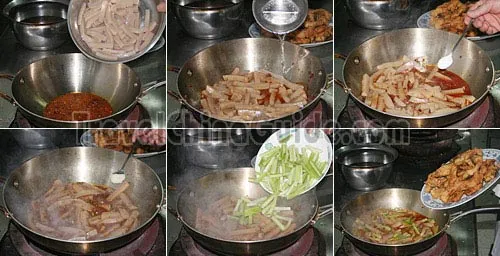 STEP
5
Remove from heat and serve in a fine porcelain fish dish. Tangba Town's Stir-fried Fish is ready for you to enjoy!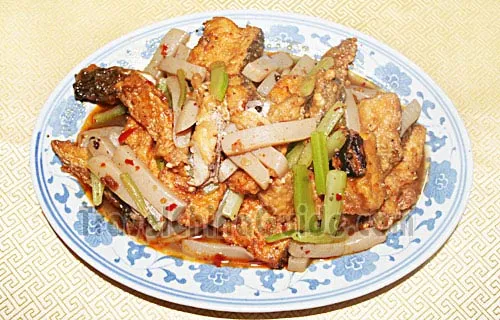 Our Guests Attending Cooking Class
Our Guests Making Dumplings



On October 31 2013, a group of our guests including Mr. Jacob, Ms. Amberlea and Ms. Victoria from Canada, and Ms. Brittney from Australia took part in our Chinese cooking class in Xi'an. As a very refreshing part of their tour, they learnt from the skillful hostess to make dumplings and cooked Tangba Town's Stir-fried Fish. They send us feedback that they felt very lucky to have done this visit, very satisfying!

Our Guest in a Chinese Kitchen

On Aug. 6, 2012, Mr. Soeparwoto, Ms. Otty, Ms. Larissa & Mr. Ariel from Indonesia had a private visit to a typical family in Xi'an to know about the Chinese people's life and to have a cooking class by the host. Soeparwoto and Ariel were so excited that they videotaped the whole process of Otty and Larissa's learning to cook Tangba Town's Stir-fried Fish &

Braised Shaanxi Pasta

. They said they would show it to their families and friends when they went back home.

Ms. Shubhra, Mr. Nirmal & Ms. Manjari in a Chinese Family

On Oct. 22, 2010, Ms. Shubhra from USA , Mr. Nirmal & Ms. Manjari from India joined a special

family tour

in Xi'an arranged by our company. Being interested in Chinese food for long, they finally had a valuable chance to learn to cook their favorite Chinese dishes

Kung Pao Chicken

& Tangba Town's Stir-fried Fish from a Chinese housewife in a typical local family.
More popular seafoods in China:
- Last updated on Oct. 25, 2019 -