Tomato and Egg Soup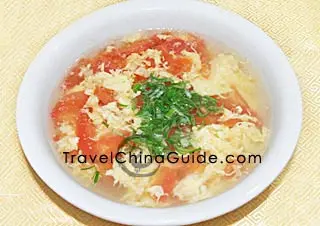 Chinese name: 西红柿鸡蛋汤 (xī hóng shì jī dàn tāng)
Characteristics: Tomato and Egg Soup tastes fresh and delicious and has an attractive color. It can be eaten as a soup or as an entree.
Tomato and Egg Soup is a home-style dish and is a staple in both small and large restaurants.
It is simple to cook and is full of nutritious. Although its recipe is simple, it is a good beauty food, making the skin elastic and clear.
1-2 tomatoes
2 eggs
green onion leaves
wet cornstarch
salt
sesame oil
Note: the amount of the ingredients especially the seasonings listed above can be appropriately used according to one's personal taste.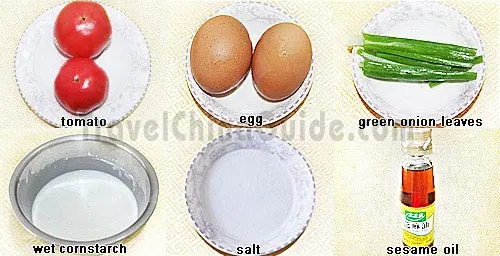 1. Wash the tomatoes and cut into thin slices. Set aside on a plate.
2. Wash the green onion leaves and chop it. Put into a small dish.
3. Crack eggs into a bowl or a small basin. Beat the eggs.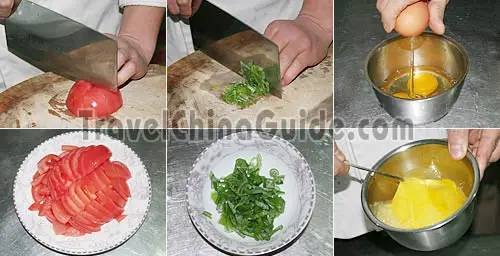 Methods:
STEP
1
Fill a wok with around 1 liter of water and turn on the heat. Once the water is boiling, slowly add the eggs. Once the eggs resemble a yellowish flower floating about the water, add the tomato slices. Add the salt and wet cornstarch. Boil it for 1 minute over high heat.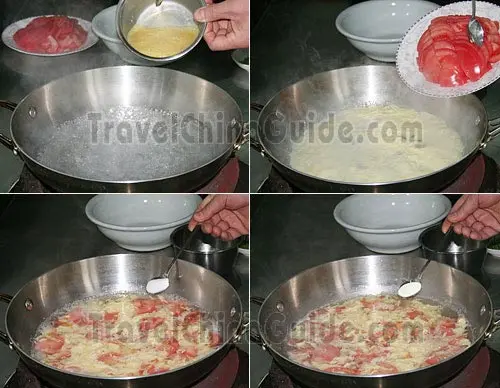 STEP
2
Turn off the heat. Spoon the soup into a soup bowl. Add some sesame oil, sprinkle with the chopped green onion leaves and serve.

Tomato and Egg Soup is cooked.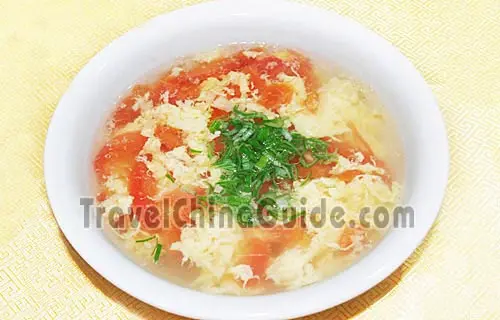 Our Guests Attending Cooking Class
Our Guests Learn to Make Dumplings


On July 19, 2013, Mr. Michael, Ms. Virginia, Mr. Edward and Mr. William from the United Kingdom had a visit to a local family in Xi'an, where they enjoyed a meal with all home-made Chinese dishes. Also, they were excited to join in a Chinese cooking class to learn how to make dumplings and cook a popular soup - Tomato and Egg Soup. Virginia shared with us that this was really an amazing experience she had in China, and the group gave compliments on our service and recommended our tour company to many of their friends.

Our Guests Dining in a Chinese Family

On Oct. 17, 2010, Mr. Robert from UK enjoyed a special meal at a private apartment of a local family in Xi'an through taking part in our family tour. All the dishes were cooked on spot by the hospitable hostess except

Kung Pao Chicken

& Tomato and egg soup that were ordered by Robert as his cooking class recipes in advance.

Ms. Kathy Preparing the Tomatoes



On May 12, 2010, Mr. William & Ms. Kathy from USA dropped in at a local family in Xi'an.

After the cooking class of Tomato and Egg Soup by the hostess, they found they got some impulsion to start cooking Chinese food which they always felt was much too difficult, so they especially asked the hostess to write down some basic cooking tips for their reference at home before leaving.
More popular soups in China:
- Last updated on Sep. 22, 2022 -
Questions & Answers on Tomato and Egg Soup
Asked by pooo from CANADA | Oct. 02, 2016 19:35

Reply
Can you not put in cornstarch?
Answers (2)
Answered by Frank from UNITED KINGDOM | Oct. 07, 2016 22:44

0

0

Reply
Do you mean putting cornstarch in tomato and egg soup? In some places, people put in cornstarch before pouring in eggs.
Answered by Lucy | Sep. 22, 2022 09:36

0

0

Reply
As Chinese, I never put cornstarch in tomato and egg soup and I like to cut tomatoes into wedges. Before we put eggs in the soup, we fry the tomatoes wedges with a little oil. Then we put one or two bowls of water (It depends on how much liquid you'd like to drink in the soup. ) When the water is boiling, we drop the whisked egg, add some salt and turn off the fire. Then put in some chopped green onions if you want.
Asked by Carl from USA | Oct. 13, 2013 12:32

Reply
Many of your recipe's call for adding a "bowl" of water. What is the volume of a "bowl" (e.g., in liters or cups)? Thanks.
Answers (3)
Answered by Iris from POLAND | Oct. 16, 2013 03:43

2

2

Reply
I saw my Chinese friend cook and a bowl of water is 200-250ml.
Answered by jic | Mar. 25, 2015 09:52

1

1

Reply
So, in other words, one bowl = 1 cup. Useful to know.
Answered by Melody from SINGAPORE | May. 20, 2015 01:31

1

1

Reply
Actually, to serve one person, an egg and a tomato with around 500ml of water is proper. If referring to this recipe, at least 1L of water is needed.