Vegetable and Tofu Soup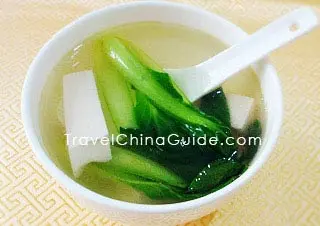 Chinese name: 青菜豆腐汤 (qīng cài dòu fu tāng)
Characteristics: Vegetable and Tofu Soup is green and white in color. The tofu in it tastes soft and tender, while the vegetable is fresh and refreshing.
It's said that Vegetable and Tofu Soup was a dish Emperor Qianlong would eat during his travel to south of the Yangtze River every time. Another legend popular among the folk has it that when Su Dongpo was exiled to Huangzhou on the northern bank of the Yangtze River middle reaches, he would cook Vegetable and Tofu Soup himself to entertain his guests. Some others also say that all over the world where there are Chinese, there is Vegetable and Tofu Soup. Follow the recipe below to learn to cook the popular soup.
150g green vegetables
150g tofu
salt
sesame oil
Note: the amount of the ingredients especially the seasonings listed above can be appropriately used according to one's personal taste.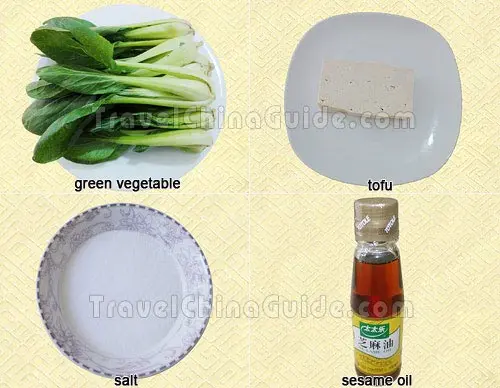 Methods:
STEP
1
Wash the green vegetable, and cut the tofu into shreds after being washed. Add one and a half bowls of water into the wok, and bring the water to boil. Then add the sesame oil, tofu shreds and green vegetable to be boiled for about 2 minutes. Finally, add the salt and stir them well.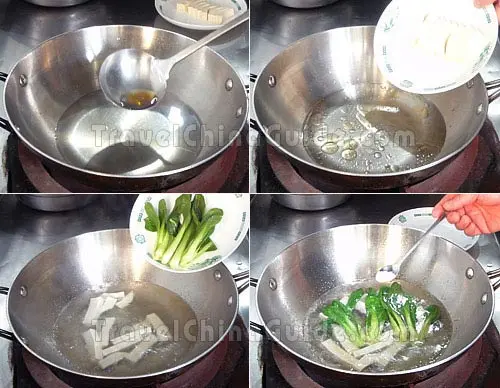 STEP
2
Turn off the heat. Spoon the soup out of the wok, and serve into a soup bowl.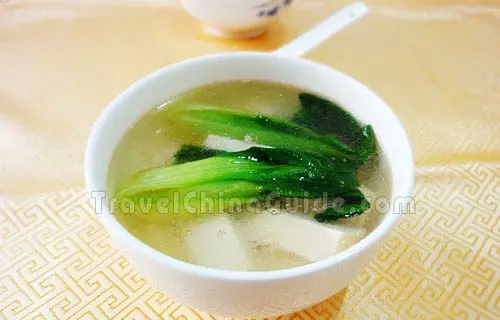 Our Guests Attending Cooking Class
Our Guests Making Dumplings

On June 27, 2013, a group of tourists mainly from the US, including Mr. Tushar, Mr. Shawn, Mr. Stephen, Ms. Gloria, Mr. Michael, and Mr. Thomas had a private tour to a local family in Xi'an with cooking class offered by the skillful hostess. They learnt to make dumplings and cooked the Vegetable and Tofu Soup – a refreshing soup after meal. The cooking class was filled with laughter and we were so glad to know that they regarded the family visit a highlight of their tour in China.

Our Guest with the Hostess



On Mar. 3, 2013, Mr. Christopher from USA and Ms. Ailyn from Philippines took part in our private tour in Xi'an where our company headquarters is based. They were impressed by a visit to a local family with cooking class organized by us, and had a really happy time there together with the hostess. They prefer light foods so that they learnt from the hostess to cook Vegetable and Tofu Soup. They said this private family visit made their journey to China more exciting.

Mr. Frederick John Harvey Learn to Make Dumplings

On May 16, 2011, Ms. Lisa & Mr. Frederick from Canada took part in our

family visit tour

in Xi'an. They had a happy time in the local family we especially selected for them. They had a face-to-face communication about Chinese's daily routine and a hand-by-hand cooking class about Chinese dumlings,

Kung Pao Chicken

& Vegetable and Tofu Soup.
More popular soups in China:
- Last modified on Jul. 22, 2019 -
Questions & Answers on Vegetable and Tofu Soup
Asked by Mr T from UNITED KINGDOM | Apr. 09, 2016 09:50

Reply
chicken and sweet corn soup
Hi
I am looking for corn starch as chinese take aways use.i am bit confused can you tell me the name or brand please?
Answers (1)
Answered by Daisy from MEXICO | Apr. 10, 2016 22:07

0

0

Reply
The brands used in China may be hard to find in your country. But the corn starch brands in UK can still do.