Fried Egg with Cucumber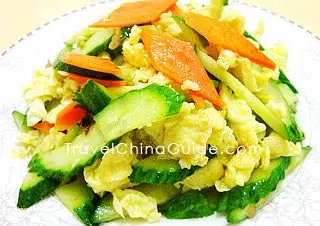 Chinese name: 黄瓜炒鸡蛋 (huáng guā chǎo jī dàn)
Characteristics: it is a fresh and delicious entree. The cucumber slices offer a crispy texture and a tender taste, while the egg infuses rich nutritious in the dish.
As another recipe cooking with egg, this dish is a typical home-style dish in China. There are two main steps to make it. Firstly, the cucumber must be cut into thin slices. Next, the egg must be fried over low heat. Cucumber is a dietary vegetable with beauty intensifying functions, while egg is very nutritious. The two different flavors compliment each other nicely.
2 cucumbers
2-3 eggs
1 small carrot
green onion
pepper powder
salt
Note: the amount of the ingredients especially the seasonings listed above can be appropriately measured according to one's personal taste.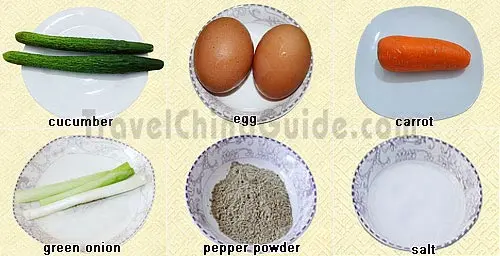 A. Wash and clean the green onion and cucumbers. Cut the green onions into small pieces, and the cucumber into thin slices. Place them on separate plates.
B. Wash and peel the carrot, and then cut into diamond-shaped slices. Place on a plate.
C. Crack eggs into a bowl or a small basin. Beat it up.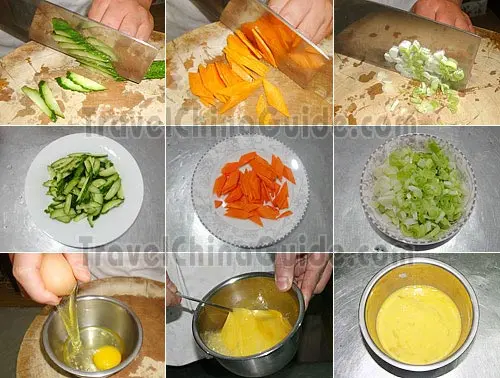 Methods:
STEP
1
Place the wok over high heat until hot. Add some cooking oil, and pour in the beaten egg slowly when the oil is hot. Stir-fry it for 10-20 seconds until the egg sets and becomes yellowish. Turn off the heat and cut it into chunks using the cooking ladle. Rmove it from the wok and place on a plate.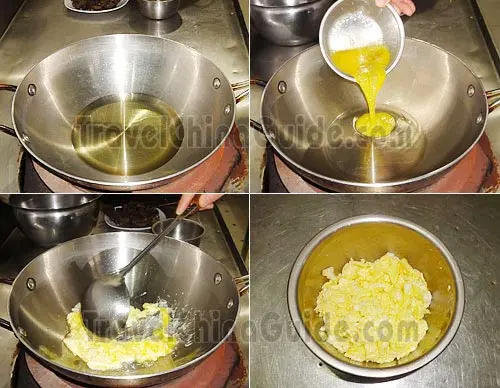 STEP
2
Turn on the heat, and add more cooking oil. Add the green onion, and stir-fry for 10 seconds until fragrant. Add the carrot and cucumber slices and stir-fry over high heat for about 1 minute. Add the salt and pepper powder, and stir-fry for 20 seconds. Turn to low heat, return the egg chunks to the wok, and stir-fry for 30 seconds more.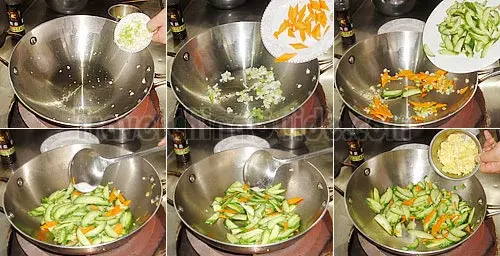 STEP
3
Turn off the heat, remove the mixture from the wok and serve on a fine porcelain plate.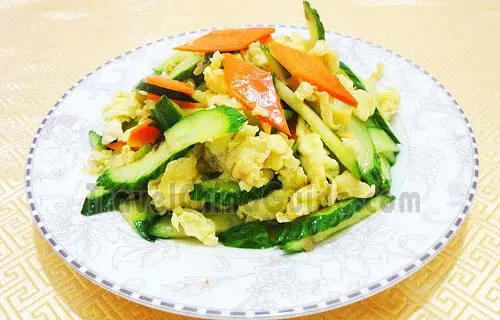 If you like fresh cucumber, you may also try Sweet and Sour Cucumber or Cucumber with Mashed Garlic.
Our Guests Attending Cooking Class
Our Guests Learn to Make Dumplings


On Aug.4, 2012, being guided by our tour guide, Mr. Kenneth from Australia, Mr. Justin from USA, Ms. Cecilia from Mexico, Ms. Arlyn and Ms. Angela from Philippines had a family visit to a local house in Xi'an. They sent us feedback after the tour that they all loved very much the food and the cooking class offered by the hostess. Fried Egg with Cucumber cooked by them was great and very healthy. It is quite suitable for those who prefer light food.

Our Guest with the Dumpling She Made

On Aug. 3, 2012, Ms. Megan & Ms. Katina from Australia visited a typical Xi'an family under the arrangement by our company. They watched the whole process of the host's preparation of the dishes for them, and learned to make Chinese dumplings,

Shredded Pork with Sweet Bean Sauce

& Fried Egg with Cucumber. They said the easy-going and enthusiastic host made them fell very welcome and at home.

Mr. Christian & Ms. Sandra in a Chinese Family

On Apr. 8, 2011, Mr. Christian & Ms. Sandra from Peru took part in TravelChinaGuide's family cooking class in Xi'an. It was in a typical family carefully chosen by our company to show the true life of the Chinese people. Christian and Sandra just learned to cook

Eggplant in Sichuan Style

,

Braised Spare Ribs

& Fried Egg with Cucumber in the kitchen of the family, experiencing a Chinese housewife's daily work.
More popular vegetable dishes in China:
- Last updated on Dec. 09, 2022 -