Moon Cake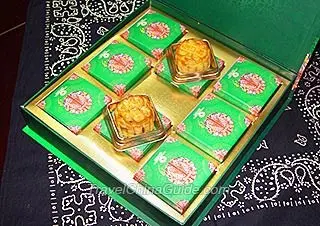 Moon Cake
What is a mooncake? Chinese moon cake is the representative food of the Mooncake Festival, or more commonly known as
Mid-Autumn Festival
. It is a kind of round cookie with various fillings and different artistic patterns on the surface, depicting the legends of the festival and conveying auspicious meanings. During the festival, people sacrifice these cookies to the moon as offerings, eat them for celebration and present them to relatives and friends for good wishes.
As early as the Shang (17th century BC - 1046 BC) and Zhou (1046 - 256 BC) dynasties in what today are Jiangsu and Zhejiang provinces in east China, there was a kind of "Taishi cake" thick at the center and thin at the edge, which was the origin of the mooncake. In the Han Dynasty (202 BC - 220 AD), sesame and walnuts were introduced into China, and round cookies filled with these ingredients appeared. In the Tang Dynasty (618 - 907 AD), the name "mooncake" was used for the first time and gradually became well-known nationwide. It was not until the Ming Dynasty (1368 - 1644 AD) that the custom of eating these cookies during the Mid-Autumn Festival got popular. It was also during this period that the cookie makers started to print different patterns on the surface to express best wishes.

What does the mooncake symbolize? Mooncakes are generally made round to symbolize the full moon. The cake is made round also because Mid-Autumn Festival is a time for family reunion and "round" has a similar pronunciation with "reunion" in Chinese.

Why do we eat mooncakes on Mooncake Festival?
On the festival day, all families eat mooncakes, or more traditionally, share one to celebrate the family reunion.

Traditional mooncakes are divided into four types based on their place of origin: Cantonese-style, Suzhou-style, Beijing-style and Chaoshan-style. As time passed by, more types appeared: Hong Kong-style, Shanghai-style, Yunnan style, Shaanxi style…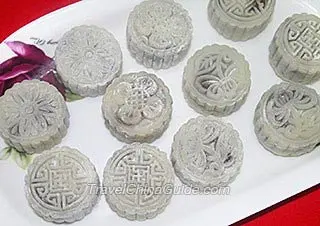 Here, we'd also like to classify Chinese moon cakes from a diner's perspective:

By mooncake flavor: There are sweet, salty, salty sweet, spicy… ones.

By filling: We can find five nuts, red bean paste, jujube paste, black sesame, lotus seed paste, lotus seed paste with egg yolk, meat, ham, fruit… ones.

By crust: The most commonly seen is white crisp or golden soft crust made with wheat flour. Besides, snowy skin crust made with glutinous rice flour, jelly crust made with jelly powder can also be found in the market.

By shape: In addition to the most popular round smooth or laced ones, there are also those shaped into cute animals, flowers, and other auspicious patterns.
In recent years, more and more creative mooncakes popped up, including those made with ice cream, tea, coarse cereals, chocolate, sugar-free to meet the demands of different diners.


Read more:
Traditional Mooncakes in China - 12 Types of Regional Variations
10 Most Popular Mooncake Flavors - Which one do you like?
Snow Skin Mooncake – Non-Baked Mooncake
Jelly Mooncake - How to Make Colorful and Crystal Mooncakes
Halal Mooncake - Features, Fillings, Recipe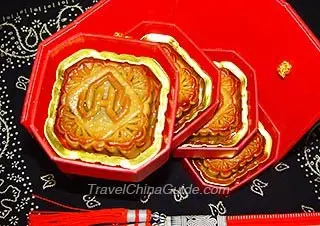 Most mooncakes contain high sugar and oil, so are not healthy. People suffering from diabetes, high blood pressure, hyperlipoidemia, stomach disease, hepatobiliary disease, and the overweight, old and little kids should not eat too much or stay away from them.

How to Eat Chinese Moon Cakes Healthily:
To decrease the harmfulness the high fat and calorie bringing to our body, some foods are recommended to eat together with mooncakes, including tea, sour fruit like grapefruit, hawthorn and kiwifruit and wine. They help digest, take away fat in our body, so to avoid retention of food in the stomach and obesity. Also, do not eat too much at one time.

Where to Buy Mooncake – Best Mooncake in Beijing, Shanghai, Hong Kong, NYC…
In China, you can get mooncakes easily in any supermarket, cookie stores, and food stores around the Mid-Autumn Festival. In other time, some big supermarkets and cookie stores also sell it. The best brands include Beijing Daoxiangcun, Hong Kong MX, Ganso, Holiland, Xinghualou and Maky. Overseas, they are also seen in China towns, bakery stores, and supermarkets around the festival.

Best Mooncakes in Beijing:
Daoxiangcun 稻香村
Location:
Wangfujing Branch: 1F, Wangfujing Department Store, Dongcheng District
Nanluoguxiang Branch: 50m (55 yd) northwest to the junction of Nanluoguxiang and Chaodou Hutong
Capital Airport: 2F, T2; 4F, T3
South Railway Station: 2F

Holiland 好利来
Location:
Wangfujing Branch: Near northwest exit of Dengshikou Subway Station
Ciqikou Branch: 1F, Orange Hotel, Chongmenwai Street, Dongcheng District


Best Mooncakes in Shanghai
Location:
Fuzhou Road Headquarter: No.343, Fuzhou Road, close to Middle Shandong Road
Huanghe Road Branch: 3-4F, Hongxiang Mansion, No.21, Huanghe Road, close to West Nanjing Road
Wuyi Road Branch: No.155, Wuyi Road, close to West Yan'an Road, Changning District

Location: No.258, West Nanjing Road

Location:
Nanjing Road Branch: No. 636, East Nanjing Road
Yuyuan Garden Branch: No. 64, Old Yuyuan Street

Read more:
10 Best Mooncakes in China - Have you ever tried?
Where Can I Buy Mooncake in NYC?
HuilauShan
Location:
Elmhurst Branch: 8118 Broadway, Queens, NY 11373
Flushing Branch: 136-55 37th Avenue, Flushing, NY 11354
Shanghai You Garden
Location: 135-33 40th Rd, Flushing, NY 11354

Apollo Bakery
Location: 135-36, 39th Ave, Flushing, NY 11354
Mr. Tu Bakery
Location: 136-29 Roosevelt Ave, Flushing, NY 11354
Dragon Bay Bakery
Location: 9510, 8th Avenue, Brooklyn, NY 11220
The price of different types and brands of Chinese moon cakes varies a lot. Generally, the cheapest ones are around CNY3 per piece; the simply wrapped ones from famous brands are about CNY 7-15 per piece while the delicately wrapped ones are around CNY30-40 per piece.

1. Generally, five nuts mooncakes can be kept for about 15 days at a temperature below 25℃ (77 F) and those filled with sweet bean paste, lotus seed paste and jujube paste less than 10 days; if the temperature is higher than 30℃ (86 F), the storage period should be no longer than 7 days; for fillings of fresh meat, chicken shreds and ham, one should buy them just before eating.
2. Keep in a cool, dry, ventilated place and avoid storage in direct sunlight or near sources of heat. Chinese moon cakes contain rich oil and sugar, so both heat and humidity can cause them to go bad.
3. Store them in a separate place so they don't pick up odors from other foods.
4. Handle gently. Some types of the cookies, such as Yunnan-style, have soft, loose crusts. Any mishandling may break them.
- Last updated on Jun. 16, 2020 -
Questions & Answers on Moon Cake
Asked by Hai from SINGAPORE | Sep. 01, 2018 01:41

Reply
other than mooncake what other food we eat on mid-autumn festival
Answers (1)
Answered by Susan from UNITED KINGDOM | Sep. 03, 2018 02:03

0

0

Reply
You may try Chinese sweet osmanthusflavored wine!
Asked by bob from AUSTRALIA | Jul. 05, 2017 07:14

Reply
do the prints on moon cakes represent something?
Answers (1)
Answered by Amy from UNITED KINGDOM | Jul. 06, 2017 03:37

3

0

Reply
Yes, most of the images represent auspicious meaning in Chinese culture. In recent years there are some creative images and characters that show the maker's different feelings and wishes.
Asked by Akhuu from UNITED STATES | Sep. 18, 2016 02:36

Reply
When is the last day to buy moon cakes?
Answers (1)
Answered by David from POLAND | Sep. 18, 2016 21:30

3

2

Reply
Generally, they are still available in the supermarkets or bakeries 7-10 days after the festival.
Asked by Emily from USA | Aug. 06, 2016 18:13

Reply
Can you eat moon cakes not on the mid-autumn festival or is that taboo?
Answers (1)
Answered by Holt from MEXICO | Aug. 07, 2016 21:32

3

2

Reply
Of course you can. Moon cakes have been an everyday snack these days, so it is ok to eat it whenever you want. But only on the days close to the festival, you can easily find various of them in the stores or markets.