Mid-Autumn Festival in Other Asian Countries
Influenced by Chinese culture, Mid-Autumn Festival is also a traditional festival in some Southeast and Northeast Asian countries, especially among those of Chinese descent. However, the customs are different in different countries.

Japan
The Japanese also celebrate the festival on the 15th day of the 8th lunar month. When the festival was introduced into Japan from China about 1,000 years ago, the custom of appreciating the moon while holding a party formed, named appropriately "Moon Appreciation Party". Although the Chinese lunar calendar is not used in Japan any more, the custom of moon appreciation is kept in many places of the country. The festival food in Japan is not moon cake, but glutinous rice cake.



See also Tsukimi, Mid-Autumn Festival in Japan

South Korea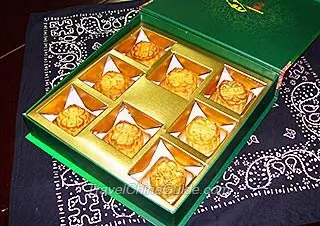 Moon Cakes
Mid-Autumn Festival is a big event in the country, also called "Thanksgiving Day" by local people. People there enjoy a three-day holiday, when they go back to hometowns to visit families and relatives. Another custom is sending gifts to relatives and friends. So during the festive days, sellers think out many ways to attract buyers, including giving discounts. The special food is muffins.

See also
Chuseok - Korean Thanksgiving, Mid-Autumn Festival in Korea
Singapore
To Singaporeans, Mid-Autumn Festival is a good time to make friendly contacts, express thanks, and give greetings and best wishes to relatives, friends, and business partners by the way of sending moon cakes. As the country is a famous tourist destination, local people never miss the chance to attract tourists. They decorate Orchard Road, river banks, Chinatown, Chinese Garden and other places to welcome tourists worldwide.

See also
Mid-Autumn Festival in Singapore
Malaysia
Eating moon cakes, appreciating the moon and parading with lanterns have been the Mid-Autumn Festival custom of Malaysian Chinese for generations. During the festival, old-brands promote moon cakes; special counters are set up in shopping malls to sell moon cakes; newspapers, TV programmers are thick with moon cake advertisements. Besides the parade, there may be lion and dragon dances, fancy car parades and other celebrations.

See also
Mid-Autumn Festival in Malaysia
Thailand
According to Thai legend, on the night of Mid-Autumn Festival, the Eight Immortals go to the Moon Palace to send peach-shaped cakes and birthday greetings to Guanyin (a Bodhisattva). So their offerings usually include some peach-shaped cakes. All family members, men and women, the young and old, then sit around the table with offerings to worship the moon, pray and exchange greetings.
Philippines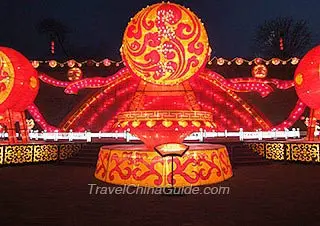 Festival Lanterns
During the festival, Chinese towns and Chinese colonies all over the country are decorated with lanterns and colorful banners, especially the China town in Manila. Various home-made and imported moon cakes are sold in lots of shops. Activities like dragon dance parade, traditional Chinese clothing parade, lantern parade, and fancy car parade are held.
Vietnam
The leading roles of Mid-Autumn Festival in Vietnam are children. As the day approaches, markets are full of lanterns and toys in spite of moon cakes. When adults eat moon cakes and appreciate the moon on that night, children usually play around with their beautiful lanterns. During the days, people there also hold Mid-Autumn Festival competitions to see who can make the most beautiful lantern. Lion dance performances are held in some places to enhance the celebration.

See also Mid-Autumn Festival in Vietnam - Têt Trung Thu, Children's Festival



Further Reading
Mid-Autumn Festival in Hong Kong
- Last updated on Aug. 13, 2019 -