Beijing - Zhangjiakou High Speed Train
Now, around 60 pairs of high speed trains run from Beijing to Zhangjiakou and vice versa. These trains run between
Beijing North Railway Station
or
Qinghe Railway Station
and
Zhangjiakou Railway Station
. The journey takes about 45 minutes to 1.5 hours and costs CNY 65 - 96 for a second class seat.
Basic Facts of Beijing – Zhangjiakou High Speed Train

Running distance: 174 kilometers (108 miles)

Running speed: 120 - 350 km/h (75 - 217 mph)
According to the local geographical conditions, different measures are adopted at different sections, so the speed of this railway varies.

Duration: about 1h

Stations along the main line: Beijing North, Qinghe, Changping,
Badaling Great Wall
, Donghuayuan North, Huailai, Xiahuayuan North, Xuanhua North, Zhangjiakou; stations along the branches: Yanqing and Taizicheng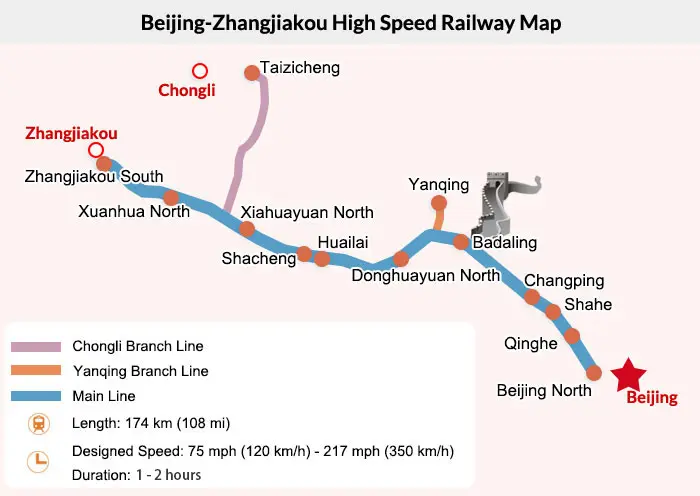 Beijing - Zhangjiakou High Speed Railway Map
Beijing to Zhangjiakou High Speed Train Schedule:
(Last Update on Apr 25, 2023)
| Train No. | Departure - Arrival | Travel Time |
| --- | --- | --- |
| G2463 | 10:16 - 11:19 | 1h3m |
| G2493 | 12:00 - 13:09 | 1h9m |
| D1115 | 15:06 - 16:05 | 0h59m |
| G2475 | 19:45 - 20:49 | 1h4m |
Around 60 departures in total: departure time from 06:41 to 20:41; duration is 48M to 1H30M.
See more
Beijing Schedule
Zhangjiakou to Beijing Bullet Train Schedule:
(Last Update on Apr 25, 2023)
| Train No. | Departure - Arrival | Travel Time |
| --- | --- | --- |
| D6722 | 06:55 - 07:57 | 1h2m |
| G2462 | 11:44 - 12:31 | 0h47m |
| G7882 | 21:00 - 21:57 | 0h57m |
Around 60 departures in total: departure time from 06:55 to 21:49; duration is 47M to 1H17M.
See more
Zhangjiakou Schedule
Note: The above timetable is for reference only. For real-time schedule, please search by the tool on the top of this page.
Beijing - Zhangjiakou High Speed Train Ticket Price
(Last Update on Apr 25, 2023)
Business Class Seat
First Class Seat
Second Class Seat
CNY 230 - 289
USD 34 - 43
CNY 104 - 154
USD 15 - 23
CNY 65 - 96
USD 10 - 14
WIFI is available onboard
WIFI is accessible inside the bullet trains and all stations along the way.
One of China's Most Beautiful Railways
Although not very long, this railway travels from inside the Great Wall to outside the wall. Therefore the scenery varies a lot, from farming area to grassland. Along the way, the lakes, mountains, flowers and the Great Wall is definitely a feast to your eyes! You can appreciate rippling Shahe Reservoir, grand
Badaling Great Wall
, and Jiming Mountain, etc outside the window.
Tunnels and Special Tracks are Used for Environmental Protection
In order to better protect environment, Jingzhang High Speed railway project adopts many environment-friendly designs and technologies. Many tunnels are introduced to avoid damage to the plants and ecological systems along the way. Besides, special tracks is laid to reduce vibrations caused by high speed trains in the future.

Further Reading:
How to Travel between Zhangjiakou and Beijing

Major Rail Lines from Beijing to:

Major Rail Lines from Zhangjiakou to:
- Last updated on Apr. 25, 2023 by Brenda Lian -
Questions & Answers on Beijing - Zhangjiakou High Speed Train
Asked by Lange from NEW ZEALAND | Apr. 15, 2020 17:54

Reply
Is there anyone knows how to reach Beijing North Station by subway?
Answers (2)
Answered by Ruben from AUSTRALIA | Apr. 19, 2020 17:21

0

0

Reply
There is no direct subway stop at this station, but Xizhimen station is not far away. If you want to go by subway, you can use line 2, line 4 and line 13 and get off at Xizhimen, then you can walk to there.
Answered by Steve | Feb. 13, 2021 23:03

0

0

Reply
I would suggest a slight modification to Reuben's response. Xizhimen Station IS the subway station for Beijing North Railway Station. In fact, it connected directly by pedestrian tunnels to the station. It is served by lines 13, 4, and 2 as he said. However, I think his answer gives the impression that the Railway Station is some great distance from the subway station when, in fact, it's a huge interchange which is also connected to a huge shopping mall (of course). The walking distance is not as short as one might hope, however, it's weather and luggage friendly.
Asked by Robert Prabowo from INDONESIA | Dec. 29, 2019 22:17

Reply
Already open today. Any info updates?
Today this train officialy start operation. Any info ticketing, price and schedule Beijing North to Badaling and vice versa?

After this train start operation. How about S2 train to Badaling? Still start from huangtudian or back to Beijing North?
Answers (1)
Answered by Harry | Dec. 30, 2019 02:57

0

0

Reply
Yes, the trains are in service now. The ticket price is CNY27 per ticket one way from Beijing North to Badaling Great Wall Station, 7 rides a day each way. There is no news about the S2 line, I suppose they should still use Huangtudian station and Badaling Station as they are different rail line.
Asked by Robert PT from INDONESIA | Nov. 19, 2019 20:49

Reply
any update for this train? when will finish and can used?because I will go Badaling on january 2020
Answers (1)
Answered by Joyce from SINGAPORE | Nov. 20, 2019 00:01

0

0

Reply
No, the news only says the route is finished and trains were running on it for some tests already. Detailed openning date is still not mentioned.
Asked by Jason Lewis from AUSTRALIA | Sep. 26, 2019 13:43

Reply
Is there any news about detailed open date? I want to use bullet train to Chongli in December
Answers (1)
Answered by Harper from UNITED KINGDOM | Sep. 27, 2019 03:34

0

0

Reply
Not yet, still "the end of this year".