Beijing - Zhangjiakou High Speed Train
The Beijing to Zhangjiakou high speed train is not available yet. However, construction of the Beijing - Zhangjiakou High Speed Railway, also called Jingzhang High Speed Railway, began in the first half of 2016 and will be completed and come into service by the end of 2019.This will reduce the travel time between the two cities from 3 hours to 50 minutes. A planned high speed railway will extend to Hohhot in Inner Mongolia in the future.
Basic Facts of Beijing – Zhangjiakou High Speed Train

Running distance: 108 miles (174 km)

Designed speed: 75 mph (120 km/h) - 217 mph (350 km/h)
According to the local geographical conditions, different measures are adopted at different sections, so the designed speed of this railway varies.

Duration: about 50 minutes

Stations along the main line:
Beijing North
, Qinghe, Shahe, Changping, Badaling, Donghuayuan North, Huailai, Xiahuayuan North, Xuanhua North,
Zhangjiakou South
; stations along the branches: Yanqing and Taizicheng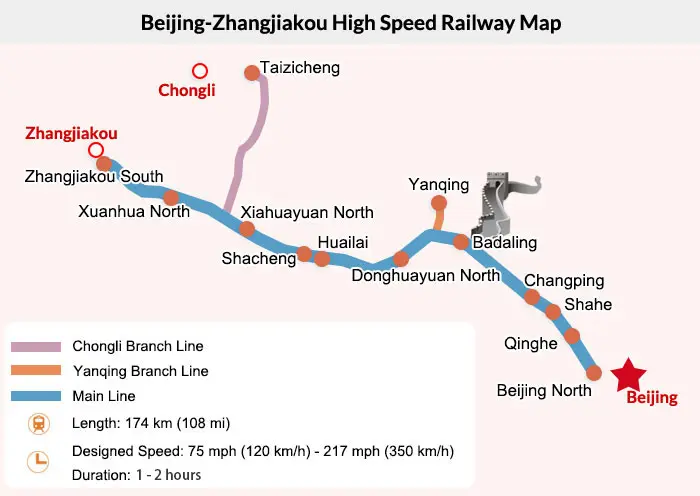 Beijing - Zhangjiakou High Speed Railway Map
A Quick Access to 2022 Winter Olympics Skiing Venues
Zhangjiakou is the co-host city of
Beijing 2022 Winter Olympics
and the skiing competitions will be held there. Construction of this railway will provide a quick transfer between the two cities. At present, only non-bullet trains are used on the route, and the travel time is about 3 – 6 hours. When opened, the travel time can be shortened to 50 minutes or so.
Badaling High Speed Railway Station, size 8.9 acres (36,000 square meters), will be built 335 feet (102 meters) underground to avoid cutting through the
Great Wall
. It will be the deepest high speed railway station in the world. More importantly, this station is next to Badaling Great Wall. When Beijing to Zhangjiakou Bullet Train is put into service, the journey time between Beijing and
Badaling Great Wall
will be reduced to 20 minutes from the current 70 – 80 minutes.
WIFI will be available onboard
WIFI will be accessible inside the bullet trains and all stations along the way.
One of China's Most Beautiful Railways
Although not very long, this railway travels from inside the Great Wall to outside the wall. Therefore the scenery varies a lot, from farming area to grassland. Along the way, the lakes, mountains, flowers and the Great Wall will definitely be a feast to your eyes!

Shahe Reservoir
Shahe reservoir is as beautiful as a fairyland, especially in winter, when the mist floats above the water with the reeds blowing in the wind and the red sun setting in the west, so attractive!

Ocean of flowers in Changping
Travelling on summer days, with a boundless stretch of flowers in full bloom around you, you may feel like you are traveling in an ocean of color. You may even smell the flowers and can't wait to stand in the field. It will be a dreamy paradise when standing among the flowers with blue sky and white cloud as background.

Badaling Great Wall
Countless people come here just to appreciate its majesty and grandeur. Traveling by train, you will have a different perspective.

Countryside scenery and Vineyard in Donghuayuan
Traversing among forest-clad hills, you will marvel at the countryside scenery. It is a land of idyllic beauty where one can find inward peace and get away from earthly turmoil. Another amazing scene in Donghuayuan is a 6.5 acre vineyard.

Guanting Reservoir in Huailai
You shouldn't miss a vast blue stretch of water that is Guanting Reservoir. Waterfowl on the lake, and flowers and grasses on the lakeside make it a popular place for photographers. A 5.6-mile-long (about 9 kilometers) railway bridge has begun construction over the reservoir on Oct 25th, 2016. When finished, passengers will have a chance to "fly" over the rippling lake.

Jiming Mountain in Xiahuayuan
Jiming Mountain is the highest solitary mountain to the north of the Great Wall, hence known as the "Taishan Mountain beyond the Great Wall". It is located 1.2 miles (2 km) to the east of Xiahuayuan. Towering crags, lush vegetation, and an isolated peak piercing the clouds make a picturesque sight.

"Bright pearl" beyond the Great Wall -
Zhangjiakou
Praised as "bright pearl" beyond the Great Wall, Zhangjiakou has famous
ski resorts
in Chongli and Chicheng, which are praised as Davos in the Orient.
Small Wutai Mountain Nature Reserve
,
Genting Resort Secret Garden
,
Tianmo Desert
,
Zhangbei Grassland
,
Jiming Post House
, and
Nuanquan Ancient Town
are all famous attractions in the city and worth a visit.
Tunnels and Special Tracks Will be Used for Environmental Protection
In order to better protect environment, Jingzhang High Speed railway project adopts many environment-friendly designs and technologies. Many tunnels are introduced to avoid damage to the plants and ecological systems along the way. Besides, special tracks will be laid to reduce vibrations caused by high speed trains in the future.

Further Reading:
How to Travel between Zhangjiakou and Beijing

Major Rail Lines from Beijing to:

Major Rail Lines from Zhangjiakou to:
- Last modified on Nov. 20, 2019 -
Questions & Answers on Beijing - Zhangjiakou High Speed Train
Asked by Robert PT from INDONESIA | Nov. 19, 2019 20:49

Reply
any update for this train? when will finish and can used?because I will go Badaling on january 2020
Answers (1)
Answered by Joyce from SINGAPORE | Nov. 20, 2019 00:01

0

0

Reply
No, the news only says the route is finished and trains were running on it for some tests already. Detailed openning date is still not mentioned.
Asked by Jason Lewis from AUSTRALIA | Sep. 26, 2019 13:43

Reply
Is there any news about detailed open date? I want to use bullet train to Chongli in December
Answers (1)
Answered by Harper from UNITED KINGDOM | Sep. 27, 2019 03:34

0

0

Reply
Not yet, still "the end of this year".
Asked by Heller from CHAD | Mar. 08, 2019 02:20

Reply
Is there any news about detailed open date? I want to use bullet train to Great Wall.
Answers (1)
Answered by Edith from CANADA | Mar. 10, 2019 17:49

0

0

Reply
Don't know about the details but it must be put into service before the end of year 2019. If you are about to travel during Dec this year, you may have a chance to experience this new bullet train.