Code: GW13
Gubeikou to Jinshanling Great Wall Hiking
Gubeikou to Jinshanling Great Wall hiking is a classic route among outdoor adventurers. The route spans from the old and ruined
Gubeikou Great Wall
to the restored
Jinshanling Great Wall
with a length of 13 km (8 mi). Someone says this route can be called a museum of the Great Wall as it owns the most densely-distributed watchtowers among all sections. The route from Gubeikou to Jinshanling meanders through the mountains and bushes, and you will enjoy a breathtaking view during the hike.

Route: Hexi Village – Gubeikou Great Wall – Detour Military Zone – Jinshanling Great Wall

Hiking Duration: 5 – 6 hours

Distance: 13 km (8 mi)

Difficulty:
★★★☆
☆

Scenery:
★★★★☆

Altitude Rise: 217 – 466 m (712 – 1,529 ft)

Equipment and Outfit: walking stick, compass or GPS, camera, flashlight, sneakers, knee pads, long sports wear

Best Time: April to June; September to October

Cost: entrance fee for Gubeikou Great Wall: CNY 25; entrance fee for Jinshanling Great Wall: CNY 65 from
April to October,
CNY 55 from
November to March
; transportation: CNY 60 – 180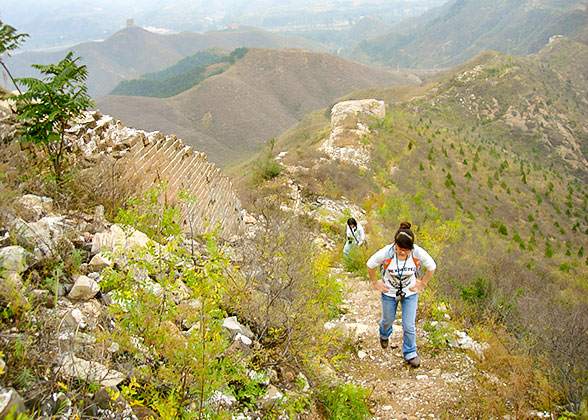 Gubeikou Great Wall
Ruined Watch Tower on Gubeikou
How to Get to Gubeikou Great Wall from Beijing
Train:
→ 2 trains are in service daily. S501 departs from Beijing North Railway Station at 06:56, from Qinghe Railway Station at 07:10 and arrives at Gubeikou Railway Station at 09:23. S503 leaves from Beijing North Railway Station at 14:20, from Qinghe Railway Station at 14:34, and reaches Gubeikou Railway Station at 16:50. Ticket fare is CNY12.
→ On arrival, take local bus Mi25 at the exit of the railway station for 2 stops to Hexi Erzhan. The bus departs with an interval of about 50-60 minutes. Bus ticket costs CNY2.
Bus No. 980 Express:
→ Take bus no. 980 Express from Dongzhimen Transit Hub next to Dongzhimen Subway Station to Miyun Xinnongcun. Duration is about 2 hours and bus fare is CNY17.
→ Change to bus no. Mi25 to Hexi Erzhan. Duration is about 2 hours and ticket fare is CNY11.
Hire a Car:
Hire a car from Deshengmen to get there directly. If you carpool with others, the cost is CNY 40 – 60 per person.
No matter which way you choose, you can get to the
Hexi Village
within walking distance, the starting point of the hike. It's a folk culture village where you can see temples, mosques and old government offices. There are many homestay inns in the village. If time permits, you can stay overnight at a farmhouse here for a rest and begin the hike the following day.
Gubeikou to Jinshanling Great Wall Hiking Route
1. Hexi Village – Wohushan Great Wall – Hexi Village
In the north of Hexi Village, there is the entrance to the Wohushan section of the Gubeikou Great Wall. This section is completely wild and ruined, so it's physically demanding. Sometimes you need to climb with both your legs and arms. The Sister Towers at the foot of Wohushan Great Wall are the highlights of this route. The two watchtowers stand next to each other, which are rarely-seen in other sections of the Great Wall. Though Wohushan has a total length of 13.6 km (8.5 mi), you can walk only a small part of it because of the steep slope. Then you need to go back the same way to Hexi Village.
2. Hexi Village – Panlongshan Great Wall - General's Tower – 24-eye Tower
Comparatively speaking, this section is smoother without much difficulty in hiking. Go across the bridge over Chaohe River and walk along National Highway 101 northward for about 50 meters (55 yards), and you can see a broad road leading you to the east. Continuing forward for about 500 meters (550 yards), you will arrive at the Gubeikou Sino-Japanese Battle Monument. From here, you can take any of the trails nearby to get to the wall. Be aware that there might be some signs left by previous hikers, such as blue arrows and red ribbons. They will lead you to the right direction for Panlongshan Great Wall, which is about 5 km (3 mi) long, dotted with 19 watchtowers.
After a short gentle climb, you will reach the General's Tower, a critical commanding post in the past. It owns an advantageous location to look over the surroundings. The square tower has two floors, with a height of 10 meters (33 ft). About 80 years ago, a fierce war happened there and the tower was severely damaged. Today, you can still see the bullet holes on the tower.
After about two hours' hike, you will arrive at the 24-eye Tower. As most watchtowers on wild Great Walls do not have official names, people often distinguish them by the number of arrow holes on the watchtower. The 24-eye Tower used to have six arrow holes on each of the four sides, hence its name. Nowadays, due to little protection and natural erosion, only three walls are left, supported by iron shelves. In the watchtower, two soldiers are on sentry and in front of the tower you can see a white board stating "A Closed Military Zone. No thoroughfare". From here, you need to bypass the forbidden wall and go down to the deep valley following the direction signs.
3. Detour the Military Zone – Jinshanling Great Wall
Hike along the trail and you will arrive at a farm field. Continuing forward, you can see an abandoned thatched cottage and then two or three relatively new courtyards. After about a 10-minute walk, there is an arrow painted red on a stone guiding the right direction. Following it and walking for 20 to 30 meters, you will arrive at a 3-meter-wide county road. Walking for another 10 minutes, you can see a farm field near the Wall. Go across the field and walk toward the Wall for about 5 minutes. Then you will find yourself having returned to the foot of the Great Wall. Walk along this trail paralleling the Great Wall for about forty minutes, you will arrive at the West 5-eye Tower at the Jinshanling Great Wall, an excellent spot for watching sunset. Well, if you would like to enjoy the sunset here, ensure that you arrive before 5:30 pm.
Ruined Watch Tower
Military Forbidden Zone
Get Back to Beijing Downtown
Hire a car to Luanping County Bus Stop, costing CNY40-60, then take bus no.858 to Laiguangying, where you can connect to Beijing subway line 14 to get back to your hotel in downtown.
Gubeikou to Jinshanling Great Wall Hiking Tips
1. It's highly recommended to hire a local guide. As part of the Gubeikou Great Wall is officially blocked for military purpose, it's not easy to find the right trail through the bushes. You may lose your way if not travelling together with a guide.
2. As the Gubeikou to Jinshanling Great Wall hiking route contains wild Great Walls without maintenance for years, watch out your step and travel in a group.
3. Download a map on your mobile phone in advance.
4. Take enough water and high-calorie snacks.

Photos of Gubeikou
,
Photos of Jinshanling

More Great Wall Hiking Routes:
Badaling Hiking
: itinerary and tips to Badaling
Mutianyu Hiking
: Travel to one of the most beautiful section, Mutianyu
Simatai Exploration
: One day hike tour to Simatai and Gubei Water Town
Juyongguan Appreciation
: itinerary to Juyongguan Pass
Shanhaiguan with Laolongtou
: hiking to Laolongtou, Shanhaiguan and Jiaoshan

More Beijing Independent Itineraries:
Forbidden City: Four different routes to explore the imperial palace
Bus Tour: Three-day city exploration by public buses with pratical tips