Top Beijing Attractions
More Things to Do
Top 10 City Tours
Code: BJ57
2 Days Self-guided Jinshanling Great Wall Hiking
Day 1
Beijing - Jinshanling Great Wall
Today, you are supposed to travel from Beijing downtown to
Jinshanling Great Wall
. After arrival, check in a hostel or a farmyard around and have a short break. Later, you can head to the Great Wall and spend some leisure time hiking and appreciating the sunset. Finally, go back to the hotel or farmyard for overnight stay.
How to get to Jinshanling Great Wall from Beijing:
1.
Beijing – Luanping - Jinshanling
→ Take subway line 14 East Section to Laiguangying station and leave from exit D.
→ Then walk east and turn south at the crossroad. After several minutes' walking for around 200 meters (220 yards) in total, you'll see the bus stop of Laiguangying Lukounan.
→ There, you can take the bus No. 858 to Luanping Bus Station. This bus ride takes about 2.5 hours and CNY33 per person. The bus departs every 1h 10min during 07:00-16:30.
→ Getting out of Luanping bus station, take a taxi to the scenic area, which needs about 40 minutes on the way.
2.
Beijing - Gubei Water Town - Jinshanling
You can also take the bus to Gubei Water Town at the north of Dongzhimen Public Transport Hub Station. The ride takes about 2 hours and the cost is CNY48/person for single way. Tickets start to be sold half an hour before the bus departure and can only be bought on site. The departing time of the bus is 09:00, 11:00, and 13:00. Then, it takes 20 to 30 minutes from Gubei Water Town to Jinshanling by taxi.
Notes:
1.
Most hotels and farmyards around Jinshanling offer pick-up and see-off service. In addition to taxi, you may book the service to get to Jinshanling from Luanping Bus Station or Gubei Water Town.
2.
Currently, the direct tourism bus from Dongzhimen in Beijing to Jinshanling is out of operation.
Prior Reservation & Ticket Fare:
To visit Jinshanling Great Wall, you'd better reserve a ticket in advance from its official WeChat account or App. Ticket fare is CNY 65 from April to October and CNY 55 from November to March.
Recommended Hiking Route:
Divided by the Big and Small Jinshan Towers, Jinshanling Great Wall is separated as East Section and West Section. After arrival, you may enter the scenic area from the main gate, climb up to Zhuanduokou Pass, and then head along the West Section to Taochun Tower. Without any maintenance, this section is completely original and wild. Before going back the same way, you can watch the sunset at the Six-window Tower.
Today's hiking is 2 kilometers (1.2 miles) long in total and needs 2 hours or so.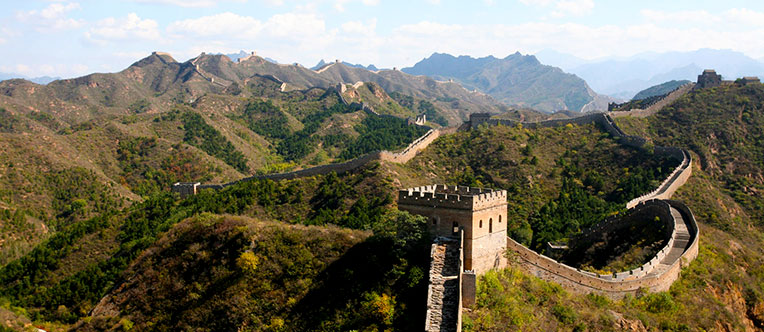 Bird's Eye View of Spectacular Jinshanling Great Wall
Day 2
Jinshanling Great Wall Tour - Beijing
Get up early and climb up to Jinshanling Great Wall to watch the beautiful sunrise. Then go on hiking along the East Section to explore the magnificence of the Great Wall. Finally, take the bus back to Beijing and end the pleasant trip.
Recommended Hiking Route:
Climb the Great Wall from Zhuanduokou Pass as the first day. But go hiking eastward to Shalingkou Pass, Heigu Tower, Small Jinshan Tower and Big Jinshan Tower. Finally, go downhill from Houchuankou Pass.
The length reaches 5 kilometers (3.1 miles), and you may spend 2.5 hours.
Second Entry:
Jinshanling Great Wall is free of charge for the second entry, which means you can enter the scenic area for twice from the time when you buy the tickets to the closing time the next day. If you want a second entry, please explain in advance when purchasing tickets and buy the fingerprint ticket. Register your fingerprint at the ticket gate and verify the fingerprint when entering for the second time.
How to return to Beijing:
1.
You can reverse the way you come. Take a cab or ask the hotel staff to send you to Luanping Bus Station, where to take the bus 858 back to Beijing. The last bus departs from Luanping at 16:00. On arrival at the terminal Laiguangying Lukouxi, you'll find the subway station Laiguangying is on the west side closely.
2.
Alternatively, you can ask the hotel staff to transfer you to Gubei Water Town and take the bus there. You need to buy the tickets after sitting on the bus. It starts to sell the tickets 30 minutes earlier till the bus is full of passengers. Reservation needs to be done one hour early at the comprehensive window of the ticket office in the Visitor Service Center. The buses leave at 12:00, 14:00 & 17:00.
Recommended Hotels around Jinshanling Great Wall
1. Jinshanling Great Wall Hotel
It is right beside the entrance of Jinshanling Scenic Area. With a small supermarket and a cafe, it is very convenient to live there. The room price ranges from CNY600 to CNY 3,200 per night, at an average level of CNY900 or so. Guests requiring high demand of accommodation can choose it.
Friendly Tips: Please do not expect too much before booking. It is in the scenic area so the advantage is its location; however the facilities and services are not comparable to that in downtown area though it is a five star hotel.
2. There are also plenty of hostels and farmyards around the entrance or the farther Hualuogou Village. The cost is lower, ranging from CNY100 to 500 per room per night, but the facilities and services are not so good. You may choose one of them if you do not require high accommodation conditions and with limited budget. It would be better to book online and talk over the transfer service with the staff ahead of schedule.
Friendly Tips:
1. Most part of Jinshanling Great Wall is not maintained, and its 24 watchtowers keep the original appearance for 400 years. The hiking route is relatively long and some parts are steep, so it is necessary to wear antiskid shoes suitable for climbing and lightweight clothes.
2. Jinshanling Great Wall is a good place to hike and a paradise for photographers. The most magnificent is the scenery in the morning and evening. Also, the cloud, mist and rainbow after the rain in summer and autumn are great. May to October is the best time to take amazing pictures.
3. Hiking is energy-consuming, you can prepare some snacks, water and high-calorie food.
4. Remember to wear warm clothes in the morning and evening and pay attention to sun protection in summer.
5. If you decide to have an independent travel, we recommend you get a Chinese phone number and download a translation app in advance to facilitate the communication.

More Independent Beijing Great Wall Tours:
Huanghuacheng Great Wall: enjoy the unique landscape of "the Great Wall in water"
Jiankou Great Wall: to be surrounded by the charming scenery of unexploited Jiankou
Shanhaiguan & Beidaihe: know about the history of Shanhaiguan and relax at Beidaihe seaside