One Day Private Jinshanling Great Wall Hiking Tour
Code: GW06
Our guide will meet you at your hotel lobby and then transfer you to
Jinshanling Great Wall
. The whole day will be spent hiking on the Great Wall with our guide escorted. Lunch is not included and we suggest you take along some fast food or snack. After the Jinshanling Great Wall tour, we will transfer you back to your hotel.
For tour details, please read the following.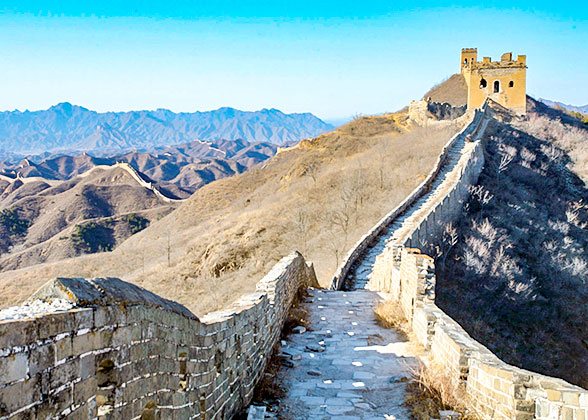 Jinshanling Great Wall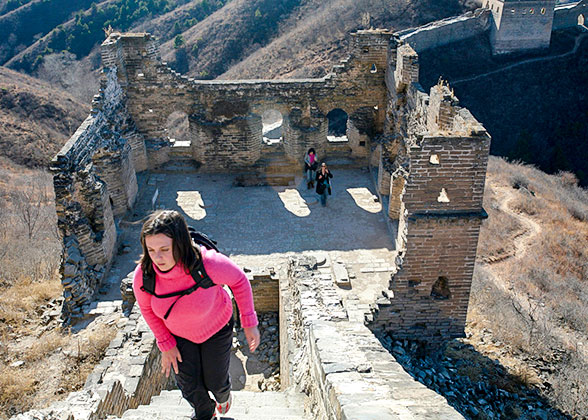 Hiking on the Jinshanling
Today you will visit the world famous Jinshanling Great Wall. It is said that Jinshanling Great Wall is the most beautiful and best preserved stretch of China Great Wall. It is also the most preferred place for photographers. Located on the junction of Miyun County of Beijing and Luanping County of Hebei province, Jinshanling Great Wall is 10.5 km (6.5 miles) in length and has 5 passes, 67 watch towers and 3 beacon towers. This section is featured by its wildness, dilapidated walls and unique structures, which make hiking on this section a bit difficult. You should be in moderately good shape to get through, but this amazing Jinshanling Great Wall hike is worth of your effort.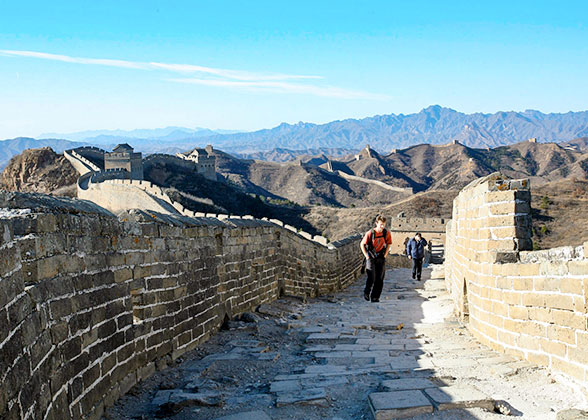 The ruined wall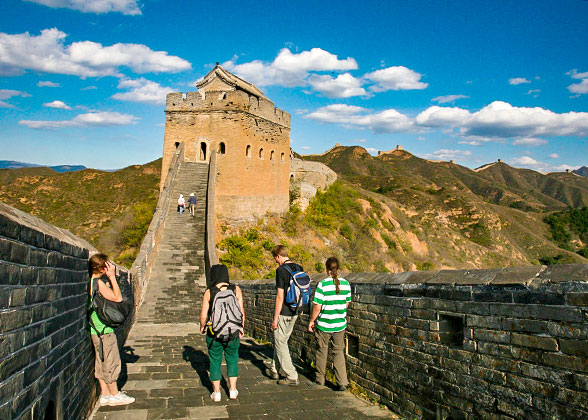 Travelers on the wall
It will take about 2.5 hours to drive from downtown Beijing to Jinshanling scenic spot, where you will start your Jinshanling Great Wall tour. Firstly you may stop at the Crenel Building (Zhuanduokou Tower), which has the vital importance for military strategists in history as a fortress. Here, you can see many precious inscribed bricks indicating when and which military designation built the wall. It offers a valuable proof for the research of Great Wall. Passing by lots of shooting and loop holes with various kinds of designs, such as peach, sagittate and zigzag shapes, you will come to the East Terrance, which is the pride of Jinshangling Great Wall and also of the whole Great Wall. Here you can also overlook the West Terrance, where a Chinese stunt actor Mr. Ke Shouliang flew over this wall by motorcycle in 1992. On the way to the famous Kufang Tower, you will walk across some fences, about 2.5 meters (8.2 feet), named Barrier Wall as one defense of the Great Wall. Kufang Tower is a special and larger watchtower and the most representative military facility on the Great Wall. On the tower's flank, you will see a semicircle war terrace, with intensive shooting holes, which is the third line of defense. You can also climb to the top of the tower to appreciate the magnificent views. The next stop will be Xiyu Tower. Seeing the devastated walls, you may get a feeling of dreariness here. Through Xiyu Tower, you will get to Shalingkou, where you will see the famous Black Tower, whose structure is a little bit different from other watchtowers. It has three floors: upper, middle and ground. There is a narrow underground passage in the ground floor, which can reach the middle and upper floors directly. During the war time, the door on the ground floor would be locked, which made it very difficult for the enemies to attack in. In case that the door on the ground was broken through, warriors on the second and third floors still could shoot the enemies at a commanding position to the underground passage.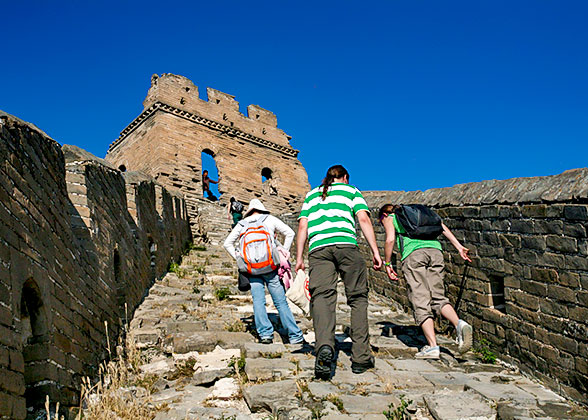 Watch tower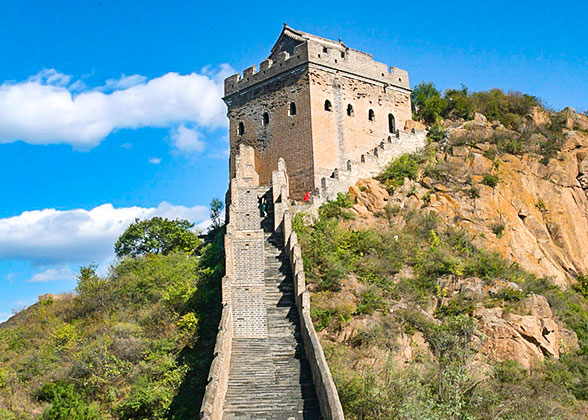 Hiking on Jinshanling Great Wall
Finally you will get to the edge of Jinshanling Great Wall. It will take you about 4 hours to hike one way and our guide will accompany you all the way. For further detailed information on Jinshanling Great Wall hike tour, please
click here
.

Jinshanling Photos
Tour Prices
| 1 traveler | 2-3 travelers | 4-5 travelers |
| --- | --- | --- |
| $379 | $209 | $129 |
Prices are per person in US Dollars.

Why Travel With Us

More Great Wall Hiking Routes:
Badaling Hiking: Explore Badaling in one day
Simatai Exploration: One day hike tour to Simatai and Gubei Water Town
Huanghuacheng Hiking: One day hiking from Huanghuacheng
Jiankou Hiking: One day suggestion of Jiankou travel
Hiking to Huangyaguan: One day itinerary with tips



More Beijing Independent Itineraries:
Forbidden City Exploration: Visit the imperial palace from four different routes
Bike Tours: 10 choices of directions of riding a bike around the city
Customer Reviews

Questions & Answers
Everything was perfect. The Great Wall, driver, itinerary and all of the fun we had together with Sara. After hiking the Great Wall, I really felt a sense of accomplishment. A wonderful Great Wall day tour to Jinshanling.

TCG did an amazing job helping us organize our Great Wall day tour to Jinshanling and offering a pleasant experience for us. The private arrangements made the hiking on the Jinshanling Great Wall much more relaxing and enjoyable. There is no hidden consumption and shopping stop. The guide was also very responsible and patient. I would use your company again!

This 1 day Great Wall Hiking tour was wonderful from the beginning to the end. Jinshanling was a wonderful place to shoot the rolling Great Wall as there were fewer visitors. I felt lucky to have Lily as our guide. She was very informative and explained the cultural background of the Great Wall carefully to help us better understand it. The facts of Beijing were also impressive enough. I was very satisfied with this trip.