Great Wall in Qing Dynasty
The discovery of The Qing Dynasty Great Wall in 1980s was a great surprise to archeologists. It extended the history of The China Great Wall construction by 260 years, from 1614 in late Ming Dynasty (1368 - 1644), which was originally recognized by the academic circle, to 1878 in late Qing Dynasty (1644 - 1911). There was a ban for Great Wall construction by Emperor Kangxi in early Qing Dynasty, but it was actually not implemented for long. The Great Wall in Qing Dynasty was scattered in provinces of northern China, and especially intensive to the north of the Yellow River. Some relics have been found in Hebei and Shanxi Provinces.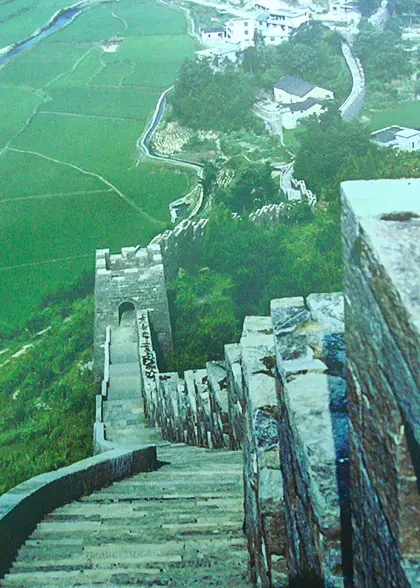 Qing Dynasty Great Wall
in West Hunan
Differences from Previous Dynasties
The Manchu people from northeast China overturned the Ming Dynasty and established the Qing Dynasty after entering the central plain from the Shanhaiguan Pass. Unlike other dynasties building the Great Wall to prevent incursions by northern nomadic tribes or neighboring states, the Great Wall in Qing Dynasty was erected for its internal security, suppressing the domestic rebellions and uprisings.

In the early years from 1638 to 1681, a stretch of single wall known as Liutiaobian Great Wall or Willow Palisade with a trench in the front was built in today's Liaoning Province and Inner Mongolia to separate Han people from Manchu and Mongols. Since 1797, rebellions happened from time to time at different regions, including today's Qinghai, Hunan, Guizhou, Hubei, and Shaanxi, and the construction work of the Great Wall ramparts were implemented at the corresponding places to put down the turbulence.

Features & Facts of Great Wall in Qing Dynasty
The Qing Dynasty Wall was not as magnificent as that of previous dynasties, but it worked effectively in actual combat.



1. The wall was shoddily constructed and relatively low, thus it saved materials and took less time to complete. The low walls were just efficient for concealment and reducing casualties when attacked by guns and cannons.

2. There are many crenels and shooting holes on the front side of the wall.

3. A protruding emplacement was erected every 190 - 220 yards (174 - 200 meters) along the wall.

4. A deep trench was dug outside the wall. The earth was then used to raise the nearby wall. This defensive system was difficult for cavalry to breakthrough.

5. Beacon towers were built atop hills to deliver military information. They were about 16 - 20 feet (5 - 7 meters) high.

6. Forts were established at the highland near villages. In this way, villagers could cooperate with soldiers to defend against enemies during wartime, which was quite rare in previous dynasties.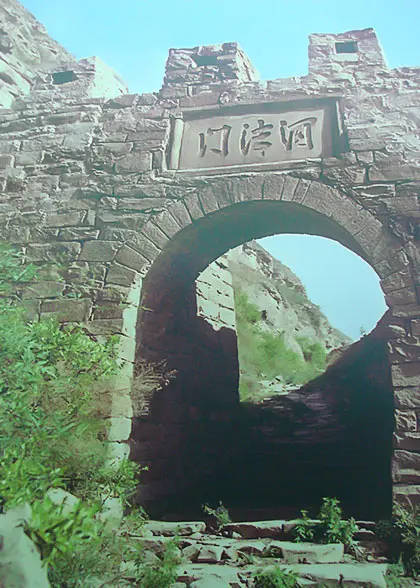 Heqing Gate

7. The construction materials were acquired locally, such as rammed earth and stones.
Relics of the Great Wall of Qing Dynasty in Hebei and Shanxi

Hebei: Between the Eastern and Western Taiping Mountains in Zhangjiakou stands the Dajingmen, or Dajing Gate. It is one of the four most famous passes, together with Shanhaiguan, Yuyongguan, and Jiayuguan. Dajingmen, built in 1644, is made of stone slabs and blue bricks. The arched doorway is 43 feet (13 meters) long, 30 feet (9 meters) wide, and 39 feet (12 meters) high. Above the doorway is a platform that is 39 feet (12 meters) long and 25 feet (7.5 meters) wide. Crenels of 6 feet (1.7 meters) high were designed outside, and parapet of 2.6 feet (0.8 meters) high was built inside. The wall snakes up the mountains on both sides of the gate tower.



Shanxi: The wall runs northward from Yuanzigou in Xiangning County to Yonghe County, spanning about 104 miles (167 kilometers). There are some historical relics along the line, including Heqing Gate, emplacements, beacon towers and stone steles.



See more: Top 8 Great Wall of China Events in History
- Last updated on Sep. 09, 2020 -