China Great Wall Events After 1911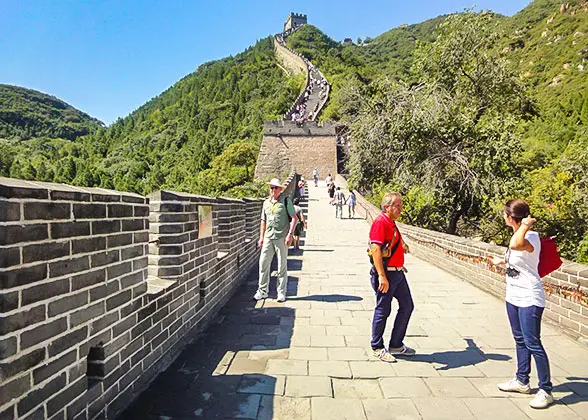 There was no construction work of the Great Wall in modern China from 1911 until now, but a nationwide renovation project has been implemented since the 1980s. This former military facility no longer serves as a defensive screen but is a national symbol of China, and most sections have been developed into scenic areas, such as Badaling, Mutianyu, Laolongtou, Shanhaiguan, and Jiayuguan.

1. Firstly Considered as a National Symbol after 1911
Sun Yat-sen (1866 – 1925), the 'Father of Modern China', overthrew the ruler of the Qing Dynasty in 1911, which was the last feudal regime. In his opinion, the Great Wall was an important military facility to preserve the Han Chinese and fully deserved to be the national symbol. However, there were still people holding different thoughts and considered this huge man-made construction a symbol of the past inhumane rule.

2. Military Defense Facility during the Sino-Japanese War from 1937 to 1945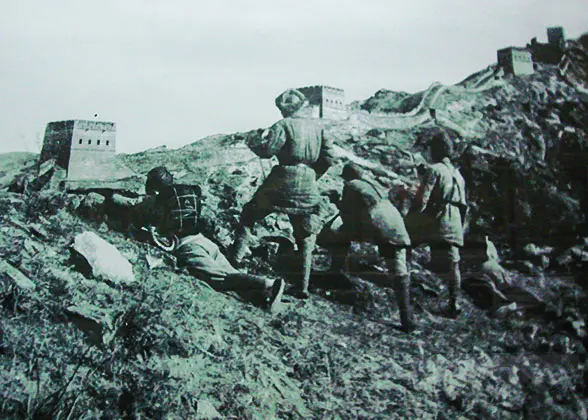 Great Wall during the Sino-Japanese War
During March ~ May, 1933, several fierce wars between Chinese and Japanese happened around the Great Wall sections including Yiyuankou, Lengkou, Xifengkou, and Gubeikou. After the outbreak of war, many regions around the wall became battlefields. Under the cover of the ramparts and watchtowers, Chinese suppressed several attacks of the Japanese with poor weapons and slowed down the pace of them entering into the central plain of China.

3. Badaling Became the First Scenic Section in 1958
In 1952, the idea of renovating the Great Wall was proposed by Guo Moruo, a renowned scholar and member of Chinese People's Political Consultative Conference. In the following five years, the city of Badaling Great Wall together with eight watchtowers was renovated successively. It was opened to the public in 1958 with over 1,300 meters (1,400 yards) of the wall available for visiting at that time, and received visits of the Prime Minister Bishweshwar Prasad Koirala of Nepal and President Nixon of the US in 1960 and 1972 respectively.

4. Intentionally Destroyed during the Cultural Revolution (1967 – 1977)
The Great Wall came into its dark period during the Cultural Revolution from 1967 to 1977. Considered as a symbol of the 'Four Olds' - Old Customs, Old Culture, Old Habits, and Old Ideas that needed to be destroyed, hundreds of kilometers of the Great Wall were blown up or smashed to pieces, especially sections located near villages. Stones and bricks of the ramparts were shoveled out for building houses and fences.

5. Nationwide Renovation Started since 1980s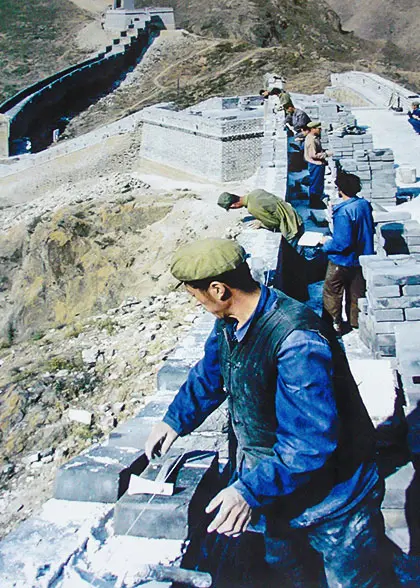 Renovation of the Wall
The National Leader Deng Xiaoping put forward a slogan of 'Love our China and restore our Great Wall' in 1984, and a nationwide renovation of the Great Wall sections including Laolongtou and Shanhaiguan in Hebei Province, Badaling, Mutianyu, and Jinshanling in Beijing, as well as Han Dynasty Great Wall in Zhangye, Gansu Province, started from then on, and some bricks and stones were also returned by villagers to help to repair the Great Wall.

6. Nowadays: Popular Tourist Destinations & a National Image
A large number of the Great Wall sections have been developed as scenic areas. Its grand scenery of winding walls lying on the mountain ranges has attracted millions of visitors at home and abroad every year, including hundreds of world leaders. Only the Badaling section has accepted over 400 world leaders, including former US President Nixon, Reagan, and Obama, Queen Elizabeth II of UK, and Russia President Putin. Since it was listed as a world heritage site by UNESCO in 1987, this wonder has become the national image of China and was once printed on the note of Chinese Yuan. The word 'Chang Cheng' – Great Wall in Chinese can also be found in the national anthem of China.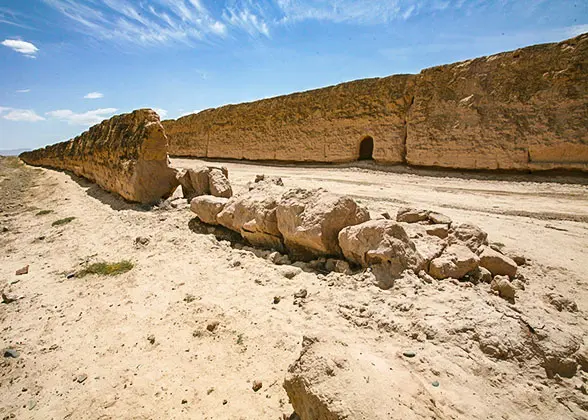 Damaged Great Wall in Gansu
The Great Wall stretches for more than 21,000 kilometers (13,000 miles) and traverses 15 provinces in China. Most of them are located in gobi deserts or steep mountain ranges in remote areas, suffering from weather erosions for hundreds of years. The large scale and difficult locations make the renovation work hard to cover all the sections. Besides, lack of awareness of protection, people living near the Great Wall used to shovel bricks or stones from the ramparts to build their own houses or fences. Some sections were even broken for the construction of highways or rail tracks.

Therefore, the Great Wall was considered one of the World's 100 Most Endangered Sites in 2002. Taking the Ming Dynasty Great Wall as an example, it measures 6,259.6 kilometers (3,889.5 miles) in total but only 513.5 kilometers (319.1 miles) are well preserved until now and 1,961.6 kilometers (1,218.9 miles) have gone forever. An urgent protection is still necessary to prevent a more serious damage, especially in remote regions.

- Last updated on Jul. 29, 2019 -