Current Situation of Great Wall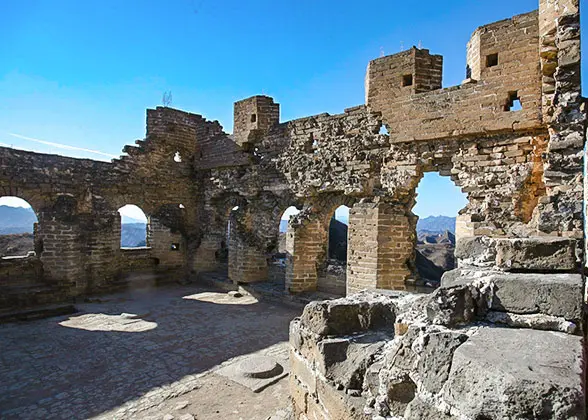 Broken Great Wall
The 2,700 years old Great Wall is a pride of human beings. When setting foot on famous sections such as Badaling and Mutianyu, we may say, 'Check the giant dragon!' However, most parts of the Great Wall are not in such great shape with broken stones and bricks lying in the remote mountains, grasslands and deserts.

A Great Wonder Becomes an Endangered Site
The Great Wall is distributed across 15 provinces in China, with a whole length of over 12,427 miles (20,000 kilometers). Its construction was implemented in different dynasties. However, most parts are no longer complete. Only sections built during the Ming Dynasty (1368 – 1644) are relatively well preserved. However, their situation is not very encouraging either. The total length of the Ming Great Wall is about 5,500 miles (8,851.8 kilometers). Besides over 1,243 miles (2,000 kilometers) of natural barrier, the man-made wall measures 3,890 miles (6,259.6 kilometers) long. Of these, 1,219 miles (1,961.6 kilometers) has completely disappeared, which occupies around a third, due to natural changes and human activities. Most of the remaining sections are also not in a very good condition. Today's Great Wall has become one of the world's 100 most endangered sites.

Damages Brought By the Nature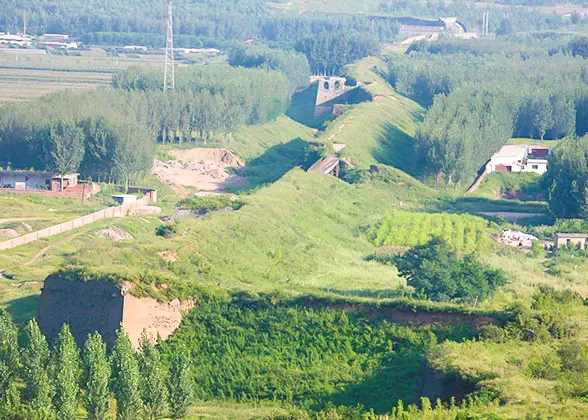 Great Wall covered by grass
can hardly be recognized.
The Great Wall is different from other cultural relics in that it cannot be kept in museums, which presents great difficulty in providing protection. Having experienced countless winds, rains and other nature changes, it is collapsing brick by brick and layer by layer every day. Sections located near the borders of deserts, such as the Maowusu Desert and the Tenggeli Desert, have already been swallowed by the flowing sand. In Gansu, Ningxia, Shaanxi and Shanxi, the sections are mostly constructed with rammed-earth, so they are easily worn away by the perennial affects of wind and rain. The brick sections lying in Tianjin, Beijing and Hebei face no better fate. Many sections are badly damaged, even hard to recognize without experts' instructions.

Human Activities' Influences
Besides natural influences, experts also point out that human activity is another big enemy of the Great Wall. With few protection facilities, people living at the foot of the walls don't even recognize that the nearby hillocks are part of the ancient defense line. In many regions, the Great Wall remnants have submitted to farmland to grow crops, or to graze cattle and goats. This once grand military fortress has grown somber.

Without the necessary punitive measures, many residents living near the Great Wall value their own benefits over this ancient military fortress. It is a common phenomenon that many local residents take bricks or stones from the wall to build their own houses, sheepfolds or latrines. In many villages, the nearby sections have already gone, but its bricks can be seen in every residence. Zhou Hongnian, a peasant in Jinchuanxi Village of Gansu Province, said that his sheepfold was laid by bricks shoveled from the wall. In Deshengbao Village of Shanxi Province, two rooms belonging to a villager named Li Yangyang, were also built with Great Wall bricks. Li said that many of his fellow villagers can't afford to buy bricks due to poverty, so they can only take bricks from the wall to build their houses.
Unprotected Great Wall
in Yulin, Shaanxi

Local farmers dig the wall
to make their sheepfold.
Great Wall Protection
In September of 2006, this precious site welcomed its new page in history when the Chinese State Council promulgated the Regulation on Protection of Great Wall to enhance the protection of this ancient wonder and to regulate the utilization of this ancient wonder. Sanctions are also enacted in this regulation. This historic and great decision brought the old construction some hope of survival. However, people who had raised high expectations for the regulation were disappointed to find that the situation didn't change much. Only a few governments and dwellers nearby the Great Wall have made changes or take action. If the government doesn't devote sufficient administration effort, this precious historical relic will not exist for long. Besides government's action, people should also strengthen their awareness of protecting this grand construction, especially residents at the foot of the Great Wall sections.
- Last updated on Mar. 09, 2023 -
Questions & Answers on Current Situation of Great Wall
Asked by hellen from USA | Mar. 08, 2023 12:27

Reply
How did safegaurds protect the greatwall
Answers (1)
Answered by Nina | Mar. 09, 2023 19:40

0

0

Reply
They patrolled on it. When found enemies invading, they made smoke on the beacon towers to tell the nearby troops, who would then come soon to defend.
Asked by Ms.semi-pro | Oct. 08, 2009 15:06

Reply
what percent is in good condition
Answers (2)
Answered by Mr.Ruby | Oct. 08, 2009 20:07

24

4

Reply
It's not encouraging. Generally speaking, one third of the wall is in good condition, one third is broken and the rest has disappeared forever.
Answered by Below0 | May. 31, 2022 00:40

0

0

Reply
about 30%