Great Wall Protection Stories and Reports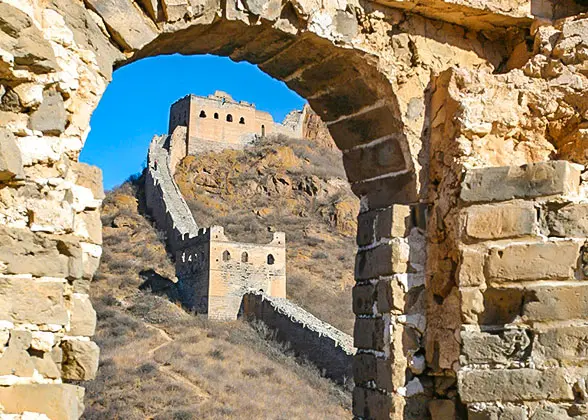 View from Broken
Great Wall Tower
Among all the Great Wall sections, those built during the Ming Dynasty (1368-1644) are the most recent and should be the best-preserved. However, according to a survey done in 2012 by State Administration of Cultural Heritage, among the 3,890 miles (6,259.6 kilometers) of Ming Great Wall, only 319 miles (513.5 kilometers) are well preserved. 90% of the wall is exposed to nature without any renovation or protection, let alone those from earlier dynasties. In some remote regions, some sections have already disappeared forever. Actions must be taken immediately to retain this great wonder created by human beings. Some neighboring dwellers and local governments have made the move.

Zhang Heshan – A Safeguard of the Great Wall
The Great Wall extends 88.5 miles (142.5 kilometers) in Fu'ning County, Qinhuangdao City in Hebei Province. Living in Chengziyu Village near a section, Zhang Heshan has been guarding it for over 30 years. In 1980, he voluntarily 'appointed' himself to be a guard of the Great Wall. Since then, he has insisted on daily patrols of the wall near his house every day. His footprints have already covered every corner of the part he protects.
Many people cannot understand his behavior. 'It's not his business', some think. But to Zhang Heshan, this old site means a lot. He has grown up at the foot of the wall which records many sweet memories of his childhood. Besides following the plough, he devotes himself to protecting this old construction the rest of the time. On seeing people carve, blot, and gather herbs on the wall, he will immediately stop them and tell them the importance of protecting the wall. At first, people didn't listen to him since they can earn some extra income by gathering herbs and grabbing scorpions on the wall. Zhang's interference certainly stops their source of income and some angry villagers even took revenge on him. However, Zhang's resolution to protect the Great Wall cannot be easily torn down. He kept on patrolling and persuading.
Things have improved in 2003 when the Fu'ning Government set up a system, 'Great Wall Safeguard', which divided the wall into 18 sections. Each of them was allotted to a local peasant and Zhang Heshan entered the system without hesitation. Under their effort, the section in their village is the best-preserved one in Qinhuangdao City and has avoided further man-made destruction.

Once Destroyers Become the Guardians
Taolinkou Village in Qinhuangdao City, Hebei, was once a major participant in destroying this old site. Due to a violent earthquake in 1976, houses in the village were all torn down. People shoveled bricks from the wall to rebuild their home. Nearly 70% houses in the village were built of Great Wall bricks. Later, this phenomenon was reported and the houses were satirized as the costliest construction on earth.

Since the issuing of the Great Wall Protection Regulation in 2006, a dramatic change has happened to this village. Most of the villagers have voluntarily acted as Great Wall guards, patrolling in turn to protect the wall and monitor people's behavior. They even set up a Shame Stele, inscribing their past mistakes to warn the later generations. Today's Taolinkou Village is a model in protecting this great construction.

A Costly Tunnel under the Great Wall
Ningxia is called 'the Great Wall Museum', since it brims with sections built in different dynasties of various techniques. However, with less attention and protection, this world heritage landmark has suffered from damage brought by both nature and human. Many sections have been cut off just because they block the extension of modern highways. During the expansion of the Road S203 in Yinchuan, Ningxia, a section in Shuidonggou got in its way. Instead of using the previous crude method, a road tunnel was built under the wall, which is the first in this region's road construction.
This 208 yards (190 meters) long two-way tunnel cost CNY 110 millions, about CNY 52,885 per yard, which is a quite staggering expense. The ceiling of the cave is only 33 feet (10 meters) beneath the wall. Building the tunnel without damaging the wall was the major problem because soil in that area is mainly composed of sand which is very easy to subside. Although difficult, different techniques and a large amount of materials have been used to guarantee the work being finished on time while keeping the Great Wall intact at the same time.

Old Great Wall Forest Park in Shanxi Province
To prevent the existing Great Wall from continuing to deteriorate, restoration work is also very necessary. In addition to renovating sections into scenic spots, some creative new ideas can endow this historical relic with different charm and vitality. The Old Great Wall Forest Park in Datong, Shanxi Province is the most representative example. The park is a perfect combination of natural ecological scenery and the remnants. This differs from the solemn appearance of the military fortress like most sections. It is no longer a desolate frontier military fortress. In companionship with the wide lush plants, the old beacon towers and walls are like yellow islands dotted in the vast green sea. Regarded as the backyard garden of Datong City, it provides a good place for family and friends to have a great time.



Other Great Wall Protection Stories and Reports:


William Lindsay's Story


Shandan Great Wall in Danger


Yulin Wall Destroyed by an Enterprise


Hohhot Wall Cut off by Mine Company


Henan Wall Destroyed by Wind Power Company
- Last updated on Apr. 15, 2021 -