Great Wall Protection Story - Lindsay's Affection for Great Wall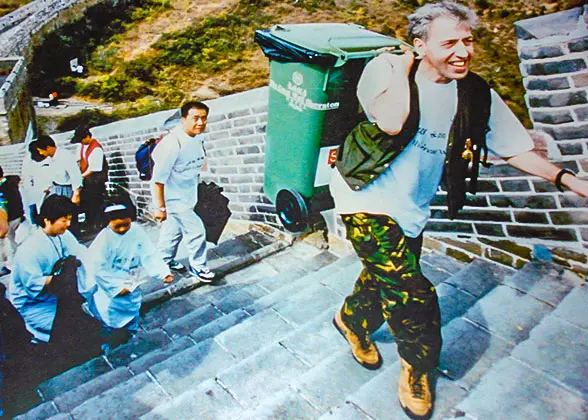 William Lindsay, Chairman
of "Friends of the Great Wall",
pick up litter on the wall.
William Lindsay, from Great Britain, has deep affection for the Great Wall. When in primary school, he showed special interest in maps and the saw-tooth line on maps caught his eyes. He made up his mind to visit the line, that is, the
Great Wall of China
.
In May, 1987, Lindsay realized his dream. He spent 78 days hiking 1,553 miles from
Jiayuguan Pass
to
Shanhaiguan Pass
on the Great Wall, thus becoming the first foreigner to complete the wall hiking. But this tall man hit trouble when he walked alone along the
Yulin Great Wall
in northern Shaanxi while taking pictures, which attracted local villagers' attention. "What is he doing here? Where is he from?" they wondered. Finally, police came to investigate his motive behind his seemingly weird behavior. He explained and showed his love for the wall, but in vain. At last, he could do nothing but leave.
During the following years, though visiting China several times, Lindsay didn't have opportunity to visit the Yulin Wall and
Zhenbeitai
, until April 8, 2005, when he was invited to walk on the Yulin Wall by a friend. The 18-year dream was realized on that day. He not only loves the Great Wall, but as a graduate majoring in geology, he made many geographical analyses of the wall. Due to his contribution to protecting the Great Wall, he was awarded the "Friendship Honorary" by the State Administration of Foreign Experts Affairs, P.R. China. In 1998, Zhu Rongji, the Chinese Premier at that time, gave him an interview. In 2001, he established an international association "Friends of the Great Wall". In his opinion, the best way to protect the wall is to build national parks around it. In 2006, he received the Order of the British Empire and was interviewed by the British Queen Elizabeth II, honoring his effort in protecting the Great Wall as well as in promoting the cultural relationship between China and Great Britain.
In Aug.5, 2007, Lindsay received another honor, the title of "Honorary Citizen of Yulin City". He is greatly encouraged by these awards from China and Britain and will carry on his contribution to Great Wall protection.
- Last modified on Jun. 20, 2019 -
Questions & Answers on Lindsay\s Affection for Great Wall
Asked by Abel P. de Vries from NETHERLANDS | Feb. 05, 2012 06:25

Reply
I am very much interested in FengShui in relation to the Great Wall.
I visited Badaling in 2010 and was very impressed. My wife is a Feng Shui professional author and teacher of FengShui. Both me, being an architect in the Netherlands, and my wife Nina Elshof are very interested in how FengShui was used in building the wall. Can you give us some specific information on the subject?
Abel P. de Vries architect BNA
Answers (1)
Answered by emma | Feb. 05, 2012 22:16

2

0

Reply
No reliable information on that subject as I know. Old feng shui maters believed mountain ranges resembling dragon and called dragon pulse. Kunlun Mountain was said to the source of China's dragon pulse. There was a saying that a dynasty had its own dragon pulse. The great Wall was built on ridge of mountains, which was not good for the dragon pulse, meaning the future development of the empire. The construction of the wall was built for a lie. Qin Shi Huang sent people to the East Sea for prescription of longevity and got an enlightenment that Hu would destroy Qin. Qin Shi Huang though Hu mean Hu people, referring to the huns at that time. So, he send the army to hit Hun and built the walls. Later his son Hu Hai killed his eldest son, Fu Su, and became the second emperor of Qin. Qin finally lost by Hu Hai, so people said that the 'Hu' should mean Hu Hai. Some people believed the dragon pulse of Qin was in Xianyang, its capital. So, the walls were built to keep down the dragon pulse who might threaten the Qin, in this case?! I would belive the wall was build for the need of defence.
Asked by Mr.peter gill from USA | Apr. 30, 2011 20:44

Reply
Bricks and bridges of the Great Wall.
How heavy were the bricks that had to be carried up the mountains? Also where is the very long rope bridge that crosses one of the gorges.
Answers (1)
Answered by Mr.Qi | May. 01, 2011 22:19

0

2

Reply
Yes, there was long rope cross the gorge or castles. People also used animals, such as donkey, sheep, etc, tools like big basket, crowbar, wooden vehicle, etc.