Great Wall of Zhao State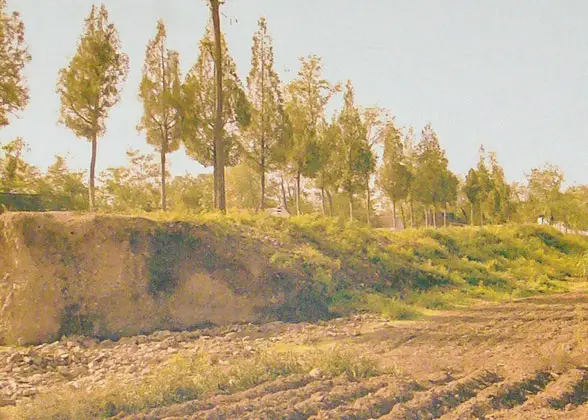 Zhao State Great Wall Relics
in Linxian County, Henan Province
During the Warring States Period (475BC-221BC) of the Zhou Dynasty (1046BC-256BC), different states fought against one another to expand their territories. During this period, the northern Donghu tribe grew stronger, threatening the northern borders of Qin State, Zhao State, and Yan State. Under these circumstances, Zhao State built two lines of Great Wall to defend itself: one along its southern border and one along the northern border. These were known as the Southern Wall and the Northern Wall. Most sections were made of rammed earth, while others were made of rammed earth and stone.
Southern Great Wall of Zhao State
In 333BC, Qi State and Wei State, the southeastern and southern neighbors of Zhao State, formed an alliance and their rulers titled each other "King". This angered the Marquess Su of Zhao State. Thus, he ordered an attack against the Wei State, and surrounded its northern military post, Huang (in today's Neihuang County in Henan Province). However, the Zhao troops failed to seize the post, and were forced to retreat. Afraid of revenge from the Wei and Qi, the Marquess Su ordered that the Great Wall be built between Fushui River and Zhangshui River (at today's boundary of Hebei Province and Henan Province) along Zhao's southern border. The wall had a total length of about 124 miles (200 kilometers).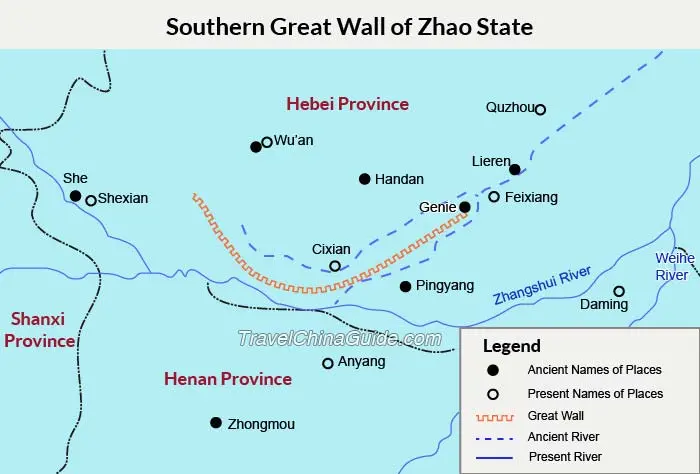 Zhao State Southern Great Wall Map
Northern Great Wall of Zhao State
This section was built by King Wuling of Zhao during his reign in 300BC. King Wuling was a great reformer. He learned from the northern Huns and encouraged his citizens to wear the more convenient narrow-sleeved attire and learn the skills of shooting from horseback, which was more advantageous during wartime. After a series of reforms, he defeated the northern Linhu and Loufan tribes. To protect his newly-expanded northern territory, he ordered the Great Wall be built from
Gaoque Fortress
in the west to Dai (today's Zhangbei County in Hebei Province) in the east, via the rolling Yinshan Mountains. The wall was 404 miles (650 kilometers) long.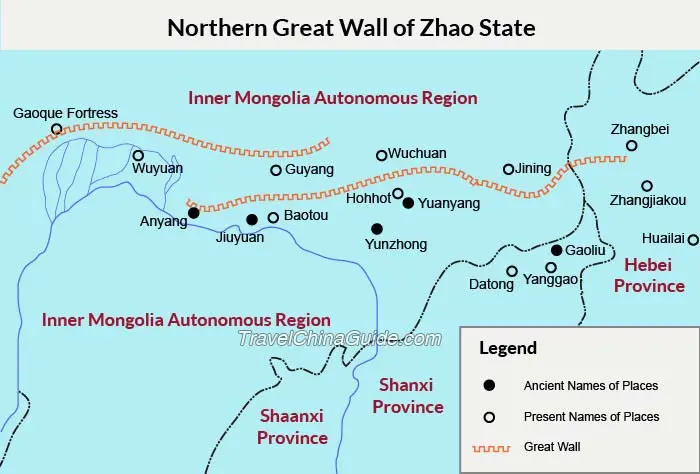 Zhao State Northern Great Wall Map
Southern Wall Relics
Relics of the Southern Wall can be found along the border between Hebei Province and Henan Province. Owing to natural erosion and human destruction, the ancient wall is discontinuous. Some sections are 6 miles (10 kilometers) long; some are 1.9 miles (3 kilometers) long; some are 328 yards (300 meters) long; while others can hardly be distinguished. For example, a site was found on the mountain slope to the east of Yaodong Village, Dahejian Town, Qibin District, Hebi City. It is about 1.9 miles (3 kilometers) long, and made of blue stone.
Northern Wall Relics
The Northern Wall left some relics on the ridges of Yinshan Mountain. A well-preserved section is in Damiao Village, Houyingzi Town, Jiuyuan District, Baotou. It is about 13 feet (4 meters) to 16 feet (5 meters) high, and 6.6 yards (6 meters) to 10 yards (9 meters) wide.
Also, six beacon tower sites have been found so far. For example, the Lufanggou Beacon Tower is located on Daqing Mountain to the northeast of Shangxieliqi Village, Meidaizhao Town, Tumed Right Banner, Baotou. The tower is made of rammed earth, and is about 5.6 feet (1.7 meters) high, and 6.6 yards (6 meters) wide. Fragments of gray pottery were also found there.
In addition, ten sites of fortresses have been detected, for example, the Bianqianghao Fortress. It is located to the west of Bianqianghao Village, Xincheng Town, Jiuyuan District, Baotou. This rectangular fortress is 164 yards (150 meters) long, and 77 yards (70 meters) wide. The remaining wall is 11 feet (3.5 meters) high, 8.7 yards (8 meters) wide at the bottom, and 3.3 yards (3 meters) wide at the top. A gate was built in the south. In addition, many cultural relics have been found there, such as bricks with reticulate patterns, tiles with fingerprints, and bronze arrowheads.
Urgent Protection is Needed
The Zhao State Great Wall is suffering from long age and natural erosion from earthquakes, floods, and storms. In addition, the human hand is another destructive factor. The wall has been torn down for building roads and houses. For example, the section in Bianqiaohao Village, Xidoupu Town, Guyang County, Baotou City was cut in the middle to make room for a construction site. Laws and regulations need to be enacted immediately to protect the precious heritage before it is gone forever.

More
Zhou Dynasty Great Wall
:
- Last updated on Jun. 27, 2019 -