Code: GW17
Great Wall Hiking from Laolongtou to Shanhaiguan & Jiaoshan
This hiking tour at Great Wall is composed of three highlights. The first is the eastern starting point of the Great Wall - Old Dragon's Head (Laolongtou), the second is the "first pass under heaven" - Shanghaiguan and the last is the "first mountain of the Great Wall" - Jiaoshan Mountain.
One third of the route is located within the city, one third is scenic countryside and the remaining third comprises steep mountains. It is a tour combining both sightseeing and hiking, generally needing 2 days.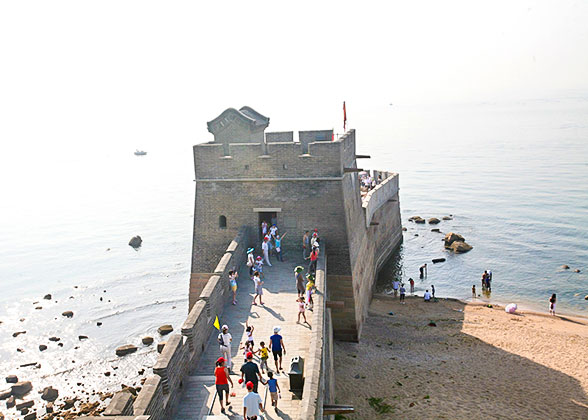 Laolongtou
Jiaoshan Great Wall
How to Get to Laolongtou Great Wall
1.
Train
If you plan to arrive by train, get off at Shanhaiguan Railway Station. There are high speed trains from Beijing, Tianjin, Shanghai and many other cities. After getting off, take local bus no.25 to Laolongtou directly.
If you arrive late in the afternoon or evening, we suggest you get off at Qinhuangdao Railway Station, stay one night near the railway station and set off early next morning. You'd better make an early reservation on the hotel room, especially in the high season - June to September. From Qinhuangdao Railway Station, you may take bus no. 39 to New Century Park, than change to bus no. T1 to Laolongtou. This transfer takes about 75 minutes all together.

Check real-time
China Train Schedule
2.
Flight
Qinhuangdao Airport is well connected by domestic flight with many cities in China. Upon landing, take a taxi to reach Laolongtou directly. The taxi fare is around CNY30-35.
Or you may take airport shuttle bus to downtown, stay for one night and start hiking tomorrow.

Check real-time
China Flight Schedule
Chenghai Tower of Laolongtou
Laolongtou
Stop 1: Laolongtou Great Wall
Laolongtou Great Wall
is the eastern starting point of the Great Wall built in the Ming Dynasty (1368 - 1644), and is also the only section on the sea. When the whole Great Wall is compared to a huge dragon winding through China, the Laolongtou is just like the head of the dragon stretching into the Bohai Sea. That's where its name comes out.
Admission fee: May to October: CNY 50; November to Next April: CNY 20
Recommended visit time: 2 hours
Laolongtou to Shanhaiguan Great Wall Hiking
Sea View around Laolongtou
The Great Wall from Laolongtou to Shanhaiguan has a length of 5 kilometers (3.1 miles). As many sections are in ruins or blocked, hikers actually walk along its foot instead of on it. On the way, you could have a good view of the sea and rural scenery.

It will take you about half a day to finish this trip and it would be late in the afternoon when you reach Shanhaiguan. So we suggest you to stop today's hiking here and restart tomorrow from Shanhaiguan. About tonight's accommodation, you may either check in a hotel nearby or go back to Qinhuangdao downtown by bus no.33.

If you are not interested in finishing the distance by walk, take bus no.25 from Laolongtou to Shanhaiguan and restart the sightseeing directly. Ticket fare is CNY2 and duration is about 30 minutes. After touring Shanhaiguan, check in a hotel for a good rest.
Stop 2: Shanhaiguan Pass
Shanhaiguan Pass
is reputed as the first pass of the Great Wall. Ever since it was built in the year of 1381, the Pass has become an important military stronghold in China.
The pass has a perimeter of about 4 kilometers (2.5 miles). The Wall around it is 14 meters (45.9 feet) high and 7 meters (7.7 yards) thick. With its majestic watchtower as the mainstay, you can also see the surrounding architecture such as Jingbian Tower, Linlu Tower, Weiyuan Hall and Great Wall Museum. The most popular sightseeing area is its eastern gate and surroundings.
Admission fee: May to October: CNY 40; November to Next April: CNY 15
Recommended visit time: 2 hours
Shanhaiguan to Jiaoshan Great Wall Hiking
You may start from the northern gate of Shanhaiguan Pass to Jiaoshan Great Wall, measuring about 3 kilometers (1.9 miles) long. Many sections have collapsed and only some bricks are left, when you need to get off to make a detour. You will also see some ruined towers along the way. This part will take you about 90 minutes on foot.
If you travel by public transport, it costs about CNY10-15 by taxi. During peak season, there is a tourism bus line available for this transfer.
Entrance to Jiaoshan
Hiking on Jiaoshan
Stop 3: Jiaoshan Great Wall
Starting from the Hanmen 10th Tower, the
Jiaoshan Great Wall
leaps and meanders along the ridge of the Jiaoshan Mountain for about 1.5 km (about 1 mile). After renovation, it is in good condition.
Admission fee: CNY 30 from April to November; CNY 10 from December to March
Recommended visit time: 1 hour
This is all about this hiking tour. After, you may take a taxi to Shanhaiguan Railway Station, at the cost of CNY10-15 and take a train to your next destination.

Photos of Shanhaiguan
Laolongtou Photos
Jiaoshan Photos

More Great Wall Hiking Routes:
Badaling Hiking
: itinerary and tips to Beijing Badaling
Mutianyu Hiking
: Mutianyu Hiking routes with practical tips
Simatai Exploration
: One day hike tour to Simatai and Gubei Water Town
Gubeikou Hiking
: One day exploration to the wild Gubeikou
Juyongguan Appreciation
: A visit to Juyongguan to appreciate the famous stronghold of the great wall
Jinshanling Hiking
: Guided one-day Jinshanling hiking, starting from $69 per person

More Beijing Independent Packages:
Forbidden City
: 4 routes to discovery the world's largest imperial palace